Catblaze. It started as an April Fools' joke four years ago, but it stuck around as part of our website ever since. A few intrepid website perusers even found their way to the page and signed up for our backup service there. To be clear: There's no actual difference between the two products except the landing page. If you bought Backblaze on Catblaze, it's Backblaze. You received the same great service as everyone else, just with a nice cat-themed wrapper. Got it? Great!
It's been a while since we've done anything with Catblaze though, and so I got to thinking… If the page is still functional, how can we make use of it again? Well, why not redirect some traffic there and see how it affects conversions?! A lot of people love cats, maybe that love could be translated to loving backing up, too?
So, that's exactly what we did! A few weeks ago, for one day, we diverted some traffic from backblaze.com/cloud-backup.html to backblaze.com/catblaze.html to see how they performed against each other. Did anyone even notice? And if they did, did they sign up anyway? Read on to find out! The results may shock you! And other clickbait hyperbole!
Why are we doing this? Well, along with everyone else who has had to shift to remote office-ing during the pandemic, we've been working hard to maintain high spirits and morale here at Backblaze. While we made a lot of changes to help our team be as productive as possible while working remotely, we thought, why not get a little silly, engage in a little charitable fundraising, and also buoy the spirits of our community at large: You!
With a lot of people spending more time at home, animal adoption in urban areas increasing, and "Tiger King" being so popular on Netflix, I spent some time chatting with a friend of mine who works for the Humane Society of the United States, and asked if there were any shelters that were looking for aid. He told me that the Peninsula Humane Society—the same branch that the models for the original "Catblaze Cats" came from—could use some donations. So, as part of this experiment, we'll be contributing to them in honor of the kittens that helped make this experiment possible!
It also happens to be National Cat Day today, so what better way to celebrate?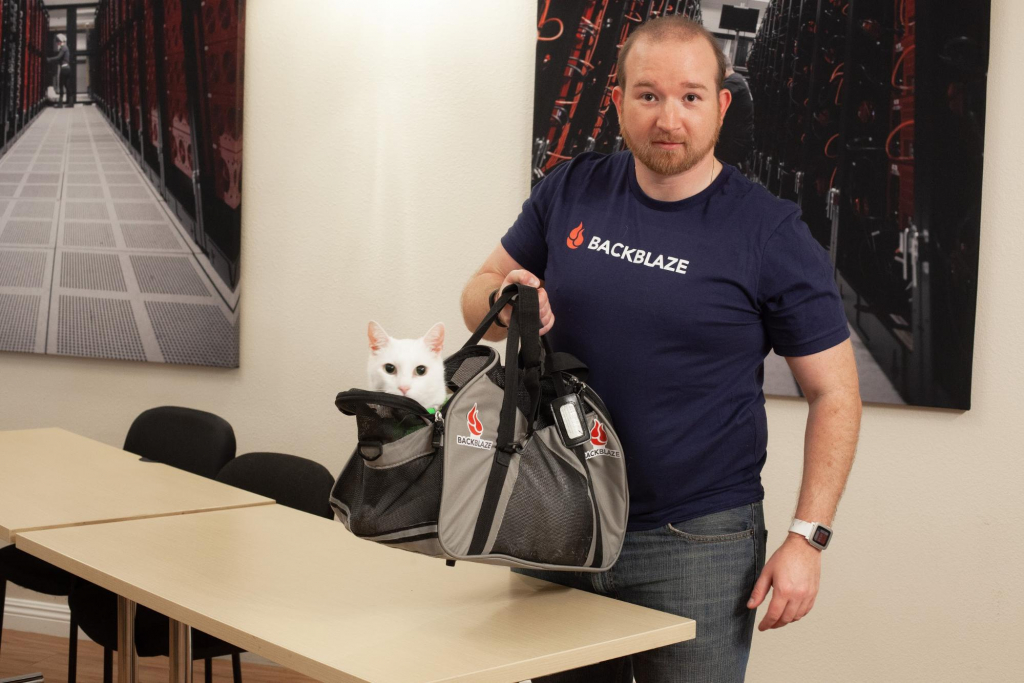 And Now, on to the Results!
Wow, who would have known that diverting 50% of our hard-earned traffic to an April Fools' landing page was an interesting idea? The results may or may not surprise you, but here's the bottom line: Sending traffic to catblaze.com resulted in a decrease in trial conversions (folks coming to our site and creating a trial account) by 15%. Which, admittedly, is better than some of us had guessed!
Let's dive into more of those numbers, shall we? (Assuming we're comparing Catblaze to our regular Backblaze Computer Backup landing page.)
Days of experiment: One.
Traffic diverted: 50%.
Percent change in conversion rate from visit to trial: 15% reduction.
Percent change in conversion rate from visit to purchase (skip trial): 41% reduction.

69.96% (A palindrome!) of people were less likely to purchase directly from Catblaze—that's how many fewer folks went to the "buy" page next.
Percent change in bounce rate: 15% improvement.

Percent change in visits going to the home page from Catblaze: 118%.
Tweets asking us what is going on: Zero.
Support tickets asking us, "Why the cats?": Zero.
Donation to the Peninsula Humane Society: $2,000.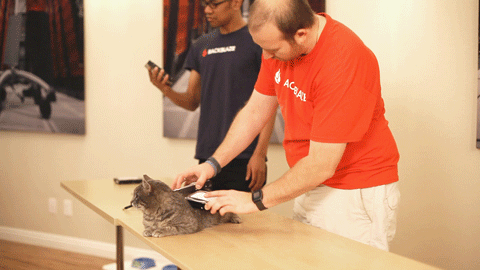 Lessons Learned
While we probably shouldn't update our onboarding messaging to include a picture of our Catblaze friends, it may be worth going a bit more kitten-friendly in future illustrations and designs for our website. The fact that there was a 15% improvement in bounce rate (and 20% reduction in exit rate) meant that people were sticking around and looking at that awesome cat content, or they were very confused. The cat content was at best amusing, but at worst confusing (which is usually not what you want your customers to be feeling), and you can see that was the case because we saw the number of people going back to our homepage increase by 118%. So, while we kept people on our website, their confusion was visible in how they navigated our website.
Perhaps the most entertaining thing is that no one asked about the Catblaze website. We received no Tweets or support tickets asking us why everything was cat-themed on our website. Based on our daily traffic, and the seemingly minor reasons that people write in with support tickets, I would have sworn up and down that I'd be on social media answering questions all day—though, if I responded to folks asking about it, that may have affected the experiment—so, it's great that it went unnoticed.
Will we be doing this again? I doubt it. The Finance department is already sending me eye roll emojis, but it was definitely an interesting experiment and taught me one important lesson: While people definitely noticed the cats, they certainly didn't seem to mind them.