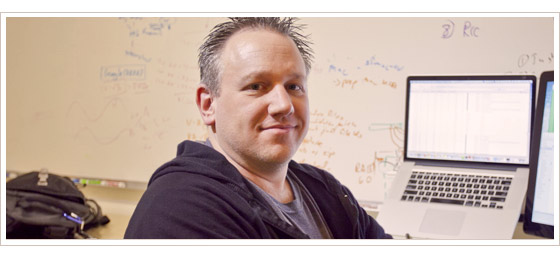 The assembly of our kick butt Operations team continues with the addition of Ric. Keeping 40+ petabytes of customer data safe and happy takes talent and we went all the way to Sacramento to find Ric. Here's his story.
Where are you originally from?
It may sound a little morbid, but whenever I'm asked this question, I always answer "Born and raised in the Sacramento Area, and I'll probably die there…"
What's your job here at Backblaze?
My official title is DevOps Lead. My primary responsibilities initially will be coming up to speed on all things data center (the Backblaze way), but I have a few development projects already on my shortlist to help keep everything running smoothly as the server farm grows.
What attracted you to Backblaze?
I was first made aware of Backblaze by the blog post for Pod version 1.0 open sourcing… I have been obsessed with online backup ever since, and converted my entire family to Backblaze.
Tell us about your commute to work?
I live in Rocklin, and I'm pretty sure I have beaten out Zack for the craziest Backblaze commute. I'm about 140 miles one way door to door to the San Mateo office…
Where else have you worked?
Prior to Backblaze, I have had only three 'real' jobs in my lifetime (I don't count my pre-adult years in fast food as real jobs); I started out with a mom and pop shop residential and commercial security company. I grew with the company for 11.5 years, taught myself Novell Netware (4.11—those were the days!), moved on to a regional publishing company initially as their Netware Administrator, but that grew to Systems Administrator, a role which oversaw everything from networking and telephony management to web and application development, as well as help desk support for the company. I left there a little over two years ago to work for a networking VAR, where I specialized in telephony integration. Each place I have worked felt like home and my coworkers were my extended family. So far, it feels the same way at Backblaze!
How did you get into computers?
After a few 'gifted program' computer classes in the late 70s, I bought my first computer (a RadioShack TRS-80 CoCo) in 1980, and have been hooked ever since!
Join us in welcoming Ric to Backblaze and to the "Backblaze way."