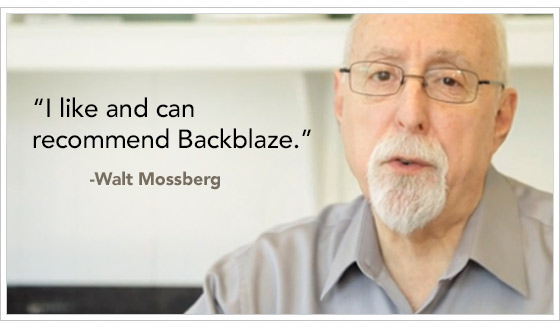 Last week, venerable reviewer Walt Mossberg did an in-depth Backblaze review and said:
"I like and can recommend Backblaze."
Mossberg had been the head technology reviewer for The Wall Street Journal for approximately 25 years before leaving to start a dedicated technology site, Re/code, in January 2014. According to Wikipedia:
Mossberg is widely regarded as one of the most influential writers on information technology. In 2004, in a lengthy profile, Wired called him "The Kingmaker," saying "few reviewers have held so much power to shape an industry's successes and failures."
We are thrilled to have him review our online backup service, recommend it, and choose it as part of his personal backup strategy.
Mossberg also recommended a full three-tier approach with which we agree:
1. A sync service for actively used files.

2. A local backup.

3. An online backup.
Importantly, he reviewed both the backup:
"In my tests, the backups have gone smoothly, even though I used the computer in multiple locations with multiple network speeds."
And he reviewed the restore:
"I tested two of the methods—downloading and the USB drive—and found that both worked perfectly and quickly."
Mossberg also discussed his three-tier backup strategy and his experience with Backblaze on CNBC.
We couldn't be more pleased that Walt enjoyed the service and hope that his three-tier approach will help you with your backup strategy. You can find other reviews and comments from Backblaze users here.