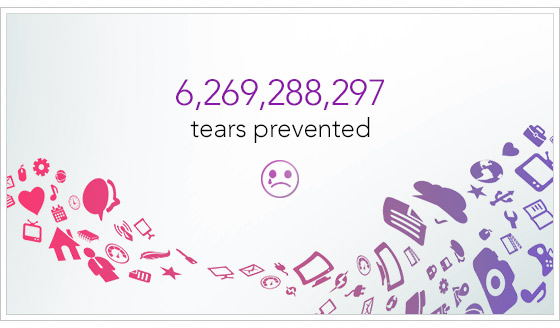 Funny thing about providing an online backup service that is currently storing over 100 petabytes of customer data—sometimes people need their data back. In fact, nearly half (46%) of our customers restored one or more of their files in 2013 and that adds up. From when Backblaze first started until the end of May 2014, we have restored 6.27 billion files for our customers. Back in January 2014, we crossed over the five billion files restored mark, meaning we've restored over one billion files in the last four months alone—busy, busy, busy.
That's How Many Files Per Second?
In May, our busiest month so far, we restored files at a rate of 135 files per second. That's 135 photos, documents, songs, and so on returned back to their owner every second. That got us to wondering, what else happens in a second? Here are a few things we found that we thought were interesting:
Of course, there are many other things that happen in a second. For example, each second there are over 7,200 tweets, over 44,000 Google searches, and more than 84,000 YouTube videos viewed. All of these still pale in comparison to the 2,312,474 emails sent each second—that's a lot of rich Nigerian princes…
Restoring What You Need
We all know that when your hard drive crashes or your computer is lost or stolen, you can save the day by restoring all your data from Backblaze. Some of you have also discovered that you can use Backblaze to restore just one or two files from the Backblaze cloud—anytime, anywhere—simply by using our web-based restore feature or the Backblaze Mobile app. Need a photo from your laptop back at the hotel or a document from your desktop at home? No problem, if it's in your Backblaze backup you can restore the file you need in minutes. In fact, so far this year 25.7% of our restores were for one file. So remember, you can save the day one photo/video/document/song/file at a time with Backblaze.
Taking the Weekend Off
Many people believe their computer waits until the most inopportune time to fail—just before a deadline, right after you've added a bunch of new photos, etc. That may be true, but when it comes to recovering our data, we seem to prefer Wednesday (15.6%) and Thursday (15.8%) as 31.4% of the restores occur on those days as opposed to Saturday (11.2%) and Sunday (11.0%) when just 22.2% of restores occur. I guess we have better things to do on weekends.
Sources
For the "one second facts," we used the following sources. We acknowledge that in some cases other sources provided different "one second facts," but we choose to use the data from the sources listed below.