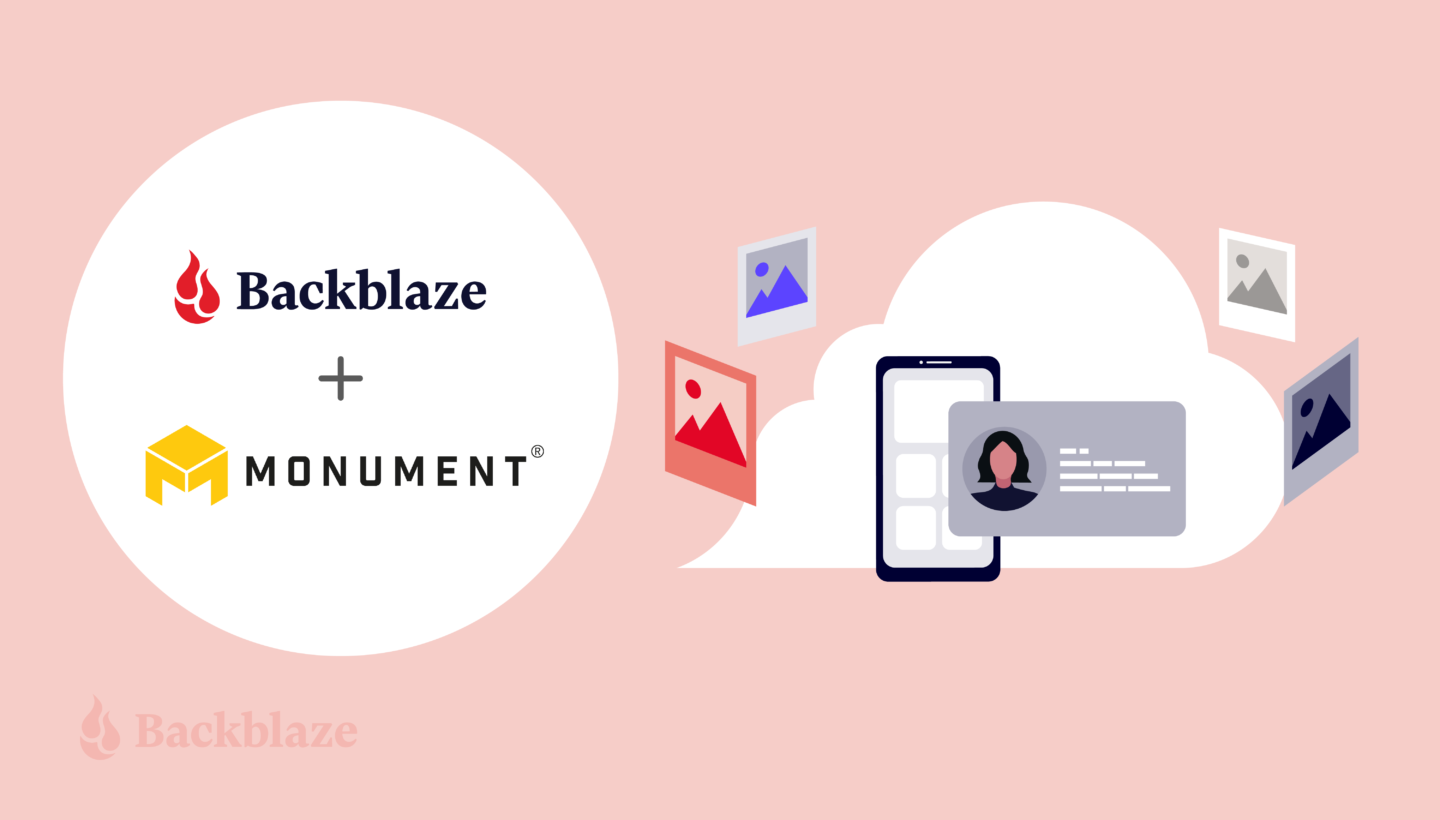 The sheer number of creative and unique ways our customers and partners utilize Backblaze B2 Cloud Storage never ceases to amaze us. Whether it's pairing our storage with a streaming platform to deliver seamless video or protecting research data that is saving lives, we applaud their ingenuity. From time to time, we like to put the spotlight on one of these inspired customers, which brings us to the company we're highlighting today: Monument, a photo management service with a strong focus on security and privacy.
The TL;DR
Situation: The Monument story started with a physical device where customers could securely save photos, but they saw the winds shifting to the cloud. They wanted to offer users the flexibility and automation that the cloud provides while maintaining their focus on privacy and security.
Solution: Monument launched their cloud-based offering, Monument Cloud, with Backblaze as its storage backbone. User photos are encrypted and stored in Backblaze B2 Cloud Storage, and are accessible via the Monument Cloud app.
Result: Monument Cloud eliminates the need for users to maintain a physical device at their homes or offices. Users just install the Monument Cloud app on their devices and their photos and videos are automatically backed up, fully encrypted, organized, and shareable.
What Is Monument?
Monument was founded in 2016 by a group of engineers and designers who wanted an easy way to back up and organize their photos without giving up their privacy and security. Since smartphones saturated the market, the average person's digital photo archive has grown exponentially. The average user has around 2,100 photos on their smartphone at any given time, and that's not even counting the photos stashed away on various old laptops, hard drives, USBs, and devices.
Photo management services like Google Photos stepped in to help folks corral all of those memories. But, most photo management services are a black box—you don't know how they're using your data or your images. Monument wanted to give folks the same functionality as something like iCloud or Google Photos while also keeping their private data private.
"There are plenty of photo storage solutions right now, but they come with limitations and fail to offer transparency about their privacy policies—how photos are being used or processed" said Monument's co-founder Ercan Erciyes. "At Monument, we reimagined how we store and access our photos and provided a clutter-free experience while keeping users in the center, not their personal data."
They launched their first generation product in 2017—a physical storage device with advanced AI software that helps users manage photo libraries between devices and organize photos by faces, scenery, and other properties. The hardware side was fueled by two rounds of Kickstarter funding, each helping create new versions of the company's smart storage device powered by a neural processing unit (NPU) that lived on-device and allowed access from anywhere.
An Eye for Secure Photo Storage
That emphasis on privacy fueled the software side of Monument's offering, an AI-driven approach that allows easy searchability of photos without processing any of the metadata on Monument's end. Advanced image recognition couples with slick de-duplication features for an experience that catalogs photos without exposing photographers' data to algorithms that influence their choices. No ads, no profiling, no creepy trackers, and Monument doesn't use or sell customers' personal data.
We were getting a lot of questions along the lines of, "What happens if my house catches fire?" or "What if there is physical damage to the device?" so we could see there was a lot of interest in a cloud solution."

—Ercan Erciyes, Co-Founder, Monument Labs, Inc.
The Gathering Cloud
With the rise of cloud storage, Monument saw their typical consumer shifting away from on-prem solutions. "We were getting a lot of questions along the lines of, 'What happens if my house catches fire?' or 'What if there is physical damage to the device?' so we could see there was a lot of interest in a cloud solution," said Ercan. "Plus there were a lot of users that didn't want a physical device in their home."
Their answer: Offer the same privacy-first service through a comprehensive cloud solution.
Using Free Credits Wisely
Launching a cloud-based storage service built around their philosophy of privacy and security was a clear necessity for the company's future. To kick off their move to the cloud, Monument utilized free startup credits from AWS. But, they knew free credits wouldn't last forever. Rather than using the credits to build a minimum viable product as fast as humanly possible, they took a very measured approach. "The credits are sweet," Ercan said, "But you need to pay attention to your long-term vision. You need to have a backup plan, so to speak." (We think so, too.)
Ercan ran the numbers with success in mind and realized they'd ultimately lose money if they built the infrastructure for Monument Cloud on AWS. He also didn't want to accumulate tech debt and become locked in to AWS.
They ended up using the credits to develop the AI model, but not to build their infrastructure. For that they turned to specialized cloud providers.
Integrating Backblaze B2 Cloud Storage
Monument created a lean tech stack that incorporated Backblaze B2 for long-term encrypted storage. They run their AI software on Vultr, a Backblaze compute partner that offers free egress fees between the two services. And, they use another specialized cloud provider to store thumbnails that are displayed in the Monument Cloud app. The cloud service has quickly become the company's flagship offering, drawing 25,000 active users.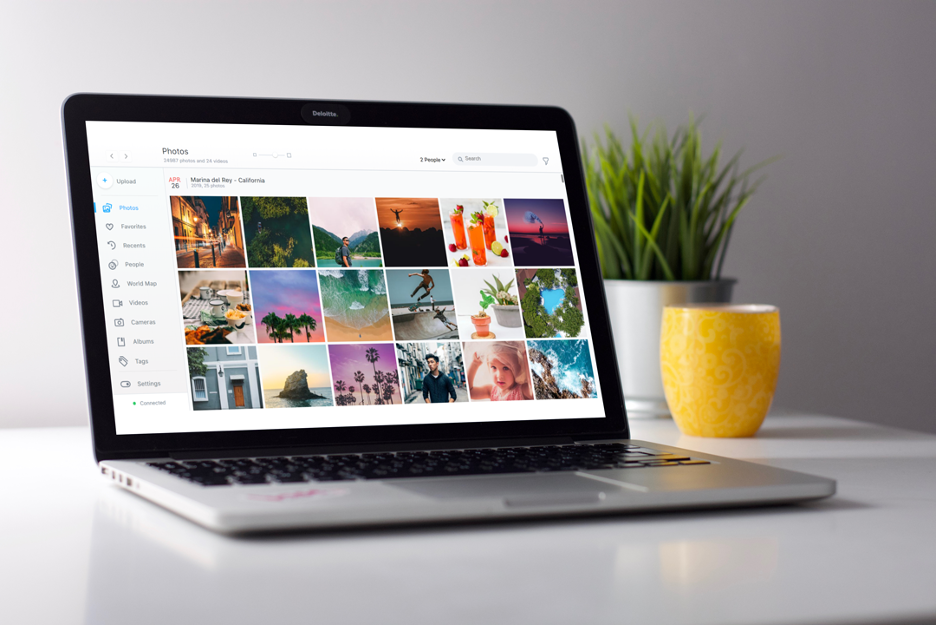 Group Photos: Serving New Customers
With infrastructure that will scale without cutting into their margins, Monument is poised to serve an increasing number of customers who care about what happens to their personal data. More and more, customers are seeking out alternatives to big name cloud providers, using services like DuckDuckGo instead of Google Search or WhatsApp instead of garden variety text messaging apps. With a distributed, multi-cloud system, they can serve these types of customers with a cloud option while keeping data privacy front and center. And the customers that gravitate to this value proposition are wide-ranging.
Of course, the first ones you might think of would be prolific photo takers or even amateur photographers, but Ercan pointed out some surprising use cases for their technology. "We are seeing a lot of different use cases coming up from schools, real estate companies, and even elder care systems," he said. With Monument's new cloud solution, classrooms are exploring new online frontiers in education, and families scattered around the world are able to share photos with their elderly relatives.
A Monument to Security
Challenging monster brands like Google is no small task as a small team of just five people. Monument does it by keeping a laser focus on their core values and their customers' needs. "If you keep the user's needs in the center, building a solution doesn't require an army of engineers," Ercan said. Without having to worry about how to use customer data to build algorithms that keep advertisers happy, Monument can focus on serving their customers what they actually need—a photo management solution that just works.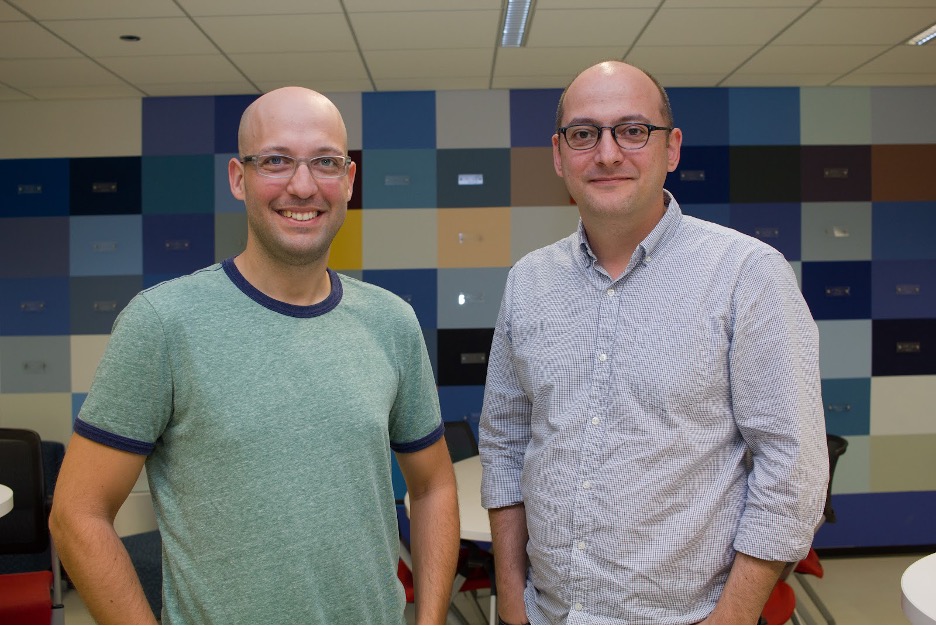 Monument and Backblaze
Whether you're the family photographer, the office party chronicler, or you just have a convoluted system of hard drives stickered and slotted onto a shelf somewhere that you'd like to get rid of, first and foremost: Make sure you're availing yourself of the very reasonable storage available from Backblaze for archiving or backing up your data.
After you're done with that: Check out Monument.