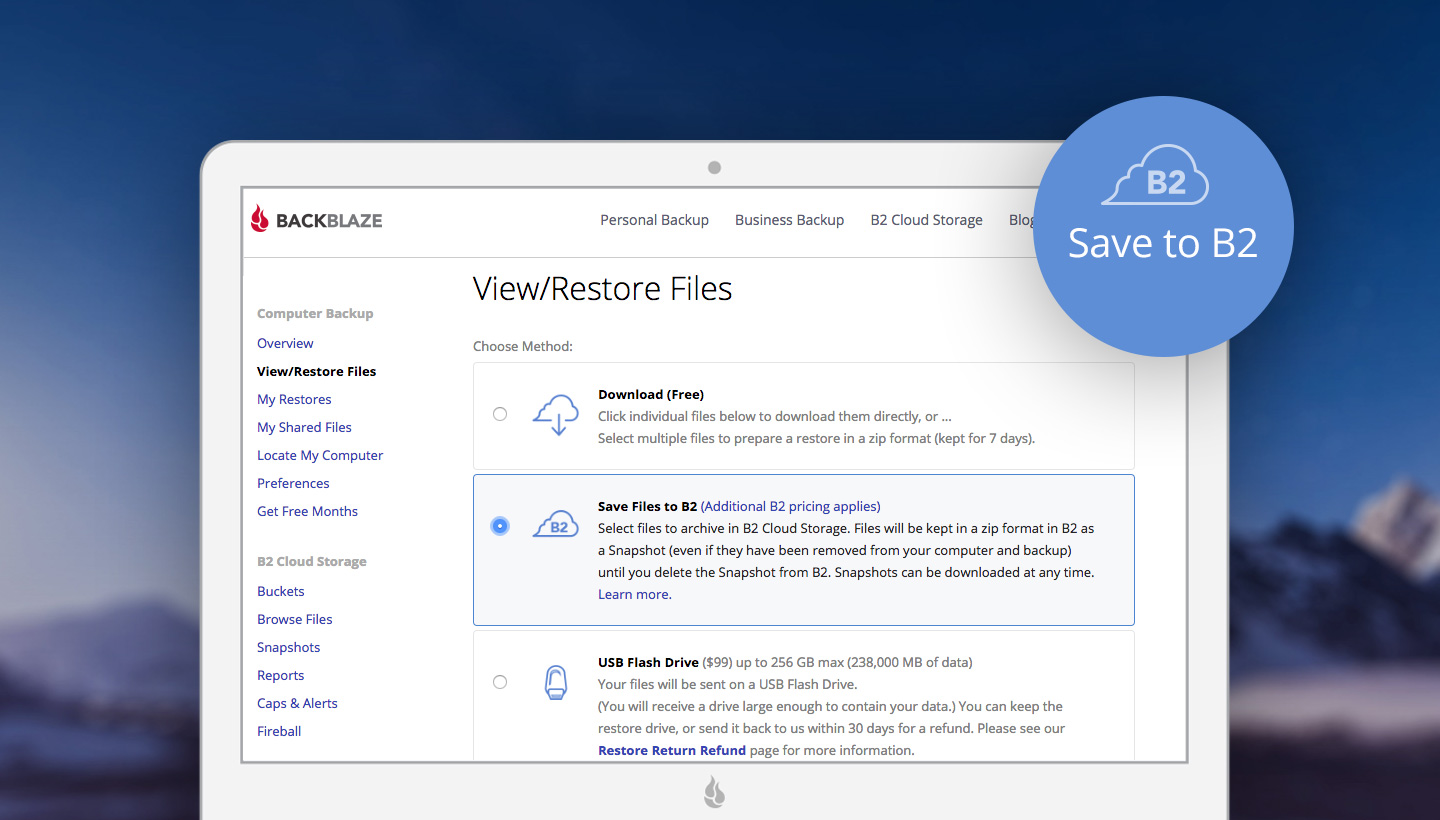 Customers have often told us that they'd love a way to save data directly from their Backblaze Computer Backup account to B2 Cloud Storage. Some want to freeze a set of records in time, others want to preserve the state of a directory or system as it existed at a specific moment. Still others simply want to remove data from their local drive but have the assurance that it is safely stored in the cloud.
We listened to these requests and are happy to say that we've added this capability in our just released 6.0 update of Backblaze Computer Backup. Users can now select B2 Cloud Storage as a destination to save Snapshots from their backup account during the restore process.
This capability lets customers do a number of new things, like keep a copy of their old computer's data even when migrating to a new one, save a collection of files (e.g. last year's emails, a completed work project, your novel draft, tax returns) in the cloud as an archive, or free up space on a hard drive by moving data to a Snapshot in B2 and then deleting the original copy. Just like files in Computer Backup, the B2 Snapshot can be downloaded over the internet or delivered anywhere on a USB hard drive.
No More Connecting Your External Drives Every 30 Days
This new feature can particularly benefit users who have been using Computer Backup to back up data from multiple external drives. Often, these external drives are not always connected to their computers, and to maintain the backups they have been required to connect these drives at least once every 30 days so that they're active and therefore maintained in their backup — a task they tell us they'd rather avoid.
Now, with the ability to save a restore to B2, these customers can take a Snapshot of the data already backed up from these drives and save it to a B2 account. They can save as many Snapshots as they wish, thereby saving the state of the drive as it existed in one moment for as long as they wish to retain it.
Snapshots are stored at economical B2 rates: $0.005 gigabyte/month and $0.01 gigabyte for downloads. Customers get an instant cost estimate when a Snapshot is prepared from Backblaze Backup to B2.
What is B2 Cloud Storage?
B2 is Backblaze's low cost and high performance cloud storage. It can be used to store data for as short or as long a period as you require. The data in B2 is retrievable without delay from anywhere at any time.
B2 is different from Backblaze Computer Backup in that B2 can be used to store whatever data you want and you have complete control of how long it is retained. Our Computer Backup service offers unlimited backup of the data on your Mac or Windows computer using the Backblaze client software. B2, in contrast, can be accessed through the account dashboard or used with any of a number of applications chosen by the user, or accessed through various programming interfaces or from a computer's command line. For more on pricing, see our pricing page and calculator for B2.
How Does Saving a Restore to B2 Work?
Files in your Computer Backup can be zipped and archived to a Snapshot that is stored in B2 Cloud Storage. These selected files will be safe in B2 until the Snapshot is removed by the user, even if the files have been deleted from the computer and the backup.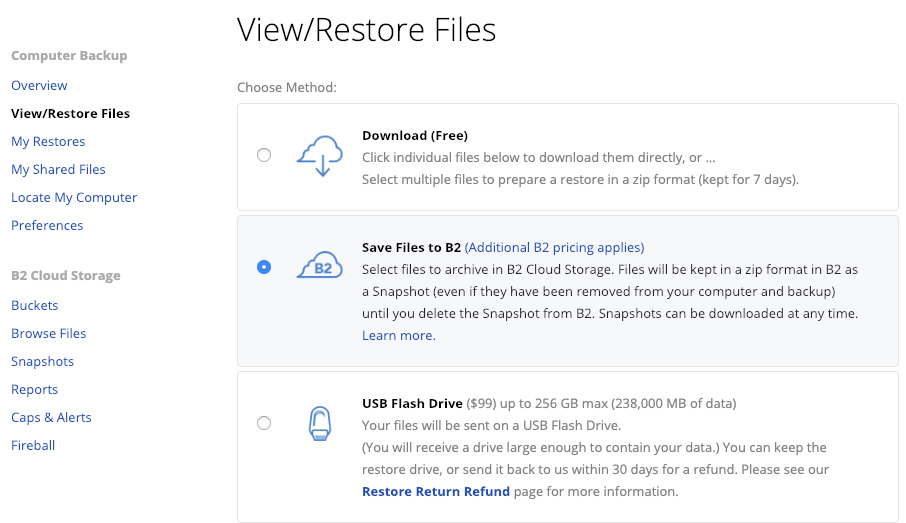 Creating a Restore Snapshot in Backup account
The user gets an instant estimate of the cost to store the Snapshot in B2.
Preparing Snapshot from Computer Backup account
The user receives a notice when the Snapshot is created and stored.
Notice that Snapshot has been created
An unlimited number of restores can be saved and retained as B2 Snapshots for any length of time desired.The user's account dashboard shows all the Snapshots that have been created, and gives options to download or remove the Snapshot. A Snapshot can be downloaded directly from B2 to a user's computer or shipped to customers on a USB hard drive. And, when returned within 30 days, the cost of the flash or hard drive is completely refundable, just like with regular restores.
User account page showing status of Snapshots in B2
Let Us Know How You're Using Snapshots
We hope you'll try out this new capability and let us know how you're using it.
For more tips on saving data to B2 Snapshots, read our help article, Saving Files to B2 from Computer Backup, or sign up for our free webinar on Backblaze Backup v6.0 on January 30, 2019, at 11am PST.