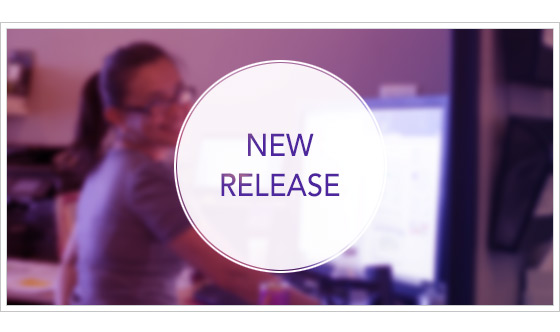 Release Date: 4/28/2014
Version: 2.5.1
Windows version: 2.5.1.735
Mac version: 2.5.1.742
Normally "dot" releases such as 2.5.1 are about making little improvements that go unnoticed by nearly everyone. For example, in 2.5.1 we sped up the file scanning process on the Mac platform by utilizing BSD layer OSX system calls. We also added .pvm files (Parallels) to the default excluded file types list and made a number of other "invisible" tweaks for both Windows and Mac.
In 2.5.1 we did sneak in one feature everyone can see, the Skipped Files Report. It works like this. Backblaze automatically creates a list of new and changed files it needs to back up. We then proceed to back up those files. If we encounter a file on the list that we can not back up, Backblaze writes a message line in the Skipped Files Report. In previous versions of Backblaze, we logged this information, but it was hard to find and decipher. Beginning with 2.5.1, you'll be able to view the Skipped Files Report anytime by opening your Backblaze Preferences, selecting Settings and choosing the Reports (Mac) or Issues (PC) tab as noted below.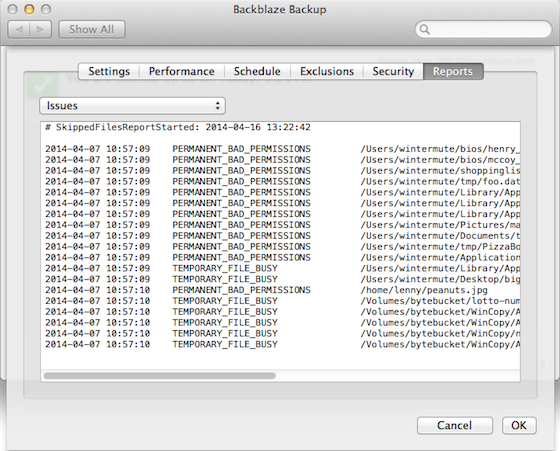 Viewing the Skipped Files Report on the Mac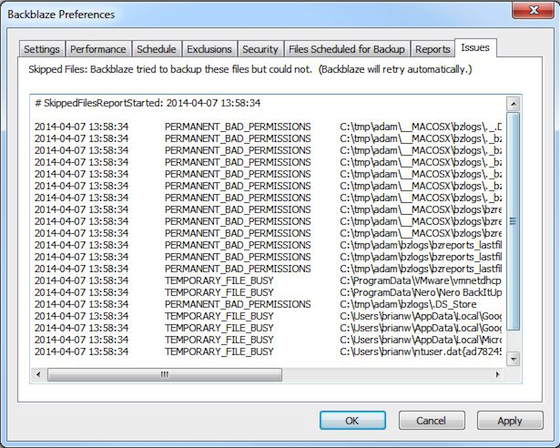 Viewing the Skipped Files Report on the PC
Most of the time, the message is self-explanatory as to why a given file was not backed up. A few of the more common messages are listed below. Please contact Backblaze support if you have questions.
Permanent Bad Permissions: The permissions on the file will not allow us to read the file for backup.
Temporary File Busy: The file is open by another process.
Temporary Drive Unplugged: The file we wanted to back up was on an external drive which does not appear to be connected anymore.
In general, Backblaze backs up without incident and you'll find few if any entries on the Skipped Files Report, but feel free to check from time-to-time.