While the first half of 2021 saw disruptive, high-profile attacks, Q3 saw attention and intervention at the highest levels. Last quarter, cybercriminals found themselves in the sights of government and law enforcement agencies as they responded to the vulnerabilities the earlier attacks revealed. Despite these increased efforts, the ransomware threat remains, simply because the rewards continue to outweigh the risks for bad actors.
If you're responsible for protecting company data, ransomware news is certainly on your radar. In this series of posts, we aim to keep you updated on evolving trends as we see them to help inform your IT decision-making. Here are five key takeaways from our monitoring over Q3 2021.
This post is a part of our ongoing series on ransomware. Take a look at our other posts for more information on how businesses can defend themselves against a ransomware attack, and more.
1. Ransomware Attacks Keep Coming
No surprises here. Ransomware operators continued to carry out attacks—against Howard University, Accenture, and the fashion brand Guess, to name a few. In August, the FBI's Cyber Division and the Cybersecurity and Infrastructure Security Agency (CISA) reported an increase in attacks on holidays and weekends and alerted businesses to be more vigilant as we approach major holidays. Then, in early September, the FBI also noticed an uptick in attacks on the food and agriculture sector. The warnings proved out, and in late September, we saw a number of attacks against farming cooperatives in Iowa and Minnesota. While the attacks were smaller in scale compared to those earlier in the year, the reporting speaks to the fact that ransomware is definitely not a fad that's on a downswing.
2. More Top-down Government Intervention
Heads of state and government agencies took action in response to the ransomware threat last quarter. In September, the U.S. Treasury Department updated an Advisory that discourages private companies from making ransomware payments, and outlines mitigating factors it would consider when determining a response to sanctions violations. The Advisory makes clear that the Treasury will expect companies to do more to proactively protect themselves, and may be less forgiving to those who pay ransoms without doing so.
Earlier in July, the TSA also issued a Security Directive that requires pipeline owners and operators to implement specific security measures against ransomware, develop recovery plans, and conduct a cybersecurity architecture review. The moves demonstrate all the more that the government doesn't take the ransomware threat lightly, and may continue to escalate actions.
3. Increased Scrutiny on Key Players Within the Ransomware Economy
Two major ransomware syndicates, REvil and Darkside, went dark days after President Joe Biden's July warning to Russian President Vladimir Putin to rein in ransomware operations. We now see this was but a pause. However, the rapid shuttering does suggest executive branch action can make a difference, in one country or another.
Keep in mind, though, that the ransomware operators themselves are just one part of the larger ransomware economy (detailed in the infographic at the bottom of the post). Two other players within the ransomware economy faced increased pressure this past quarter—currency exchanges and cyber insurance carriers.
Currency Exchanges: In addition to guidance for private businesses, the Treasury Department's September Advisory specifically added the virtual currency exchange, SUEX, to the Specially Designated Nationals and Blocked Persons List, after it found that more than 40% of the exchange's transactions were likely related to ransomware payments. The Advisory imposed sanctions that prohibit any U.S. individual or entity from engaging in transactions with SUEX.
Cyber Insurance Carriers: It makes sense the cyber insurance industry is booming—the economics of risk make it lucrative for certain providers. Interestingly, though, we're starting to see more discussion of how cyber insurance providers and the victim-side vendors they engage with—brokers, negotiators, and currency platforms like SUEX—are complicit in perpetuating the ransomware cycle. Further, the Treasury Department's September Advisory also included a recommendation to these victim-side vendors to implement sanctions compliance programs that account for the risk that payments may be made to sanctioned entities.
4. An Emerging Moral Compass?
In messages with Bloomberg News, the BlackMatter syndicate pointed out its rules of engagement, saying hospitals, defense, and governments are off limits. But, sectors that are off limits to some are targets for others. While some syndicates work to define a code of conduct for criminality, victims continue to suffer. According to a Ponemon survey of 597 health care organizations, ransomware attacks have a significant impact on patient care. Respondents reported longer length of stay (71%), delays in procedures and tests (70%), increase in patient transfers or facility diversions (65%), and an increase in complications from medical procedures (36%) and mortality rates (22%).
5. Karma Is a Boomerang
It's not surprising that ransomware operators would steal from their own, but that doesn't make it any less comical to hear low-level ransomware affiliates complaining of "lousy partner programs" hawked by ransomware gangs "you cannot trust." ZDNet reports that the REvil group has been accused of coding a "backdoor" into their affiliate product that allows the group to barge into negotiations and take the keep all for themselves. It's a dog-eat-dog world out there.
The Good News
This quarter, the good news is that ransomware has caught the attention of the people who can take steps to curb it. Government recommendations to strengthen ransomware protection make investing the time and effort easier to justify, especially when it comes to your cloud strategy. If there's anything this quarter taught us, it's that ransomware protection should be priority number one.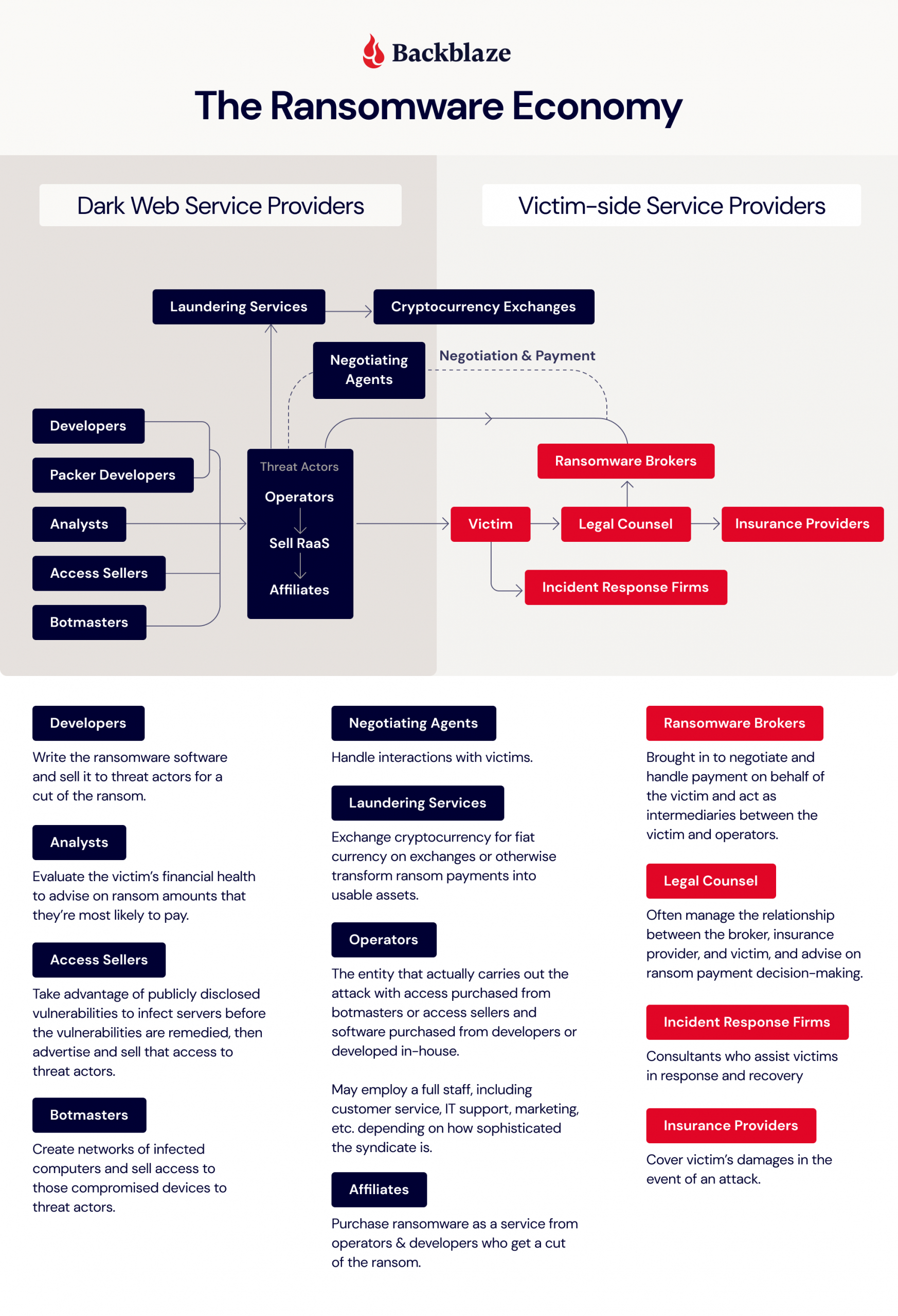 If you want to share this infographic on your site, copy the code below and paste into a Custom HTML block.
<div><div><strong>The Ransomware Economy</strong></div><a href="https://www.backblaze.com/blog/ransomware-takeaways-q3-2021/"><img src="https://www.backblaze.com/blog/wp-content/uploads/2021/11/The-Ransomware-Economy_-scaled.jpg" border="0" alt="diagram of the players and elements involved in spreading ransomware" title="diagram of the players and elements involved in spreading ransomware" /></a></div>