Eighteen months ago, the few remaining LTO tape drive manufacturers announced the availability of LTO-8, the latest generation of the Linear Tape-Open storage technology. Yet today, almost no one is actually writing data to LTO-8 tapes. It's not that people aren't interested in upgrading to the denser LTO-8 format that offers 12 TB per cartridge, twice LTO-7's six TB capacity. It's simply that the two remaining LTO tape manufacturers are locked in a patent infringement battle. And that means LTO-8 tapes are off the market indefinitely.
The pain of this delay is most acute for media professionals who are always quick to adopt higher capacity storage media for video and audio files that are notorious storage hogs. As cameras get more sophisticated, capturing in higher resolutions and higher frame rates, the storage capacity required per hour of content shoots through the roof. For example, one hour of ProRes UltraHD requires 148.72 GB storage capacity, which is four times more than the 37.35 GB required for one hour of ProRes HD-1080. Meanwhile, falling camera prices are encouraging production teams to use more cameras per shoot, further increasing the capacity requirements.
Since its founding, the LTO Consortium has prepared for storage growth by setting a goal of doubling tape density with each LTO generation and committed to releasing a new generation every two to three years. While this lofty goal might seem admirable to the LTO Consortium, it puts customers with earlier generations of LTO systems in a difficult position. New generation LTO drives at best can only read tapes from the two previous generations. So once a new generation is announced, the clock begins ticking on data stored on deprecated generations of tapes. Until you migrate the data to a newer generation, you're stuck maintaining older tape drive hardware that may be no longer supported by manufacturers.
How Manufacturer Lawsuits Led to the LTO-8 Shortage
How the industry and the market arrived in this painful place is a tangled tale. The lawsuit and counter-lawsuit that led to the LTO-8 shortage is a patent infringement dispute between Fuji and Sony, the only two remaining manufacturers of LTO tape media. The timeline is complicated, starting in 2016 with Fujifilm suing Sony, then Sony counter-suing Fuji. By March 2019, US import bans of LTO products of both manufacturers were in place.
In the middle of these legal battles, LTO-8 drive manufacturers announced product availability in late 2017. But what about the LTO-8 tapes? Fujifilm says they're not currently manufacturing LTO-8 and have never sold them. And Sony says its US imports of LTO-8 have been stopped and won't comment about when they will begin shipping again per the dispute. So no LTO-8 for you!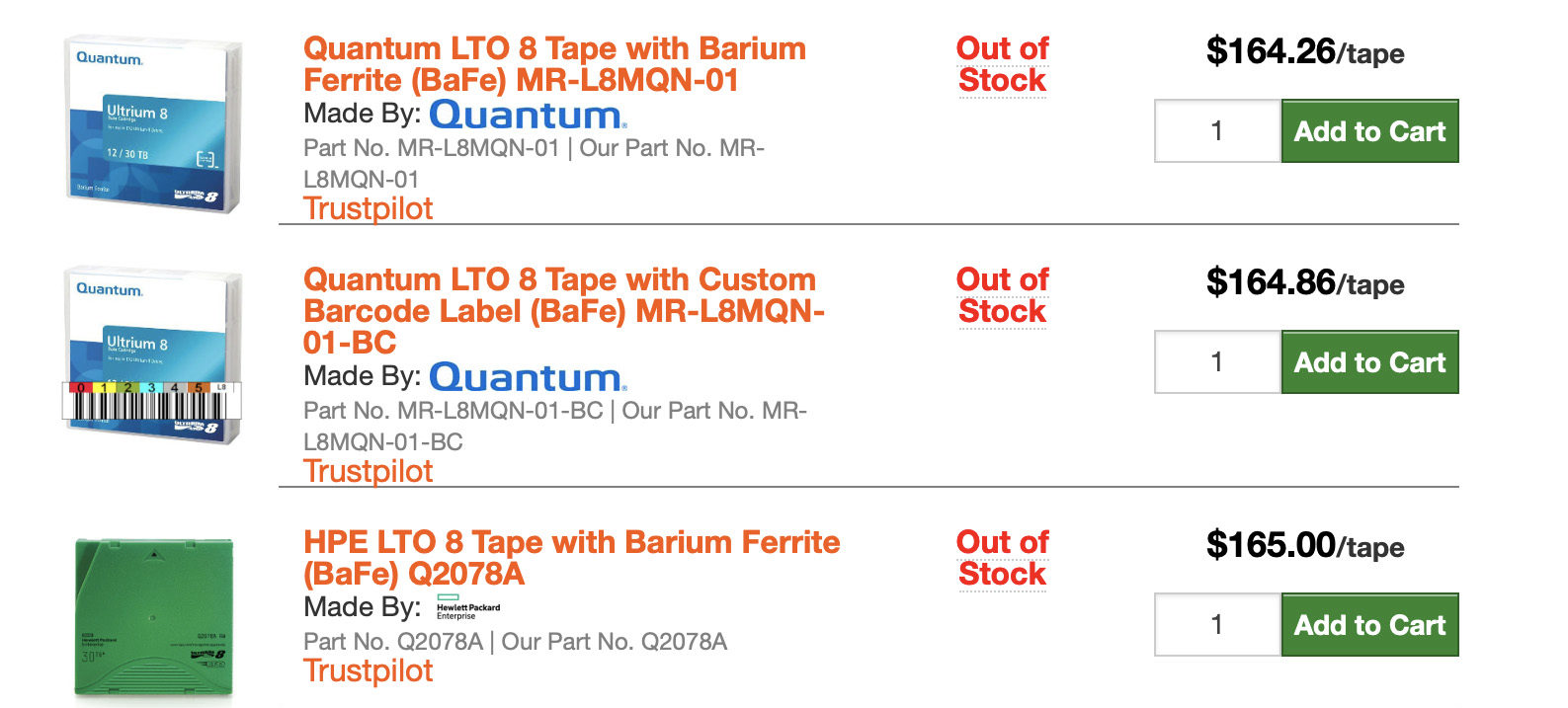 Note that having only two LTO tape manufacturers is a root cause of this shortage. If there were still six LTO tape manufacturers like there were when LTO was launched in 2000, a dispute between two vendors might not have left the market in the lurch.
Weighing Your Options — LTO-8 Shortage Survival Strategies
If you're currently using LTO for backup or archive, you have a few options for weathering the LTO-8 shortage.
The first option is to keep using your current LTO generation and wait until the disputes settle out completely before upgrading to LTO-8. The downside here is you'll have to buy more and more LTO-7 or LTO-6 tapes that don't offer the capacity you probably need if you're storing higher resolution video or other capacity-hogging formats. And while you'll be spending more on tapes than if you were able to use the higher capacity newer generation tapes, you'll also know that anything you write to old-gen LTO tapes will have to be migrated sooner than planned. LTO's short two to three year generation cycle doesn't leave time for legal battles, and remember, manufacturers guarantee at most two generations of backward compatibility.
A second option is to go ahead and buy an LTO-8 library and use LTO-7 tapes that have been specially formatted for higher capacity called LTO Type M (M8). When initialized as Type M media, LTO-7 can hold nine TB of data instead of the standard six TB LTO-7 cartridge initialized as Type A. That puts it halfway up to the 12 TB capacity of an LTO-8 tape. However, this extra capacity comes with several caveats:
Only new, unused LTO-7 cartridges can be initialized as Type M.
Once initialized as Type M, they cannot be changed back to LTO-7 Type A.
Only LTO-8 drives in libraries can read and write to Type M, not standalone drives. [Correction: Standalone LTO-8 drives can read and write LTO-7 Type M tapes. Initializing them, however, requires special utilities to initialize LTO 7 tapes as Type M in stand-alone drives.]
Future LTO generations — LTO-9, LTO-10, etc. — will not be able to read LTO-7 Type M.
So if you go with LTO-7 Type M for greater capacity, realize it's still LTO-7, not LTO-8, and when you move to LTO-9, you won't be able to read those tapes.
Managing Tape is Complicated
If your brain hurts reading this as much as mine does writing this, it's because managing tape is complicated. The devil is in the details, and it's hard to keep them all straight. When you have years or even decades of content stored on LTO tape, you have to keep track of which content is on which generation of LTO, and ensure your facility has the drive hardware available to read them, and hope that nothing goes wrong with the tape media or the tape drives or libraries.
In general, new drives can read two generations back, but there are exceptions. For example, LTO-8 can't read LTO-6 because the standard changed from GMR (Giant Magneto-Resistance) heads to TMR (Tunnel Magnetoresistance Recording) heads. The new TMR heads can write data more densely, which is what drives the huge increase in capacity. But that means you'll want to keep an LTO-7 drive available to read LTO-5 and LTO-6 tapes.
Beyond these considerations for managing the tape storage long-term, there are the day-to-day hassles. If you've ever been personally responsible for managing backup and archive for your facility, you'll know that it's a labor-intensive, never-ending chore that takes time from your real job. And if your setup doesn't allow users to retrieve data themselves, you're effectively on-call to pull data off the tapes whenever it's needed.
A Third Option — Migrate from LTO to Cloud Storage
If neither of these options to the LTO-8 crisis sounds appealing, there is an alternative: cloud storage. Cloud storage removes the complexity of tape while reducing costs. How much can you save in media and labor costs? We've calculated it for you in LTO Versus Cloud Storage Costs — the Math Revealed. And cloud storage makes it easy to give users access to files, either through direct access to the cloud bucket or through one of the integrated applications offered by our technology partners.
At Backblaze, we have a growing number of customers who shifted from tape to our B2 Cloud Storage and never looked back. Customers such as Austin City Limits, who preserved decades of concert historical footage by moving to B2; Fellowship Church, who eliminated Backup Thursdays and freed up staff for other tasks; and American Public Television, who adopted B2 in order to move away from tape distribution to its subscribers. What they've found is that B2 made operations simpler and their data more accessible without breaking their budget.
Another consideration: once you migrate your data to B2 cloud storage, you'll never have to migrate again when LTO generations change or when the media ages. Backblaze takes care of making sure your data is safe and accessible on object storage, and migrates your data to newer disk technologies over time with no disruption to you or your users.
In the end, the problem with tape isn't the media, it's the complexity of managing it. It's a well-known maxim that the time you spend managing how you do your work takes time away from what you do. Having to deal with multiple generations of both tape and tape drives is a good example of an overly complex system. With B2 Cloud Storage, you can get all the economical advantages of tape as well as the disaster recovery advantages of your data being stored away from your facility, without the complexity and the hassles.
With no end in sight to this LTO-8 shortage, now is a good time to make the move from LTO to B2. If you're ready to start your move to alway available cloud storage, Backblaze and our partners are ready to help you.
Migrate or Die, a Webinar Series on Migrating Assets and Archives to the Cloud
If you're facing challenges managing LTO and contemplating a move to the cloud, don't miss Migrate or Die, our webinar series on migrating assets and archives to the cloud.