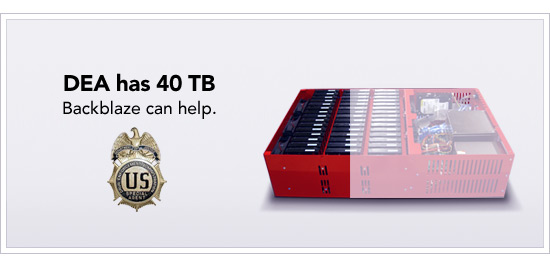 Charges against Armando Angulo, a Miami doctor who was pursued by the federal government, have been dropped because the evidence was taking too much space on the DEA servers. Now, to give them their due, the government has more than 400,000 pages of evidence. That must have taken a tremendous amount of resources to assemble. Lawyers, courts, investigations, etc.
But those 400,000 pages of evidence take just 2TB of data. You can buy a 2TB drive for $100 on Amazon. But the DEA claims this will be "an economic and political hardship." $100 versus the $6.5 million he allegedly cost Medicaid through his fraudulent activities.
What may be even crazier is that the DEA claims this 2TB took up 5% of their entire worldwide global storage network. In other words, the DEA has a total of 40TB of storage. Worldwide.
That's one third of one Backblaze Storage Pod. Which costs $10k to build.
If $6.5 million isn't enough to keep 2TB of data, we would be happy to provide an entire Backblaze Storage Pod to them for that much. And we'd be happy to provide online backup for all 2TB for just $5/month.