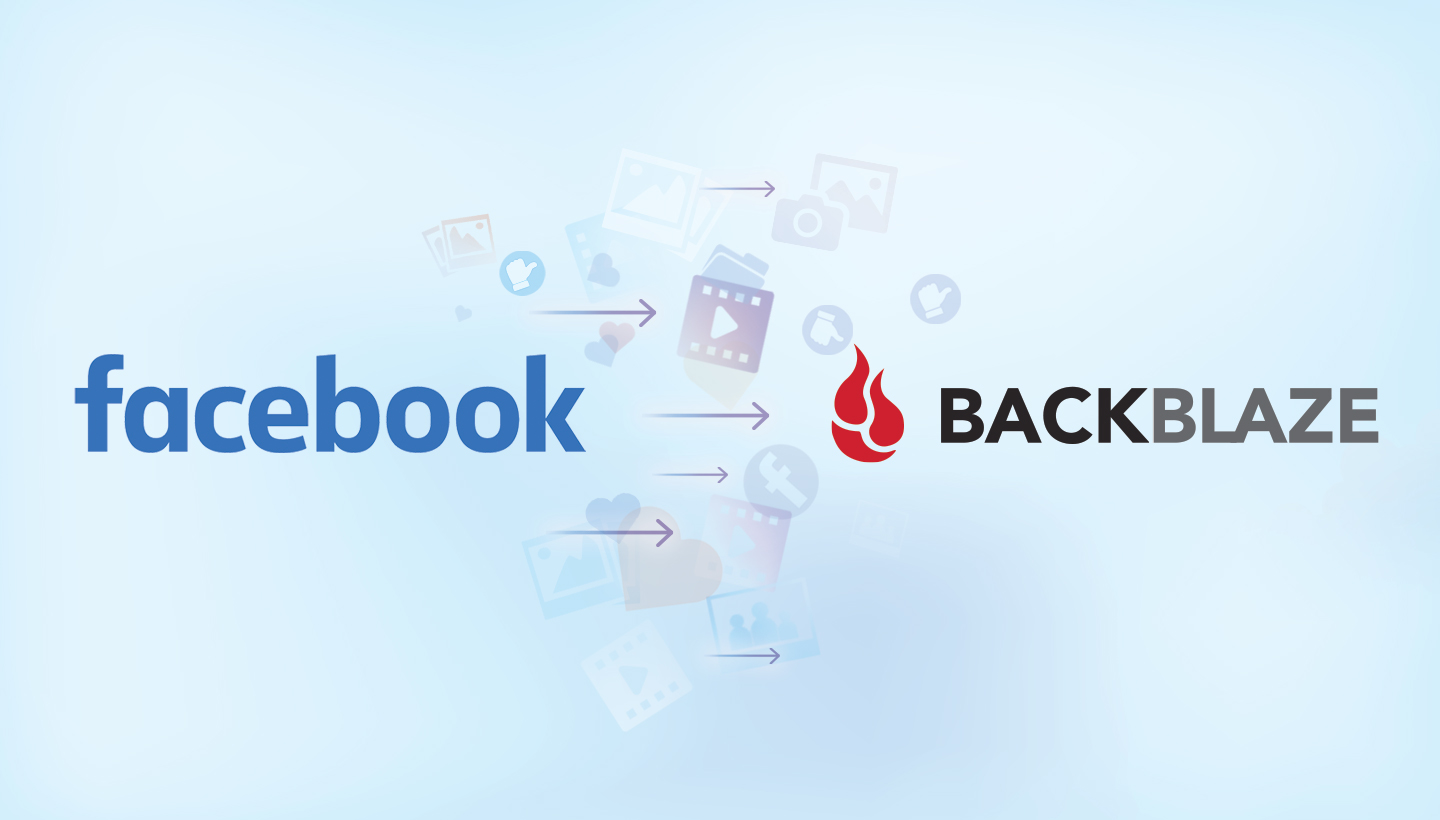 Perhaps I'm dating myself when I say that I've been using Facebook for a very long time. So long that the platform is home to many precious photos and videos that I couldn't imagine losing. And even though they're mostly shared to Facebook from my phone or other apps, some aren't. So I've periodically downloaded my Facebook albums to my Mac, which I've of course set to automatically back up with Backblaze, to ensure they're safely archived.
And while it's good to know how to download and back up your social media profile, you might be excited to learn that it's just become a lot easier: Facebook has integrated Backblaze B2 Cloud Storage directly as a data transfer destination for your photos and videos. This means you can now migrate or copy years of memories in a matter of clicks.
What Data Transfer Means for You
If you use Facebook and want to exercise even greater control over the media you've posted there, you'll find that this seamless integration enables:
Personal safeguarding of images and videos in Backblaze.
Enhanced file sharing and access control options.
Ability to organize, modify, and collaborate on content.
How to Move Your Data to Backblaze B2
Current Backblaze B2 customers can start data transfers within Facebook via Settings & Privacy > Settings / Your Facebook Information / Transfer a Copy of Your Photos or Videos / Choose Destination / Backblaze.
1.
You can find Settings & Privacy listed in the options when you click your profile icon.
2.
Under Settings & Privacy, select Settings.
3.
Go to Your Facebook Information and select "View" next to Transfer a Copy of Your Photos or Videos.
4.
Under Choose Destination, simply select Backblaze and your data transfer will begin.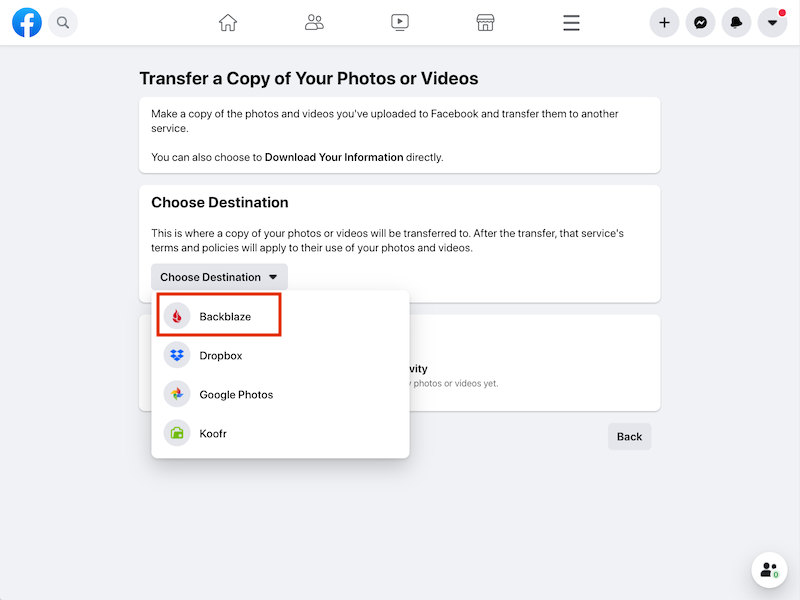 If you don't have a Backblaze B2 account, you can create one here. You'll need a Key ID and an Application Key when you select Backblaze.
The secure, encrypted data transfer service is based on code Facebook developed through the open-source Data Transfer Project (and you all know we love open-source projects, from our original Storage Pod design to Reed-Solomon erasure coding). Data routed to your B2 Cloud Storage account enjoys our standard $5/TB month pricing with a standard 10GB of free capacity.
Our Co-Founder and CEO, Gleb Budman, noted that this new integration harkens back to our roots: "We've been helping people safely store their photos and videos in our cloud for almost as long as Facebook has been providing the means to post content. For people on Facebook who want more choice in hosting their data outside the platform, we're happy to make our cloud a seamlessly available destination."
My take: