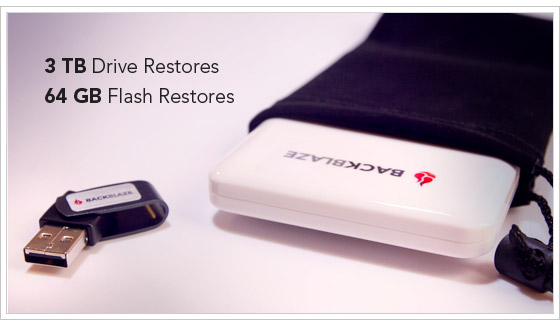 Editor's note:
On March 3, 2022, Backblaze ended the USB flash drive restore option. While we parted ways with USB flash drives, we continue to offer many options for restoring your files—explore ways to recover your data
here
.
For all our talk about online backup, restoring data is what Backblaze is all about!
"Backblaze saved the day for me—not once, but twice, in less than six months. My computer did one of those spectacular crashes where it seems most of its insides get replaced and I needed my BB restore files. Five months later both my new hard drive and my external hard drive died and I needed those BB restore files again…"—Marla, a Backblaze Customer
"It works! My iMac crashed and I had to purchase a new one. All of my digital negatives, .jpegs, and documents were restored from Backblaze and in no time at all, I was back in business. I have more confidence in Backblaze than I do in my external hard drive backup…"—Kathy, a Backblaze Customer
2.5 Billion Memories Restored
Backblaze recently passed the 2.5 billion mark for the number of files our customers have restored. We say files, but our customers think of them as graduation photos, videos of their children, music, financial records, genealogy data, scrapbooking designs, etc. That's a lot of digital memories that have been returned home safe and sound to folks like Kathy and Marla. That's nice.
Can't quite comprehend what 2.5 billion looks like? If each file were an 8×10 photo, printed out they would cover nearly 32,000 acres or 12,900 hectares for folks outside the US and Canada. In either case, that's enough photos to cover the entire city of San Francisco or all of Walt Disney World in Florida, both of which are, coincidentally, the same size: 30,080 acres.
More Fun Backblaze Restore Facts
Users request more restores on Monday versus any other day.
In December 2012, we restored 280TB of data.
On average, we restore the most files on the 5th of each month.
On average, we restore the fewest files on the 22nd of each month.
The number of files being restored per user increased nearly 70% from December 2011 to December 2012.
We estimate that we will restore our 5 billionth file in January 2014—stay tuned…
Big Gets Even BIGGER
We've doubled the size of our USB flash drive restore option from 32GB to 64GB, and we've tripled the size of our USB hard drive restore option from 1TB to 3TB. Even better, we didn't raise prices.
So you can get a 64GB USB flash drive restore for $99 or you can get up to a 3TB USB external hard drive restore for $189. These prices include preparation and shipping anywhere in the world. We've sent restores to Singapore, Romania, Japan, and many other places all with free shipping. Of course, you can always securely download your restore for free as a ZIP file over the internet like 99% of our users requesting a restore, but just in case, we've made the USB restores bigger.
Things to Know About USB Restores
The 64GB USB flash drive will hold about 60GB of data after formatting, so if you have more than 60GB of data to restore, you'll to need buy two or more USB flash drives.
If you purchase a USB external hard drive restore, we will ship you a drive that will accommodate your data, up to about 3TB in size. For example, if you are restoring 1.1TB of data, we could ship you a 1.5TB drive. The price will be $189 no matter what size drive we send.
One more thing—if you order a USB flash drive or USB hard drive restore, you get to keep the drive we send you. Enjoy!
So if your cat knocks water on your laptop or you've deleted the playlist for your wedding, Backblaze can be there to help you out. And if you're one of our many customers who has done a restore with Backblaze, tell us your story; we'd like to hear it. Just email us at love@backblaze.com. Thanks.