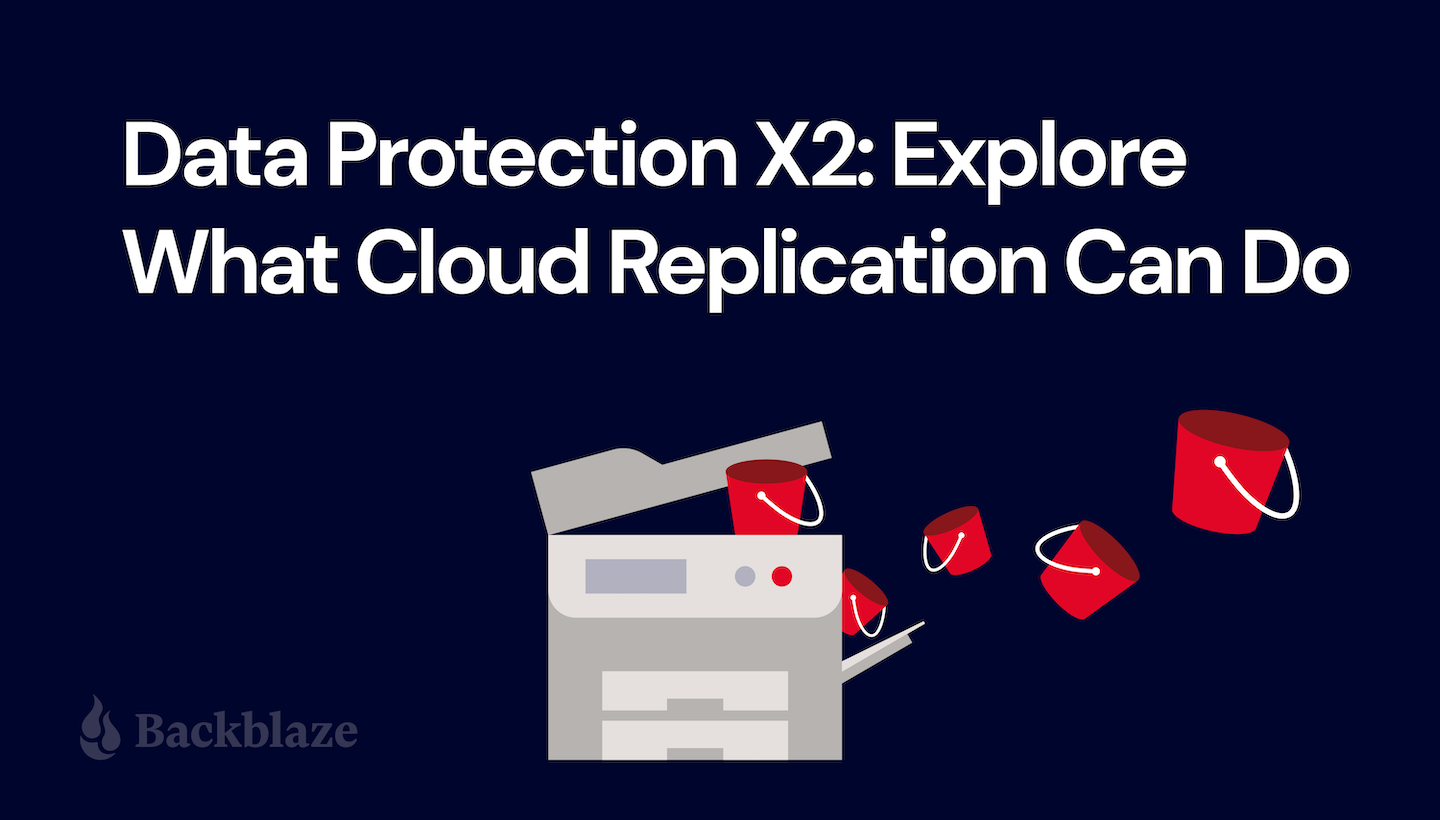 Anyone overwhelmed by their to-do list wishes they could be in two places at once. Backblaze's newest feature—currently in beta—might not be able to grant that wish, but it will soon offer something similarly useful: The new Cloud Replication feature means data can be in two places at once, solving a whole suite of issues that keep IT teams up at night.
The Background: What Is Backblaze Cloud Replication?
Cloud Replication will enable Backblaze customers to store files in multiple regions, or create multiple copies of files in one region, across the Backblaze Storage Cloud. Simply set replication rules via web UI or API on a bucket. Once the rules are set, any data uploaded to that bucket will automatically be replicated into a destination bucket either in the same region or another region. If it sounds easy, that's because it is—even the English majors in our Marketing department have mastered this one.
The Why: What Can Cloud Replication Do for You?
There are three key use cases for Cloud Replication:
Protecting data for security, compliance, and continuity purposes.
Bringing data closer to distant teams or customers for faster access.
Providing version protection for testing and staging in deployment environments.
Redundancy for Compliance and Continuity
This is the top use case for cloud replication, and will likely have value for almost any enterprise with advanced backup strategies.
Whether you are concerned about natural disasters, political instability, or complying with possible government, industry, or board regulations—replicating data to another geographic region can check a lot of boxes easily and efficiently. Especially as enterprises move completely into the cloud, data redundancy will increasingly be a requirement for:
Modern business continuity and disaster recovery plans.
Industry and board compliance efforts centered on concentration risk issues.
Data residency requirements stemming from regulations like GDPR.
The gold standard for backup strategies has long been a 3-2-1 approach. The core principles of 3-2-1, originally developed for an on-premises world, still hold true, and today they are being applied in even more robust ways to an increasingly cloud-based world. Cloud replication is a natural evolution for organizations that are storing much more or even all of their data in the cloud or plan to in the future. It enables you to implement the core principles of 3-2-1, including redundancy and geographic separation, all in the cloud.
Data Proximity
If you have teams, customers, or workflows spread around the world, bringing a copy of your data closer to where work gets done can minimize speed-of-light limitations. Especially for media-heavy teams in game development and postproduction, seconds can make the difference in keeping creative teams operating smoothly. And because you can automate replication and use metadata to track accuracy and process, you can remove some manual steps from the process where errors and data loss tend to crop up.
Testing and Staging
Version control and smoke testing are nothing new, but when you're controlling versions of large applications or trying to keep track of what's live and what's in testing, you might need a tool with more horsepower and options for customization. Cloud Replication can serve these needs.
You can easily replicate objects between buckets dedicated for production, testing, or staging if you need to use the same data and maintain the same metadata. This allows you to observe best practices and automate replication between environments.
The Status: When Can I Get My Hands on Cloud Replication?
Cloud Replication kicked off in beta in early April and our team and early testers have been breaking in the feature since then.
Here's how things are lined up:
April 18: Phase One (Underway)
Phase one is a limited release that is currently underway. We've only unlocked new file replication in this release—meaning testers have to upload new data to test functionality.
May 24 (Projected): Phase Two
We'll be unlocking the "existing file" Cloud Replication functionality at this time. This means users will be able to set up replication rules on existing buckets to see how replication will work for their business data.
Early June (Projected): General AvailabilityWe'll open the gates completely on June 7 with full functionality, yeehaw!
Want to Learn More About Cloud Replication?
If you want to dig into how this feature works via the CLI and API and learn about some of the edge cases, special circumstances, billing implications, and lookouts—our draft Cloud Replication documentation can be accessed here. We also have some help articles walking through how to create rules via the web application here.
Otherwise, we look forward to sharing more when this feature is fully baked and ready for consumption.