Where Does the Media Industry Really Use Cloud Storage?
Download TV Technology Survey Results
Our new cloud survey results might surprise you.
Predicting which promising new technologies will be adopted quickly, which ones will take longer, and which ones will fade away is not always easy. When the iPhone was introduced in 2007, only 6% of the US population had smartphones. In less than 10 years, over 80% of Americans owned smartphones. In contrast, video telephone calls demonstrated at the 1964 New York World's Fair only became commonplace 45 years later with the advent of FaceTime. And those flying cars people have dreamed of since the 1950s? Don't hold your breath.
What about cloud storage? Who is adopting it today and for what purposes?
"While M&E professionals are not abandoning existing storage alternatives, they increasingly see the public cloud in storage applications as simply another professional tool to achieve their production, distribution, and archiving goals. For the future, that trend looks to continue as the public cloud takes on an even greater share of their overall storage requirements."
— Phil Kurz, contributing editor, TV Technology
At Backblaze, we have a front-line view of how customers use cloud for storage. And based on the media-oriented customers we've directly worked with to integrate cloud storage, we know they're using cloud storage throughout the workflow: backing up files during content creation (UCSC Silicon Valley), managing production storage more efficiently (WunderVu), archiving of historical content libraries (Austin City Limits), hosting media files for download (American Public Television), and even editing cloud-based video (Everwell).
We wanted to understand more about how the broader industry uses cloud storage and their beliefs and concerns about it, so we could better serve the needs of our current customers and anticipate what their needs will be in the future.
We decided to sponsor an in-depth survey with TV Technology, a media company that for over 30 years has been an authority for news, analysis and trend reports serving the media and entertainment industries. While TV Technology had conducted a similar survey in 2015, we thought it'd be interesting to see how the industry outlook has evolved. Based on our 2019 results, it certainly has. As a quick example, security was a concern for 71% of respondents in 2015. This year, only 38% selected security as an issue at all.
Survey Methodology — 246 Respondents and 15 Detailed Questions
For the survey, TV Technology queried 246 respondents, primarily from production and post-production studios and broadcasters, but also other market segments including corporate video, government, and education. See chart below for the breakdown. Respondents were asked 15 questions about their cloud storage usage today and in the future, and for what purpose. The survey queried what motivated their move to the cloud, their expectations for access times and cost, and any obstacles that are preventing further cloud adoption.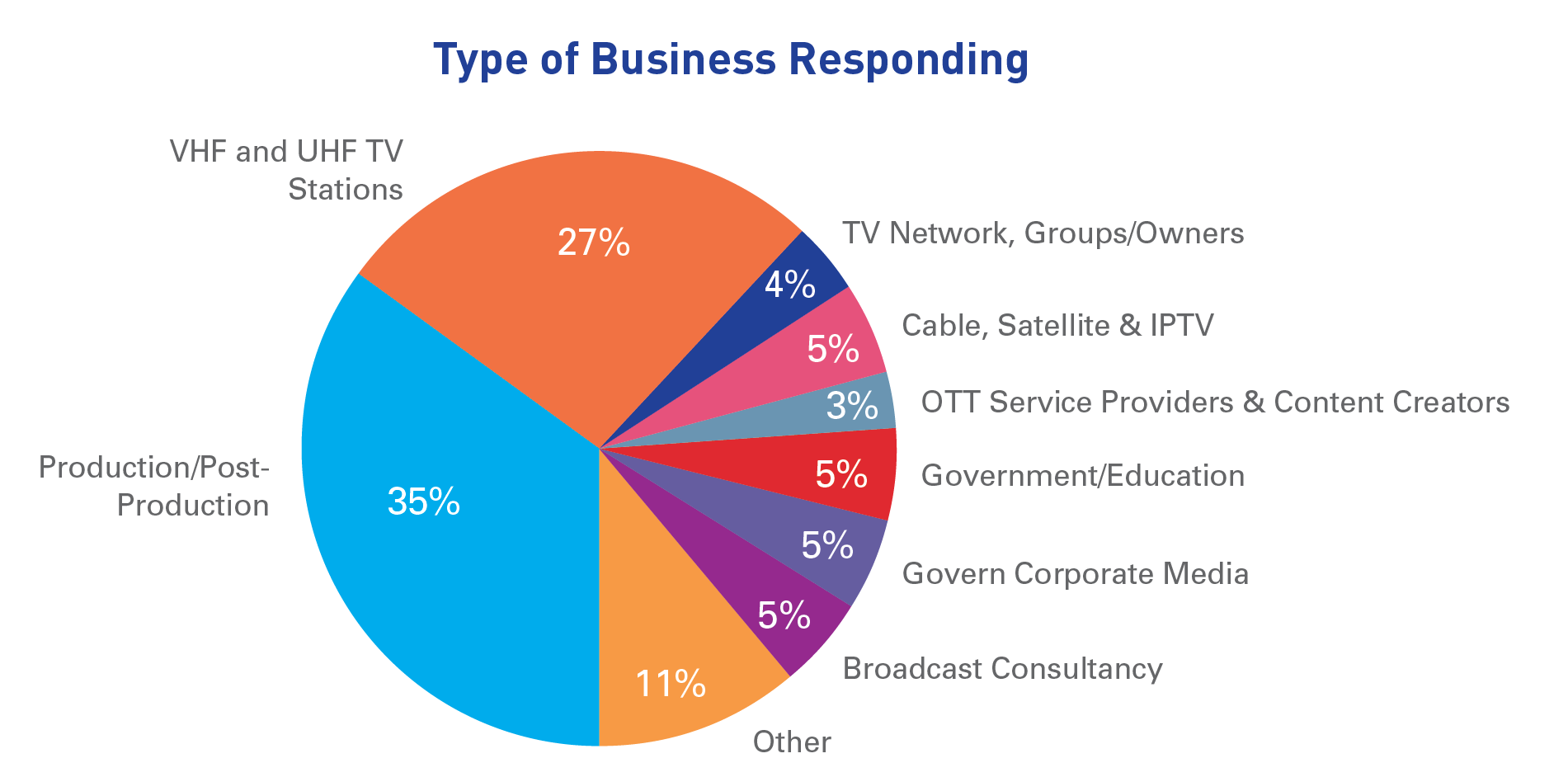 Survey Insights — Half Use Public Cloud Today — Cloud the Top Choice for Archive
Overall, the survey reveals growing cloud adoption for media organizations who want to improve production efficiency and to reduce costs. Key findings from the report include:
These insights only scratch the surface of the survey's findings, so we're making the full 12 page report available to everyone. To get a deeper look and compare your experiences to your peers as a content creator or content owner, download and read the survey results today.
Read the TV Technology Survey Results:
Cloud Storage Technologies Establish Their Place Among Alternatives for Media
How are you using cloud storage today? How do you think that will change three years from now? Please tell us in the comments.