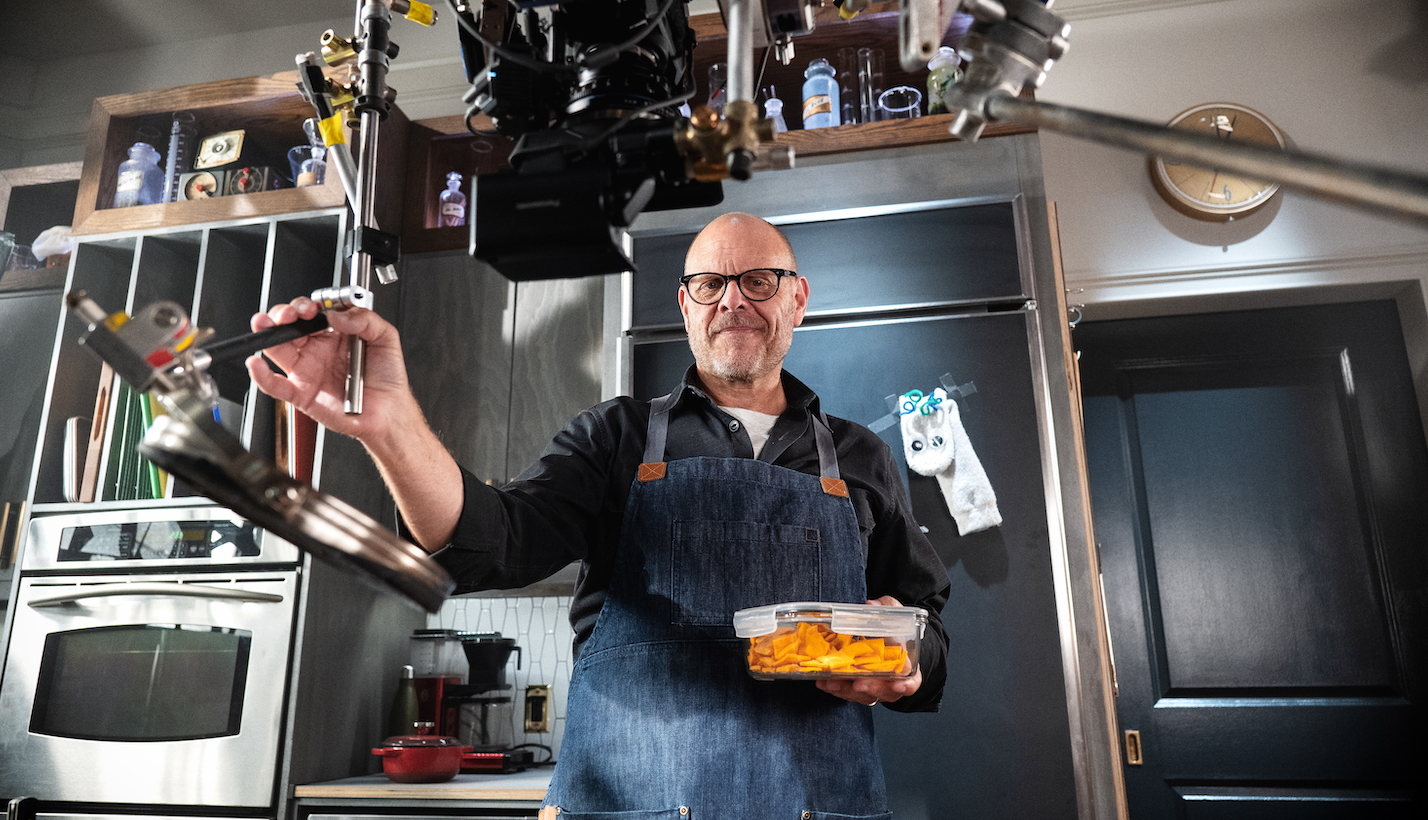 If you've ever wondered about the science behind some of your favorite recipes, then you may have come across Alton Brown and his cooking show, "Good Eats." Equal parts smart and sardonic, "Good Eats" showed its viewers how to whip up an excellent dish all while teaching about the history and science of the recipes through wacky sketches.
After the popular show ended in 2012, Brown used to tease on social media about a possible comeback. In a moment of serendipity, Eric Bigman, a seasoned video editor and long-time fan of "Good Eats," found Brown's business card in a stationary shop in New York City. The next time that Brown posted a hint of reviving the show, Bigman took a chance and emailed Brown directly. He got in touch at just the right time—Brown would go on to hire Bigman to help update some classic episodes as "Good Eats: Reloaded" for the Cooking Channel, and to create fresh episodes as "Good Eats: The Return" for the Food Network.
We're sharing the story of why Bigman and the team chose to transition from Amazon S3 to Backblaze B2 Cloud Storage as a key ingredient in their infrastructure for "Good Eats: The Return" and "Good Eats: Reloaded," how this move saved time ongoing by a factor of 100, and how it also eliminated failures worse than any overcooked egg or burnt cake.
Perfecting Recipes and Workflows
To refresh the classic episodes for "Good Eats: Reloaded," Bigman had to blend together the old footage which had been degraded throughout the retrieval process with new widescreen, high-definition footage. Since he was adjusting to a new team and process, Bigman waited until the end of that first season to archive his data using Amazon S3 while simultaneously trying to finish post-production. He knew that uploading to S3 would take a long time—time he couldn't spare while trying to deliver 13 episodes on a deadline.
When Bigman's team then started production for "Good Eats: The Return," he wanted to work toward a more fluid, integrated process. He started backing up every other week. But he was still facing the same problem as before: The data backup process to Amazon S3 was too time-consuming. What's more is that Alton Brown was worried about their backups, too. The show meant a lot to him and he didn't want all of his team's hard work to disappear in some overnight mishap.
From then on, Bigman tried to back up every night, but he was growing more and more frustrated with Amazon S3. It seemed to him like nine times out of 10, he walked into a pipeline failure in the morning. Babysitting the backup process took up valuable production time during his day, and he felt he couldn't trust AWS to complete the backup overnight.
Real-Time Solutions Are Essential in Backups, and Cooking
Bigman turned to media solutions integrator CineSys-Oceana for a better backup and archiving solution. They suggested Backblaze B2. Bigman also chose Cyberduck, a libre server and cloud storage browser that integrates with Backblaze B2, to upload data. Now, when they're in production, Bigman keeps the Cyberduck browser open and continuously uploads to B2 Cloud Storage.
Bigman originally intended to move the show's archives from Amazon S3 to Glacier to reduce costs. But with Backblaze B2, he doesn't have to balance access to footage against his budget.
That instant access is critical during filming. Bigman often pulls footage for continuity checks. The real-time workflow and Backblaze's simplicity ensure that he can always access footage he needs.
Backblaze B2 Makes Remote Work Possible
When they started production on the second season of "Good Eats: Reloaded," Bigman moved to working from home in New Jersey while the rest of the team continued work in Atlanta. The fully cloud-based setup ensured they could keep their post-production process going without any problems. Bigman's assistant in Atlanta easily accesses data through the Backblaze website. If Bigman needs a file quickly, his assistant logs in to the Backblaze website and uses the web GUI to drag and drop. It's quick, easy, and helps spread the work out.
"Good Eats": A Fine Example of Good Storage
With seamless workflows, instant access, cost-effective storage rates, and virtually zero upload failures, Backblaze saves Bigman the most critical resource on a quick-turnaround production—time. He says that "Time saved is by a factor of 100. I just don't have to think about it anymore. It's done, and that means I'm done."
Read the full case study about how Alton Brown's post-production team unlocked a seamless, remote workflow and quick backups that let them focus on producing a beloved show.