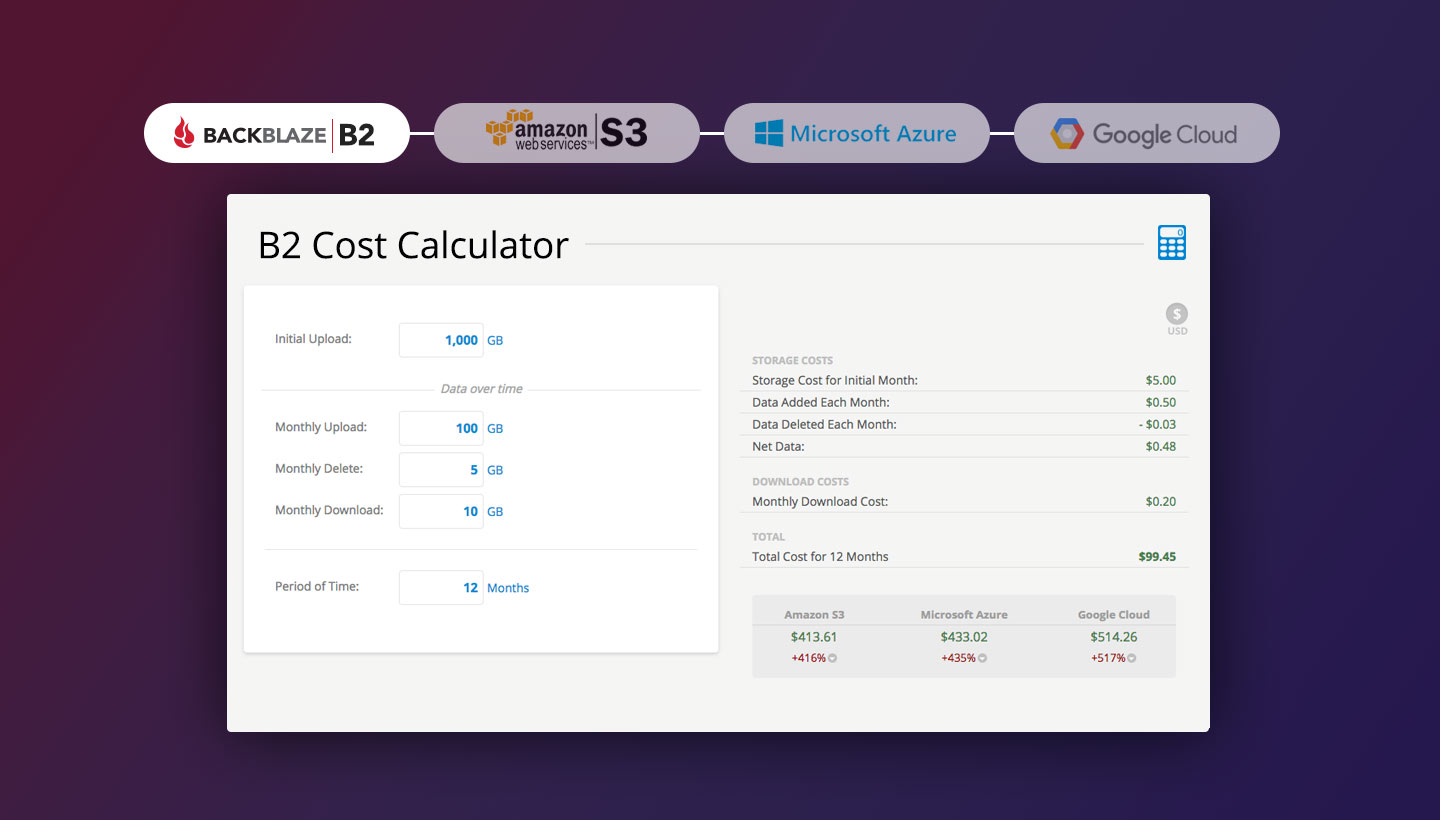 Backblaze's mission is to make cloud storage that's affordable and astonishingly easy to use. Backblaze B2 embodies that mission for those looking for an object storage solution.
Another Backblaze core value is being transparent, from releasing our Storage Pod designs to detailing our cloud storage cost of goods sold. We are an open book in the Cloud Storage industry. So it makes sense that opaque pricing policies that require mind numbing calculations are a no-no for us. Our approach to pricing is to be transparent, straight-forward, and predictable.
For Backblaze B2, this means that no matter how much data you have, the cost for B2 is $0.005/GB per month for data storage and $0.01/GB to download data. There are no costs to upload. We also throw in your first 10GB of storage for free when you open your account and 1GB of free downloads every day.
Cloud Storage Price Comparison
The storage industry does not share our view of making pricing transparent, or affordable. In an effort to help everyone, we've made a Cloud Storage Pricing Calculator, where anyone can enter in their specific use case and get pricing back for B2, S3, Azure, and GCS. We've also included the calculator below for those interested in trying it out.
B2 Cost Calculator
Backblaze provides this calculator as an estimate.
Note: Calculator reflects Backblaze's download price drop on March 9, 2018 from $0.02 to $0.01 per GB.
Storage Cost for Initial Month:
Amazon S3
Microsoft Azure
Google Cloud
---
x
x
x
* Figures are not exact and do not include the following: Free first 10 GB of storage, free 1 GB of daily downloads, or $.004/10,000 class B Transactions and $.004/1,000 Class C Transactions.
Sample storage scenarios:
Scenario 1
You have data you wish to archive, and will be adding more each month, but you don't expect that you will be downloading or deleting any data.
| | |
| --- | --- |
| Initial upload: | 10,000GB |
| Monthly upload: | 1,000GB |
For twelve months, your costs would be:
Backblaze B2
$990.00
Amazon S3
$4,158.00
+420%
Microsoft Azure
$4,356.00
+440%
Google Cloud
$5,148.00
+520%
Scenario 2
You wish to store data, and will be actively changing that data with uploads, downloads, and deletions.
| | |
| --- | --- |
| Initial upload: | 10,000GB |
| Monthly upload: | 2,000GB |
| Monthly deletion: | 1,000GB |
| Monthly download: | 500GB |
Your costs for 12 months would be:
Backblaze B2
$1,100.00
Amazon S3
$3.458/00
+402%
Microsoft Azure
$4,656.00
+519%
Google Cloud
$5,628.00
+507%
We invite you to compare our cost estimates against the competition. Here are the links to our competitors' pricing calculators.
B2 Cloud Storage Pricing Summary
Provider




Storage




($/GB/Month)




Download




($/GB)

$0.005
$0.01
$0.021


+420%

$0.05+


+250%

$0.022+


+440%

$0.05+


+250%

$0.020


+520%

$0.08+


+400%
STORAGE
$0.005/GB/Month
How much data you have stored with Backblaze. This is calculated once a day based on the average storage of the previous 24 hours.
The first 10 GB of storage is free.
DOWNLOAD
$0.01/GB
Charged when you download files and charged when you create a Snapshot. Charged for any portion of a GB.
The first 1 GB of data downloaded each day is free.
TRANSACTIONS
Class "A" transactions – 
Free
Class "B" transactions – 
$0.004 per 10,000 with 2,500 free per day.
Class "C" transactions – 
$0.004 per 1,000 with 2,500 free per day.
View Transactions by API Call
DATA BY MAIL
Mail us your data on a 
B2 Fireball
 – 
$550
Backblaze will mail your data to you by FedEx:
• USB Flash Drive – up to 110 GB – 
$89
• USB Hard Drive – up to 3.5TB of data – 
$189
PRODUCT SUPPORT
All B2 active account owners can contact Backblaze support at help.backblaze.com where they will also find a free-to- use knowledge base of B2 advice, guides, and more. In addition, a B2 user can 
pay to upgrade their support plan
 to include phone service, 24×7 support and more.
EVERYTHING ELSE
Free
Unlike other services, you won't be nickeled and dimed with upload fees, file deletion charges, minimum files size requirements, and more. Everything you can possibly pay Backblaze is listed above.
Visit our B2 Cloud Storage web page for more information about B2.