Editor's note:  This post was updated from the original (published August 17, 2017) to reflect current pricing and information regarding current events.
Choosing a cloud storage solution that fits your use case is challenging in the best business climate. Throw in the unpredictable economy we're all trying to navigate during the COVID-19 pandemic, and making the right next step can feel next to impossible.
The simple fact is: The majority of cloud storage providers make it hard to plan for the future by making it difficult to understand how much you're storing and the details of what it's costing you.
Our approach to pricing is to be transparent, straightforward, and predictable. For Backblaze B2 Cloud Storage, this means that no matter how much data you have, the cost for Backblaze B2 is $0.005/GB per month for data storage and $0.01/GB to download data. There are no costs to upload. We also throw in your first 10GB of storage for free when you open your account and 1GB of free downloads every day.
The complexity of other cloud storage providers is so epic that there are now whole businesses devoted to interpreting their billing. Just ask NASA—literal rocket scientists—who signed on to a cloud storage service without accurately projecting the cost to access their data when they need it. While they might need a panel of experts to understand their next invoice, we don't think you should be in the same boat.
Cloud Storage Price Comparison
To help you plan for the future of your data storage—and to show you how you can save 75% on your next cloud storage bill—we've built the Cloud Storage Pricing Calculator, where anyone can enter in their specific use case and get pricing back for B2, AWS S3, Microsoft Azure, and Google Cloud Storage.
B2 Cost Calculator
Backblaze provides this calculator as an estimate.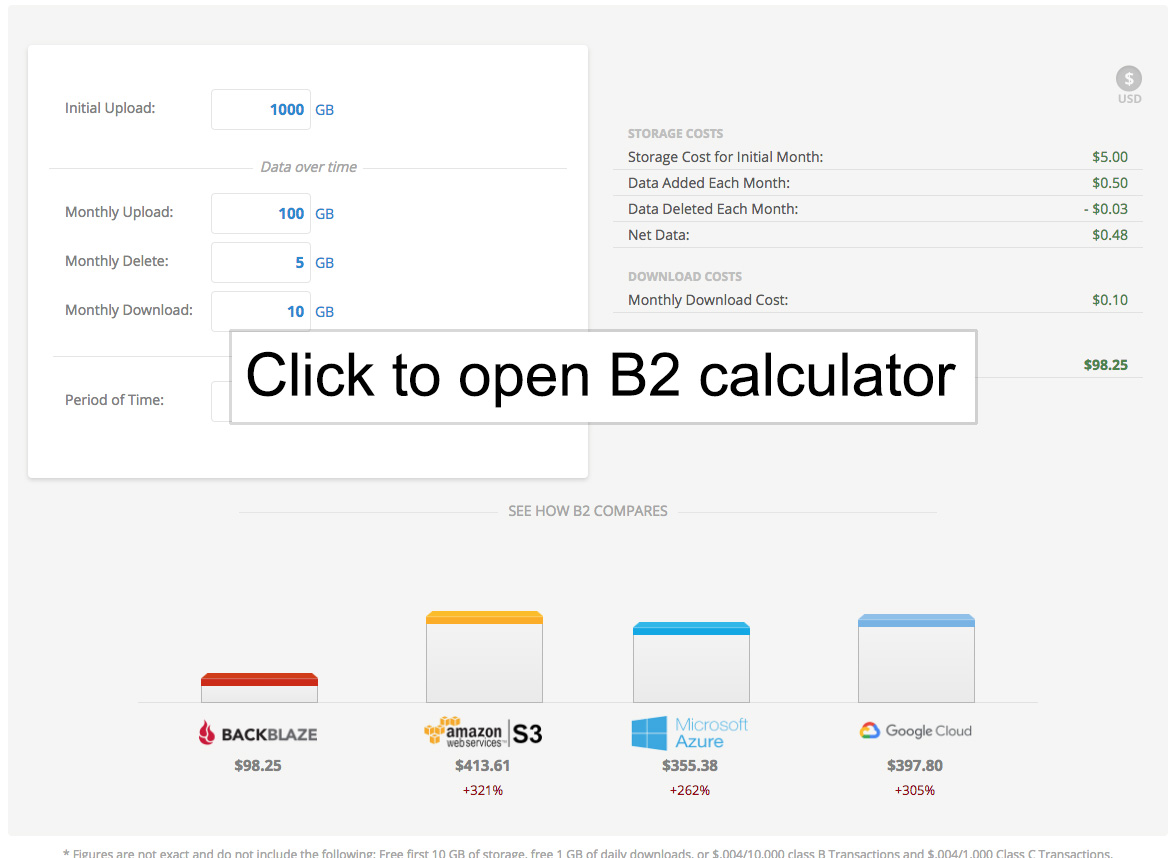 Sample Storage Scenarios
Scenario 1
You have data you wish to archive, and will be adding more each month, but you don't expect that you will be downloading or deleting any data.
| | |
| --- | --- |
| Initial upload: | 10,000GB |
| Monthly upload: | 1,000GB |
For twelve months, your costs would be:
Backblaze B2
$990.00
Amazon S3
$4,158.00
+320%
Microsoft Azure
$3,564.00
+260%
Google Cloud
$3,960.00
+300%
Scenario 2
You wish to store data, and will be actively changing that data with uploads, downloads, and deletions.
| | |
| --- | --- |
| Initial upload: | 10,000GB |
| Monthly upload: | 2,000GB |
| Monthly deletion: | 1,000GB |
| Monthly download: | 500GB |
Your costs for 12 months would be:
Backblaze B2
$1,050.00
Amazon S3
$4,458.00
+325%
Microsoft Azure
$3,864.00
+268%
Google Cloud
$4,440.00
+323%
A Real World Example
Hypotheticals are nice, but how about a real world example? We're glad you asked.
Last year, Nodecraft, a gaming company providing a server management platform for multiplayer games, decided to move to B2 Cloud Storage in an effort to reduce prices and improve their service. They migrated 23TBs of data from S3 to Backblaze B2 in only seven hours with zero service interruption. The result? The switch from AWS S3 to Backblaze B2 reduced Nodecraft's monthly storage and egress costs by 85%.
Looking Forward to Working Together
We hope our Cost Calculator helps you cut through the fog (heh) of cloud storage pricing. If not, we have an incredible team of solution engineers who will help talk you through whatever sort of challenge you're facing (go ahead, drop them a line). They're one of the only Silicon Valley sales teams that doesn't work on commission, so you can count on them to shoot straight.
This is a post about pricing, so that's what we've focussed on here. But we don't like to dwell on having the most affordable cloud storage on the planet—it's simply the price we can charge based on the technology we developed, and it just so happens it's a great deal.
We prefer to focus on having the best cloud storage for your use case, and with architecture that calculated at 11 nines of durability, a whole host of customer success stories, and more than an exabyte of data under management, we'd like to think we're doing well on this front. But don't take our word for it: Sign up today (you'll get a free 10GB of storage) and try it out.
B2 Cloud Storage Pricing Summary
Provider




Storage




($/GB/Month)




Download




($/GB)

$0.005
$0.01
$0.021


+420%

$0.05+


+250%

$0.022+


+440%

$0.05+


+250%

$0.020


+520%

$0.08+


+400%