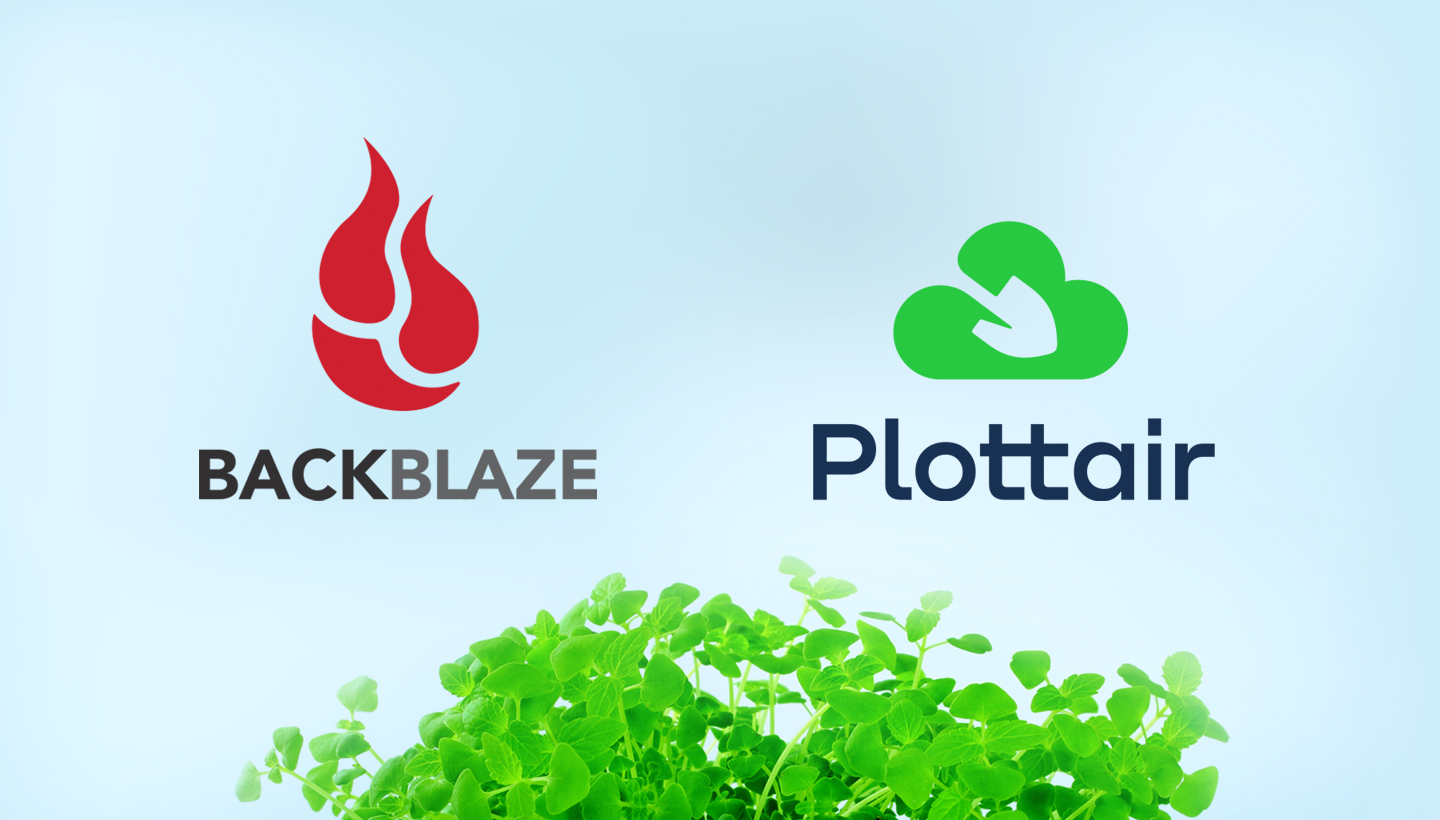 Last week—in response to the hard drive shortage driven by Chia's astronomical netspace growth—Backblaze introduced an experimental solution to allow farming of Chia plots stored in B2 Cloud Storage. Lots of folks have been reading it, and we remain fascinated by the up-and-down prospects of Chia.
Today's post digs into the story behind one cryptocurrency startup that also aims to help Chia farmers enter this emerging market at scale: Plottair.
Crypto-entrepreneurs and Plottair Co-founders Maran Hidskes and Sinisa Stjepanovic approached us about building a SaaS service with a storage-heavy use case. Specifically, they wanted to use Backblaze B2 as part of a new Chia farming venture. They agreed to share their take on this latest trend in crypto and offer some insight into how they intend to use B2 Cloud Storage for their startup—we're sharing some of what they told us here.
The conversation started with a bit of context around Chia's roots (if you'll excuse the pun) to set the stage for what Plottair is doing and why.
Ch- Ch- Ch- Ching:
A Greener Blockchain Transaction Platform
The Chia project was founded in August 2017 by Bram Cohen, the inventor of the BitTorrent protocol. Cohen was frustrated by the environmental impact of existing cryptocurrencies, so he developed a less wasteful scheme.1 Rather than using energy-intensive compute resources, with Chia, customers use free disk space to store calculations and use this data on the network to obtain a chance to win block rewards.
"This wasn't an original idea," Sinisa explained to us. "There were earlier coins that used proof of space—for example, Burstcoin—but Cohen improved it. He added proof of time and corrected issues with the consensus mechanism."
The Basics of How Chia Works
In Chia, "farmers" create plots much like bingo cards with millions of digits, and the cards are stored locally, using around 110GB each. The network will occasionally ask a farmer whether their plots contain a certain number on their bingo cards, and if they possess it, they win a block reward: Chia coins.
There are two ways to play the Chia market:
Currency speculation similar to Bitcoin and others.
Farming plots, which could result in block rewards. Chia is trading at $416.79 as of this posting, and a block reward consists of two Chia coins.
While Chia has worked around the CPU intensive proof of work required for Bitcoin, it is very storage intensive (the data storage capacity for Chia in network space is already closing in on 25EiB), as farmers need to harvest many plots to win rewards. Rather than mining coins by dedicating large amounts of parallel processing power to the task, Chia simply requires storage—a lot of it, if you want the best chance of winning.
Plottair Finds a Market in Chia Farmers
Maran and Sinisa recognized that Chia farmers face two key challenges:
Obtaining and maintaining the computing power to generate plots.
Buying and managing the capacity to store the plots in secure, durable, highly available storage systems.
Fast processing power and low latency, high throughput NVMe storage is needed to generate plots, and most Chia farmers don't have that kind of hardware. Sinisa had experimented with farming plots himself, and Maran owned a Plex hosting service—Bytesized Hosting. So Maran had the kind of hardware needed to speed up the process.
The two friends realized there would be plenty of other farmers looking for the same capability, and Plottair was born: A fully automated plotting service with optional cloud harvesting and multi-region download locations, aiming to provide the best support and download retention in the business.
And yet, while Maran's servers were ideal for generating the plots quickly, they needed storage to house the plots between generation and download. With their plotting capacity at 50TB per day and a 30-day download window for customers, this was not a small issue.
Plottair began by hosting the plots in its own data centers, but identified three challenges:
1.
They couldn't scale fast enough.
2.
Managing a rapidly growing data center—racking up servers, ensuring connectivity, and having enough switches—was going to get in the way of their product focus.
3.
They needed to provide farmers with an easy way to download plots.
For all these needs, they sought out a cloud storage provider to partner with for holding plots.
Growing Plottair With Backblaze B2 Cloud Storage
Prior to finding Backblaze, Plottair engaged another cloud provider to host plots. After getting started, Plottair experienced some anomalies with users behavior in terms of downloads, and the provider froze the customer data without sharing any information that would have enabled a root cause analysis.
"They froze hundreds and hundreds of terabytes of my customers' data, and then stonewalled me," Maran complained. "They weren't willing to share what caused the event."
It was a real horror story—before the company would build with another partner, they needed to know they had support through the inevitable hiccups of launching a new business in uncharted territory. After the debacle, they reached out. "We were super happy to be able to see and speak to real humans when we reached out to Backblaze," Maran said. Sinisa added, "We were looking for a partnership where both parties respect each other's business. Calling off the entire service when something goes wrong? That's a very bad look to our customers."
Where Backblaze B2 Fits in Plottair's Workflow
When purchasing plots, farmers give their farming keys to Plottair and select a location where the plots should be stored—in the Backblaze U.S. West or European regions. A call goes out to one of Plottair's plotting servers that has free availability, and it starts plotting. This takes about six to eight hours per plot.
When the plot is finished, it gets uploaded from the plotting server to the appropriate Backblaze location, and the customer is notified that the plot is ready to download via Plottair's customer portal. In the portal, farmers can view all plot orders and their statuses, so they know when they can start downloading. Plottair optionally allows customers to farm these plots in the cloud.
How Backblaze B2 Meets the Needs of Blockchain Workloads
In addition to gaining a working partnership, the biggest strength Backblaze B2 brings to the Plottair venture is the ability to scale up to any size. "I don't have to worry if I'll have enough storage if I get a petabyte order," Maran said.
Plottair has the ability to upload vast amounts of data at scale and let their users directly access it and use it in real-time. This enables Plottair to use the space they need to serve the Chia farming market if it booms and, with a pay-as-you-go model, scale back if it busts. "That's the dream," Maran said. "To have something that scales on every facet. Right now, Backblaze is there for us for our storage needs."
Backblaze B2: Storage for Emerging Services
Whatever happens with cryptocurrencies, storage-intensive cloud services are becoming more and more common. Many new SaaS applications with storage-heavy workloads—companies like streaming media services or gaming platforms—are either migrating over from AWS or other legacy providers, or building their infrastructure with Backblaze B2.
Maran is also considering Backblaze B2 for other blockchain oriented workloads. In the near term, Maran and his team are looking to "harvest" the Chia plots as a service using Backblaze B2. Harvesting involves reading the large number sequences for a match. This will enable Chia farmers to download only a fraction of the plot data, significantly improving their experience.
As Plottair grows its product offerings in cryptocurrencies and other blockchain-oriented use cases and considers many additional functions, we'll be excited to report on new development. For now, we'll simply focus on how the Chia market and their "acreage" might grow.
Blockchain and Cryptocurrency: A Short History
Financial institutions and a growing number of firms across industries are using distributed ledger technology based on blockchain as a secure and transparent way to digitally track the ownership of assets. Bitcoin was one of the first applications built on top of blockchain. Bitcoin and its underlying blockchain technology are viewed by many as the leading edge of a transformative evolution of money, finance, commerce, and society itself. The total value of all Bitcoin now in existence is over half a trillion dollars.
Bitcoin and most other cryptocurrencies use a system in which currency is created or "mined" using computers to solve mathematical puzzles. These are known as "proof of work" systems—solving the puzzle is proof that your computer has done a certain amount of work to provide network authentication.
One of Bitcoin's core tenets is decentralization, but specialized hardware and cheap electricity have become far better at proof of work calculations than general purpose CPUs. This development has weakened decentralization as the specialized "mining" hardware is increasingly owned and operated by just a few large entities in huge, purpose-built data centers located near inexpensive electricity. This centralization has served to lower trust and raise difficult issues regarding electricity consumption, e-waste, carbon generation, and global warming. By some estimates, Bitcoin consumes more electricity than whole countries. In response, new blockchain currencies have emerged that seek to be more sustainable.
1Editor's note: At this point, it's unclear whether Chia is on the whole greener than "proof of work" cryptos. Some are looking into it, and we'll be exploring the question too, but we would be interested to learn anything else our community has learned. When the energy and physical waste that goes into manufacturing hard drives is factored into the overall equation, given the exceptional amount of demand that Chia has created for drives, will it still be able to claim the "green crypto" name?