Windows servers can present all sorts of management complexities. However, backing up to the cloud doesn't have to be one of them. Thanks to CloudBerry's integration with Backblaze B2, you can back up your Windows server to the cloud safely, securely and for up to 75 percent less than Amazon S3 and similar services. Here's how.
CloudBerry Backup
CloudBerry Lab has been doing cloud-based backup and file management since 2008. Their latest offering combines CloudBerry Backup for Windows Server and B2 Cloud Storage for seamless, low cost Windows server backup.
Cloudberry Backup works on Windows Server 2003 and up, and transfers data directly between your Windows Server and B2 – there are no third-party servers between your server and B2. CloudBerry supports 256-bit AES encryption to secure your data while stored in B2 and uses SSL to protect your data securely in transit.
How to Back Up Your Windows Server with B2 and CloudBerry
Let's assume you've already set up a B2 account and have CloudBerry's Backup software running on your Windows Server. How do you configure it to use B2? First set up a bucket on B2 that you wish to use for your CloudBerry backup, then just follow these steps:
Open CloudBerry Backup.
Click Add New Account. Select B2 Cloud Storage from the list of available services.
Enter a Display name. This name is used by the software to describe the backup, so make it something you'll understand.
Enter B2 Account ID, Application ID, and Bucket name from B2's web interface.
Click the OK button.
Now that you've created a connection between CloudBerry Backup and B2, you just have to follow the steps of the backup plan wizard to backup your server.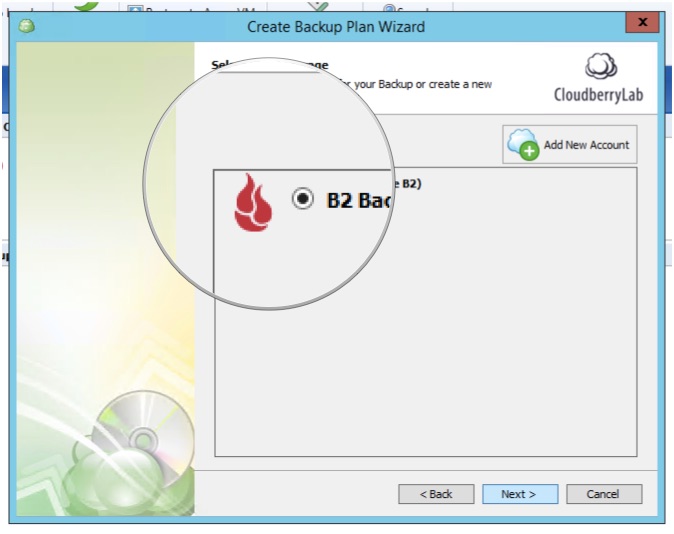 CloudBerry has loads of options to help you customize what part of your Windows server you're backing up, where it's going and how it gets there. Back up selected folders, include and exclude specific file types, exclude files that are greater than a specific size – there's a lot to drill down. You also have control over encryption, scheduling, and a host of other options to help tailor your Windows server backup.
CloudBerry's robust support of cloud storage services makes it a natural integration for B2. Our API makes it easy for developers and integration partners to add support for B2.
With B2 you'll pay pennies for storage compared with Amazon S3 and other cloud storage providers – we're up to 75 percent less. B2 is just $0.005/GB a month for data storage and the first 10 GB are free on us.
B2 is powered by our Storage Pod – safe, scalable storage technology that enables us to provide petabytes of storage in a single standard data center rack. Our storage pods are made using off-the-shelf parts you can actually put together yourself, if you wanted – and we've released the design specs and parts list, so have at it! The Storage Pods we've built run safely and securely in a high-speed data center located in Northern California.
If you're a CloudBerry customer and you still have questions about how to get started with B2, you can also check out this blog post over at CloudBerry Labs' web site for even more details.
Look for more details about other exciting B2 integrations to come!