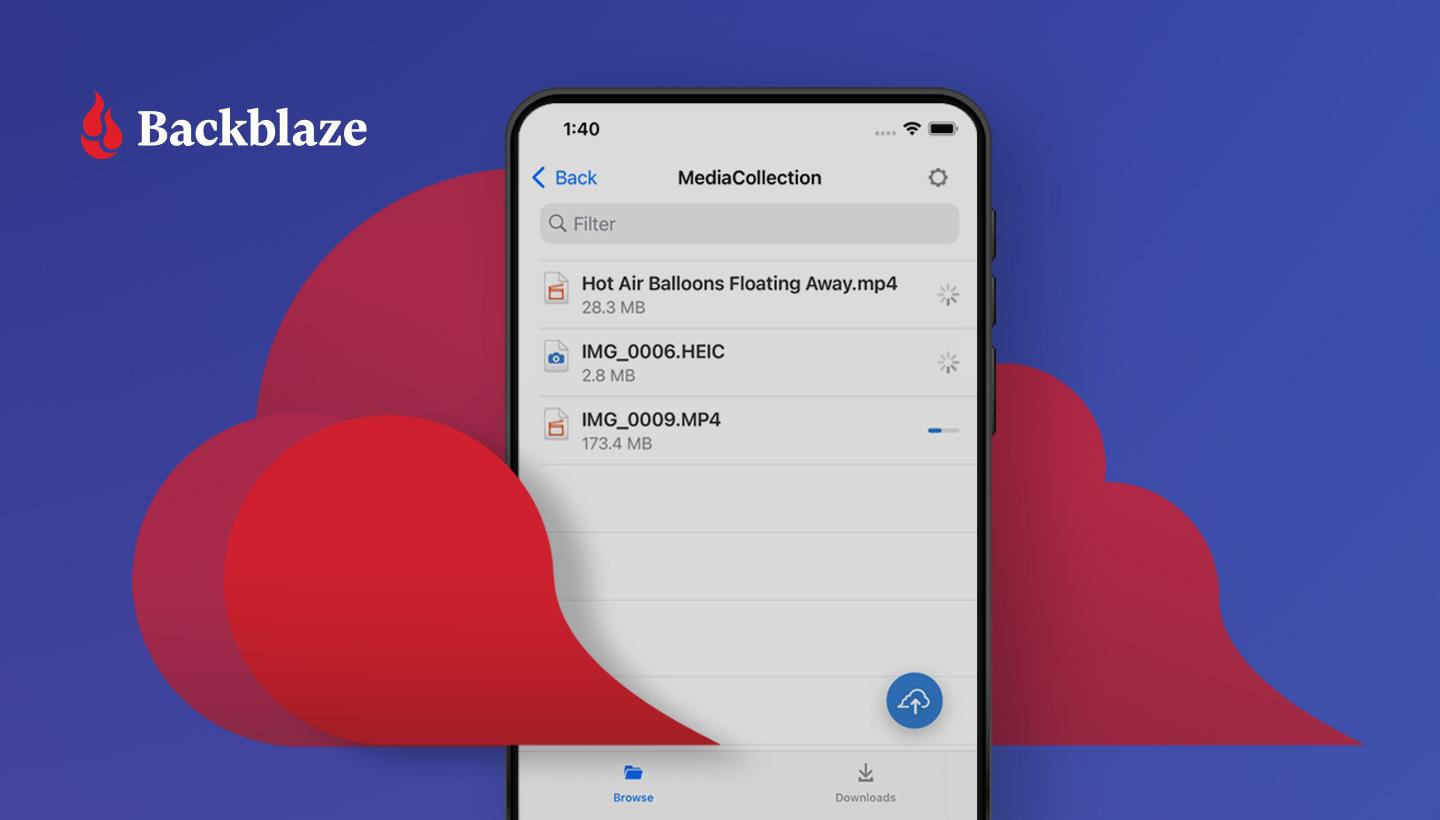 This post was originally published on February 18, 2021 to announce mobile uploads. It was updated on November 30, 2021 to announce a new functionality release allowing users to create buckets and delete buckets, files, and folders on both iOS and Android.
March 28, 2022: Added Folder Creation
Backblaze Mobile users on iOS and Android devices can now create folders directly on their devices with our latest app update. The update is generally available the week of March 27, 2022 for both iOS and Android platforms.
The functionality expands on previous releases to allow users to more easily work from their mobile devices.
November 30, 2021: Added Bucket Creation and Bucket, Folder, and File Deletion
With this update, Backblaze Mobile users on iOS and Android devices can create buckets and delete buckets, folders, and files directly on their devices.
If you routinely work from your mobile device, this means you'll be able to better manage your cloud storage while you're away from your workstation. For media and entertainment pros who regularly shoot images and footage on powerful smart devices, for example, this functionality allows you to create buckets for new projects from the field. And if you need to delete a bucket, file, or folder, you can do that on the go, too. With this functionality at your fingertips, you can focus on shooting, producing, and doing more with ease rather than waiting until you're back at your desktop or laptop to handle organizational tasks.
The update also included bug fixes and an upgrade to Android 11.
How to Use the New Features
Here's how to use the new features after you've logged into the iOS or Android app.
To create a Backblaze B2 bucket:
From the home screen, tap on Backblaze B2 Files.
Tap the Create Bucket button to view the Create Bucket form.

Find the Create Bucket button in the bottom right corner of the buckets listing screen on both iOS (left) and Android (right).

Fill in the name for your new bucket, which will be private to start. You can also choose whether to enable Object Lock upon creation. If you'd like to set default Object Lock retention settings or change other bucket settings, you can do so by accessing your Backblaze B2 account on a web browser.
Tap the Create a Bucket button. If your bucket name is not unique, you'll be asked to submit a new bucket name.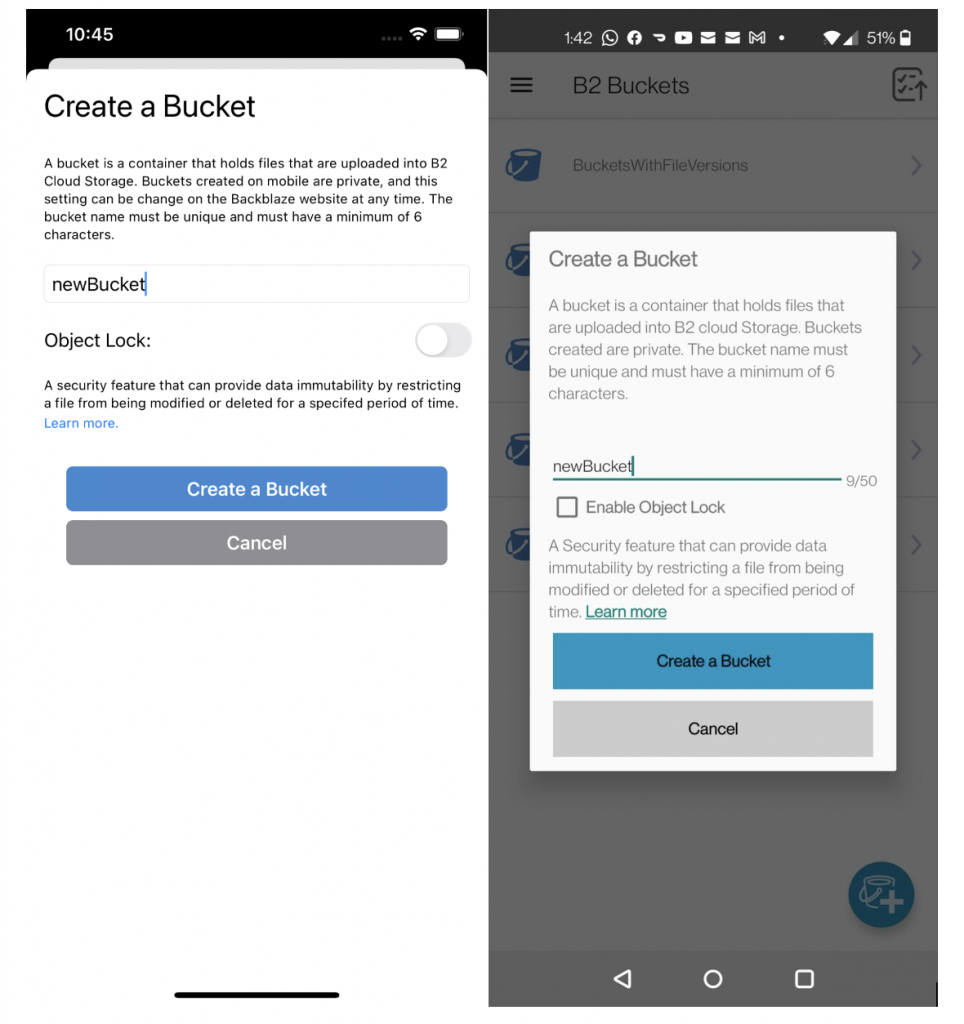 To delete buckets, files, and folders:
Navigate to the B2 Cloud Storage content you'd like to delete.
Swipe to delete the content you want to remove or use the multi-select edit mode to choose the items you'd like to delete.
Confirm your deletion choice. The items you chose to delete will be removed. If there are any errors, you'll see an alert and the items the app was unable to delete will reappear. For iOS users, if you choose to delete a folder and receive a confirmation alert about deleting more files than you expect to be there, check that you have "Show Hidden Directories and Files" turned on in Settings.
File uploads were announced on February 18, 2021. Read on for a step-by-step guide on how it works.
How to Upload Files
Here's how to use the upload feature after you've logged into the iOS or Android app:
Navigate to your preferred upload destination in your B2 Cloud Storage buckets.
Tap the upload button and then choose desired files from your built-in Files or Photos applications.

You can select multiple files for upload when permitted by the platform.
Note that the iOS 13 and 14 Photo picker and Files applications may allow only one file selection at a time.

Let the magic happen! A status bar will reflect the upload status, from queued to uploading to complete.

You can cancel queued and in-progress uploads.
In the event of an upload failure due to connection loss or timeout, automatic reattempts will be made; if this does not result in success, you'll be alerted and presented the option to attempt upload again.
First-time mobile uploaders will see a notice that uploads to Backblaze B2 are free, yet there may be charges associated with the storage. If the mobile app detects that you're not connected to a Wi-Fi network, a notice that cellular data charges may apply will appear along with the options to upload or cancel; you can disable this alert via the Settings screen.
Older Releases
In case you missed the last few releases, Backblaze Mobile allows iOS and Android users to preview and download content through the app and upload files directly to Backblaze B2 Cloud Storage buckets.
Download Today
To get the latest and greatest Backblaze Mobile experience, update your apps or download them from your local app stores today on Google Play or the App Store.