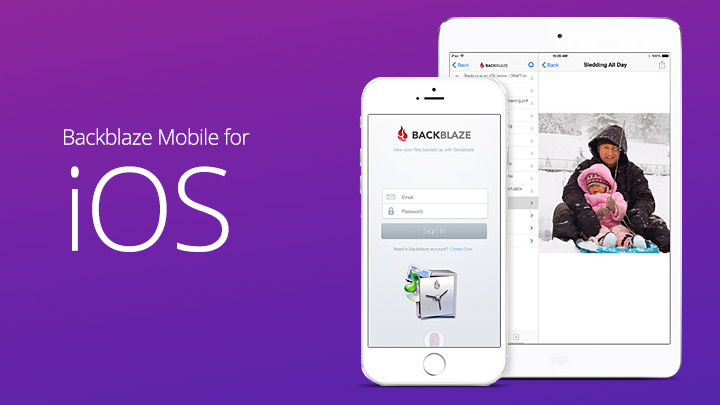 Easy Remote File Access
Backblaze is proud to announce that Backblaze Mobile 2.0 for iOS is now available for your iPhone, iPad, iPad Mini, or iPod Touch to access, download, experience, and share the files you have backed up with Backblaze Online Backup. Supporting a wide assortment of iOS devices and packed with new features like Touch ID support and landscape mode, Backblaze Mobile 2.0 for iOS is available and ready to download today in the App Store.
What's New With Backblaze Mobile 2.0?
Easy Access: We added Touch ID support to version 2.0. This gives you the ultimate flexibility in how you access the data you have stored with Backblaze. Simply adjust the options in the "Settings" panel within the app to fit you.
If you have set a private encryption key on your account you will always be required to enter that key before gaining access regardless of the selections in the "Settings" panel.
Thumbnails: Once you have downloaded a photo or image, a thumbnail of that file will show in your "Browse List" panel. This makes it easy to select just the right photo to share.
Portrait or Landscape: Nearly every screen in the Backblaze Mobile app can be viewed in either Landscape or Portrait mode. With this feature, and pinch and zoom support, you'll always be able to get the best view of your downloaded photos and files.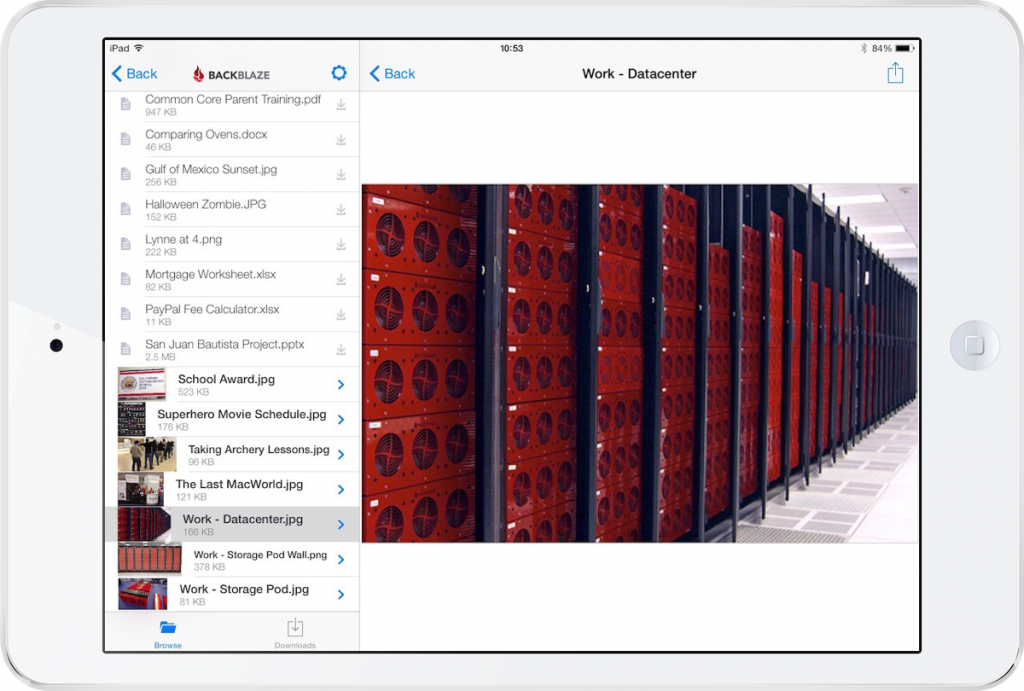 More Devices: We utilized the Apple Adaptive User Interface so Backblaze Mobile for iOS now runs on nearly every mobile Apple device. Here's a list of devices that Backblaze currently supports:
Backblaze Mobile 2.0 for iOS Supported Devices

iPhone:
4, 4S, 5, 5C, 5S, 6, and 6 Plus
iPad:
iPad2, iPad (third generation), iPad (fourth generation), iPad Air, and iPad Air 2
iPad Mini:
iPad Mini (first generation), iPad Mini 2, and iPad Mini 3
iPod Touch:
iPod Touch (fifth generation)
These devices are supported running iOS 7.1 through iOS 8.3.
Improved Search: Pull down the Backblaze Mobile search bar and you can find the file you are looking for across all your files or with a single folder. Type in the first few letters of the file you are looking for, then hit "Search," and all the files that begin with those letters will appear in the file list.
Backing Up Your Mobile Device
There are several different strategies for reliably backing up all the data on your mobile device. Our iPhone Backup Guide discusses the pros and cons of using cloud services such as iCloud and syncing services such as iTunes to back up the data on your Mobile devices.
To learn more about Backblaze Mobile for iOS please visit our Backblaze Mobile for iOS webpage or take a look at the Backblaze Mobile for iOS Frequently Asked Questions in our Customer Resource Center.