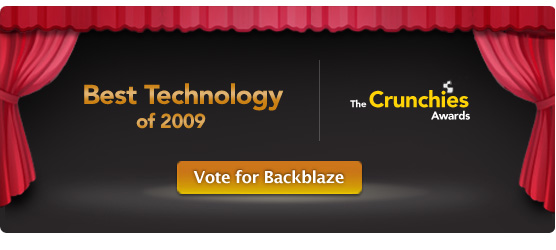 GigaOm, VentureBeat, and TechCrunch have gotten together again to put on the Academy Awards of the tech industry—the Crunchies. Backblaze is honored to have been named a finalist in the Best Technology Achievement of 2009 category.
Not sure if you have heard of the other finalists…one is a little startup called Google and the other some company named Microsoft. ;-)
Voting for the Crunchies ends this Wednesday, January 6, 2010 at midnight and we would love to have your vote. (It just takes a click to vote—no personal info or sign-ups.)
How Did We Get Selected to Be a Finalist?
Nominations from you and selection by the Crunchies Committee.
What Is the Technology Achievement?
A combination of the unlimited, unthrottled, back-up-all-data online backup service itself and the uber-inexpensive cloud storage hardware design we gave away.
So, What Now?
Vote for us! We promise to still be your friend after we're famous.