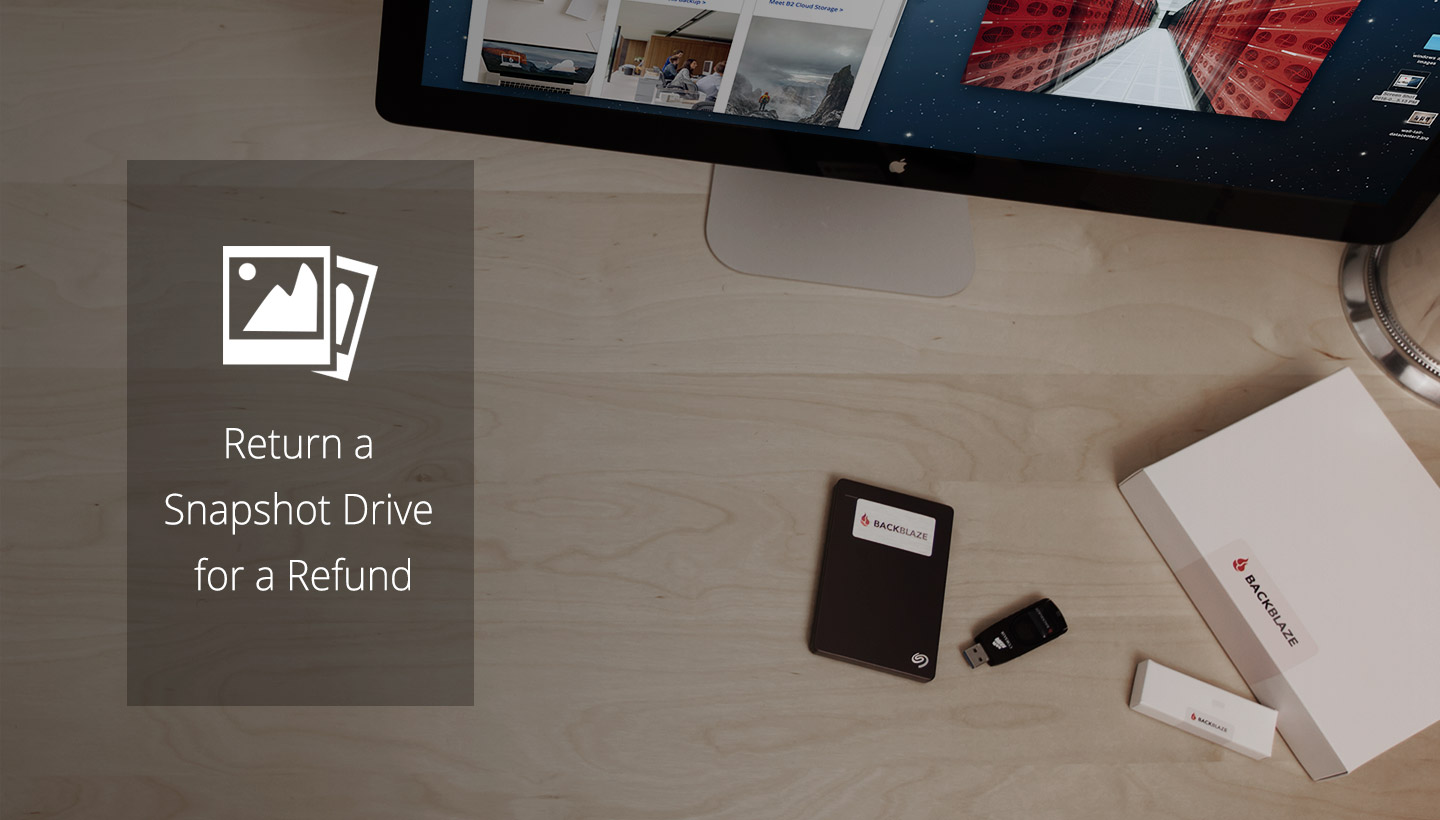 What Is the B2 Snapshot Return Refund Program?
Backblaze's mission is making cloud storage astonishingly easy and affordable. That guides our focus — making our customers' data more usable. Today, we're pleased to introduce a trial of the B2 Snapshot Return Refund program. B2 customers have long been able to create a Snapshot of their data and order a hard drive with that data sent via FedEx anywhere in the world. Starting today, if the customer sends the drive back to Backblaze within 30 days, they will get a full refund. This new feature is available automatically for B2 customers when they order a Snapshot. There are no extra buttons to push or boxes to check — just send back the drive within 30 days and we'll refund your money. To put it simply, we are offering the cloud storage industry's only refundable rapid data egress service.
You Shouldn't be Afraid to Use Your Own Data
Last week, we cut the price of B2 downloads in half — from 2¢ per GB to 1¢ per GB. That 50% reduction makes B2's download price 1/5 that of Amazon's S3 (with B2 storage pricing already 1/4 that of S3). The price reduction and today's introduction of the B2 Snapshot Return Refund program are deliberate moves to eliminate the industry's biggest barrier to entry — the cost of using data stored in the cloud.  Storage vendors who make it expensive to restore, or place time lag impediments to access, are reducing the usefulness of your data. We believe this is antithetical to encouraging the use of the cloud in the first place.
Learning From Our Customers
Our Computer Backup product already has a Restore Return Refund program. It's incredibly popular, and we enjoy the almost daily "you just saved my bacon" letters that come back with the returned hard drives. Our customer surveys have repeatedly demonstrated that the ability to get data back is one of the things that has made our Computer Backup service one of the most popular in the industry. So, it made sense to us that our B2 customers could use a similar program.
There are many ways B2 customers can benefit from using the B2 Snapshot Return Refund program, here is a typical scenario.
Media and Entertainment Workflow Based Snapshots
Businesses in the Media and Entertainment (M&E) industry tend to have large quantities of digital media, and the amount of data will continue to increase in the coming years with more 4K and 8K cameras coming into regular use. When an organization needs to deliver or share that data, they typically have to manually download data from their internal storage system, and copy it on a thumb drive or hard drive, or perhaps create an LTO tape. Once that is done, they take their storage device, label it, and mail to their customer. Not only is this practice costly, time consuming, and potentially insecure, it doesn't scale well with larger amounts of data.
With just a few clicks, you can easily distribute or share your digital media if it stored in the B2 Cloud. Here's how the process works:
Log in to your Backblaze B2 account.
Navigate to the bucket where the data is located.
Select the files, or the entire bucket, you wish to send and create a "Snapshot."
Once the Snapshot is complete you have choices:

Download the Snapshot and pay $0.01/GB for the download
Have Backblaze copy the Snapshot to an external hard drive and FedEx it anywhere in the world. This stores up to 3.5 TB and costs $189.00. Return the hard drive to Backblaze within 30 days and you'll get your $189.00 back.
Have Backblaze copy the Snapshot to a flash drive and FedEx it anywhere in the world. This stores up to 110 GB and costs $99.00. FedEx shipping to the specified location is included. Return the flash drive to Backblaze within 30 days and you'll get your $99.00 back.
You can always keep the hard drive or flash drive and Backblaze, of course, will keep your money.
Each drive containing a Snapshot is encrypted. The encryption key can be found in your Backblaze B2 account after you log in. The FedEX tracking number is there as well. When the hard drive arrives at its destination you can provide the encryption key to the recipient and they'll be able to access the files. Note that the encryption key must be entered each time the hard drive is started, so the data remains protected even if the hard drive is returned to Backblaze.
The B2 Snapshot Return Refund program supports Snapshots as large as 3.5 terabytes. That means you can send about 50 hours of 4k video to a client or partner by selecting the hard drive option. If you select the flash drive option, a Snapshot can be up to 110 gigabytes, which is about 1hr and 45 min of 4k video.
While the example uses an M&E workflow, any workflow requiring the exchange or distribution of large amounts of data across distinct geographies will benefit from this service.
This is a Trial Program
Backblaze fully intends to offer the B2 Snapshot Return Refund Program for a long time. That said, there is no program like this in the industry and so we want to put some guardrails on it to ensure we can offer a sustainable program for all. Thus, the "fine print":
Minimum Snapshot Size — a Snapshot must be greater than 10 GB to qualify for this program. Why? You can download a 10 GB Snapshot in a few minutes. Why pay us to do the same thing and have it take a couple of days??
The 30 Day Clock — The clock starts on the day the drive is marked as delivered to you by FedEx and the clock ends on the date postmarked on the package we receive. If that's 30 days or less, your refund will be granted.
5 Drive Refunds Per Year — We are initially setting a limit of 5 drive refunds per B2 account per year. By placing a cap on the number of drive refunds per year, we are able to provide a service that is responsive to our entire client base. We expect to change or remove this limit once we have enough data to understand the demand and can make sure we are staffed properly.
It is Your Data — Use It
Our industry has a habit of charging little to store data and then usurious amounts to get it back. There are certainly real costs involved in data retrieval. We outlined them in our post on the Cost of Cloud Storage. The industry rates charged for data retrieval are clearly strategic moves to try and lock customers in. To us, that runs counter to trying to do our part to make data useful and our customers' lives easier. That viewpoint drives our efforts behind lowering our download pricing and the creation of this program.
We hope you enjoy the B2 Snapshot Return Refund program. If you have a moment, please tell us in the comments below how you might use it!