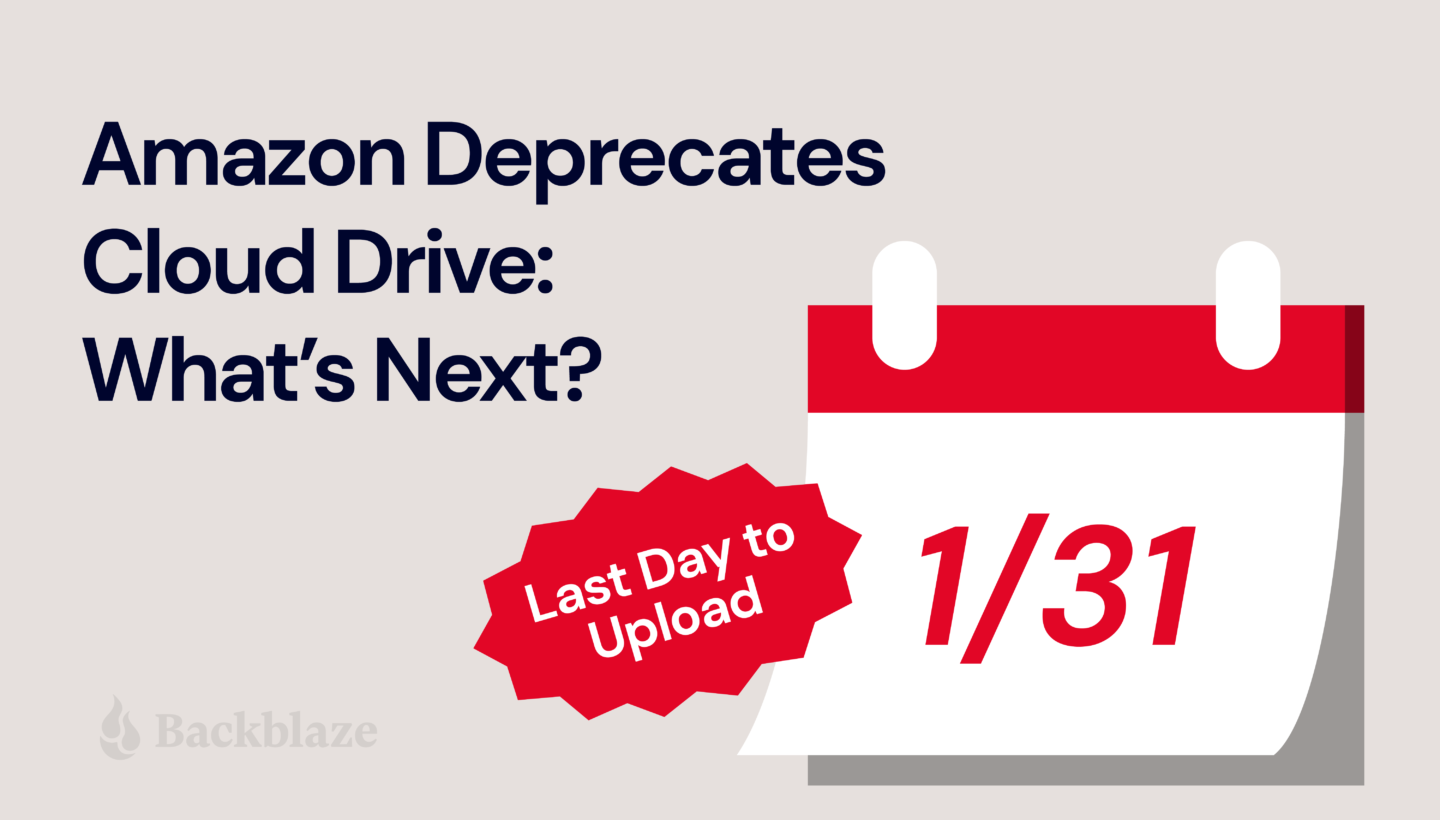 Another one bites the dust. Amazon announced they're putting Amazon Cloud Drive in the rearview to focus on Amazon Photos in a phased deprecation through December 2023. Today, we'll dig into what this means for folks with data on Amazon Cloud Drive, especially those with files other than photos and videos.
Dear Amazon Drive User
When Amazon dropped the news, they explained the phased approach they would take to deprecating Amazon Drive. They're not totally eliminating Drive—yet. Here's what they've done so far, and what they plan to do moving forward:
October 31, 2022: Amazon removed the Drive app from iOS and Android app stores. The app doesn't get bug fixes and security updates anymore.
January 31, 2023: Uploading to the Amazon Drive website will be cut off. You will have read-only access to your files.
December 31, 2023: Amazon Drive will no longer be supported and access to files will be cut off. Every file stored on Amazon Drive, except photo or video files, needs a new home. Users can access photo and video files on Amazon Photos.
Now, users face two options for what to do with files stored on Amazon Drive:
Follow instructions to download Amazon Photos for iOS and Android devices. And, use the Amazon Drive website to download and store all other files locally or with another service.
Transfer your entire library of photos, videos, and other data to another service.
Looking for an Amazon Cloud Drive Alternative?
Shameless plug: If you used Amazon Cloud Drive to store anything other than photos and you need a new place to keep your data, give Backblaze B2 Cloud Storage a try. The first 10GB are free, and our storage is priced at a flat rate of $6/TB/month ($0.006/GB/month) after that. And if you're a business customer, we also offer the choice of capacity-based pricing with Backblaze B2 Reserve.
A Quick History of Amazon Cloud Drive
In 2014, Amazon offered free, unlimited photo storage on Amazon Cloud Drive as a loyalty perk for Prime members. The following year, they rolled out a subscription-based offering to store other types of files in addition to photos—video, documents, etc.—on Cloud Drive.
Then, in 2017, they capped the free tier at 5GB. This was just one of many in a string of cloud storage providers ending a free offering and forcing users to pay or move.
All Amazon account holders—regardless of whether they paid for Prime or not—got 5GB for photos and other file types free of charge. If you wanted or needed more storage than that, you had to sign up for the subscription-based offering starting from (at that time) $11.99 per year for 100GB of storage, and prices went up from there.
You might consider this the beginning of the end for Amazon Cloud Drive.
Why Say Goodbye?
When tech companies deprecate a feature—as Amazon has done with Drive—it's for any number of reasons:
To combine one feature with another.
To rectify naming inconsistencies.
When a newer version makes supporting the older one impossible or impractical.
To avoid flaws in a necessary feature.
When a better alternative replaced the feature.
To simplify the system as a whole.
Amazon's reason for deprecating Drive? To provide a dedicated solution for photos and videos. The company stated, "We are taking the opportunity to more fully focus our efforts on Amazon Photos to provide customers a dedicated solution for photos and video storage." Unfortunately, that leaves folks who store anything else high and dry.
Where Do We Go From Here?
The bottom line: Amazon Drive customers must park emails, documents, spreadsheets, PDFs, and text files somewhere else. If you're an Amazon Drive customer looking to move your files out before you lose access, we invite you to try Backblaze B2. The first 10GB is on us.
How to Get Started with Backblaze B2
If you're not a customer, first sign up for B2 Cloud Storage.
If you're already a customer, enable B2 Cloud Storage in your "My Settings" tab. You can follow our Quick Start Guide for more detailed instructions.

Download your data from Amazon Drive.
Upload your data to Backblaze B2. Many customers choose to do so directly through the web interface, while others prefer to use integrated transfer solutions like Cyberduck, which is free and open-source, or Panic's Transmit for Macs.
Sit back and relax knowing your data is safely stored in the Backblaze B2 Storage Cloud.