Configure Rubrik with Backblaze B2
Configure Rubrik with Backblaze B2
---
Share feedback
Thanks for sharing your feedback!
Rubrik is a software-defined data management platform for physical, virtual, and hybrid environments. You can configure Rubrik with Backblaze B2 Cloud Storage to simplify and unify backup, data protection, and instant recovery onsite, in the cloud, and at the data center.
Enable Backblaze B2
Before you begin: You must have a Backblaze B2 Cloud Storage account. You can sign up here. If you already have a Backblaze account and the left navigation menu contains a B2 Cloud Storage section, your account is already enabled for Backblaze B2.
Sign in to your Backblaze account.
In the left navigation menu under Account, click My Settings.
Under Enabled Products, select the checkbox to enable B2 Cloud Storage.
Review the Terms and Conditions, and click OK to accept them.
Create an Application Key
Application keys control access to your Backblaze B2 Cloud Storage account and the buckets that are contained in your account.
Sign in to your Backblaze account.
In the left navigation menu under Account, click Application Keys.
Click Add a New Application Key, and enter an app key name.
You cannot search an app key by this name; therefore, app key names are not required to be globally unique.
In the Allow Access to Bucket(s) dropdown menu, select All or a specific bucket.
Select your access type (for example, Read and Write).
Select the optional Allow List All Bucket Names checkbox (required for the Backblaze B2 S3-compatible API List Buckets operation).
Click Create New Key, and note the resulting keyID and applicationKey values.
Note
When you create a new app key, the response contains the actual key string, for example N2Zug0evLcHDlh_L0Z0AJhiGGdY. You can always find the keyID on this page, but for security, the applicationKey appears only once. Make sure you copy and securely save this value elsewhere.
Add an Archival Location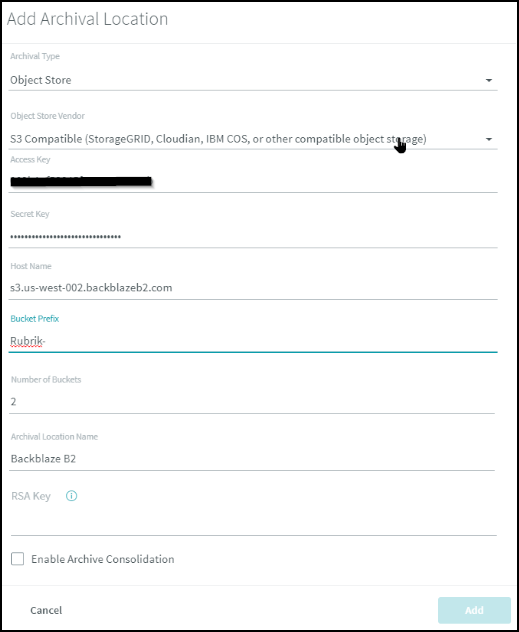 Click(settings) in the upper-right corner of the page.
Under System Configuration, click Archival Locations.
Click(add).
Select Object Store as the Archival Type, and select S3 Compatible (StorageGRID, Cloudian, IBM COS, or other compatible object storage) as the Object Store Vendor.
Enter your keyID in the Access Key field, and enter your applicationKey in the Secret Key field.
Enter your S3 endpoint in the Host Name field.
Add a bucket prefix to make it easier to determine the buckets that Rubrik creates. If you use the prefix Rubrik, buckets are created and named rubrik-tril-rubrik-0 and rubrik-tril-rubrik-1.
Enter the number of buckets. In general, the number of buckets should be only 1. Rubrik added the option to create more than one bucket for some S3-compatible providers that had a rate limit per bucket.
Enter Backblaze B2 as the Archival Location Name.
Generate an RSA Key.

Click(information).
Follow the instructions to generate the key.
After you complete the instructions, copy and paste the key into the RSA Key field.

Click Add.
Add a Local Domain

In the left navigation menu, select SLA Domains and select Local Domains.
Select a local SLA domain to apply an archive policy, for example, Gold.
Click(three-dot menu), and click Edit.
Click Remote Settings.
Turn on Archival, select Backblaze B2 as the Archival Location, and optionally select Enable Instant Archive to immediately copy snapshots or backups to the archival location after they complete their task.
Click Update.
You can select SLA Domains and select Local Domains to see the policies that have Archival Locations enabled.
In the following example, all of the systems that are assigned to the Bronze or Gold policy automatically copy their snapshots and backups to Backblaze B2 for archival.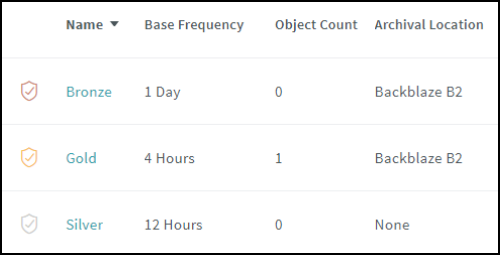 ---
---
What's Next