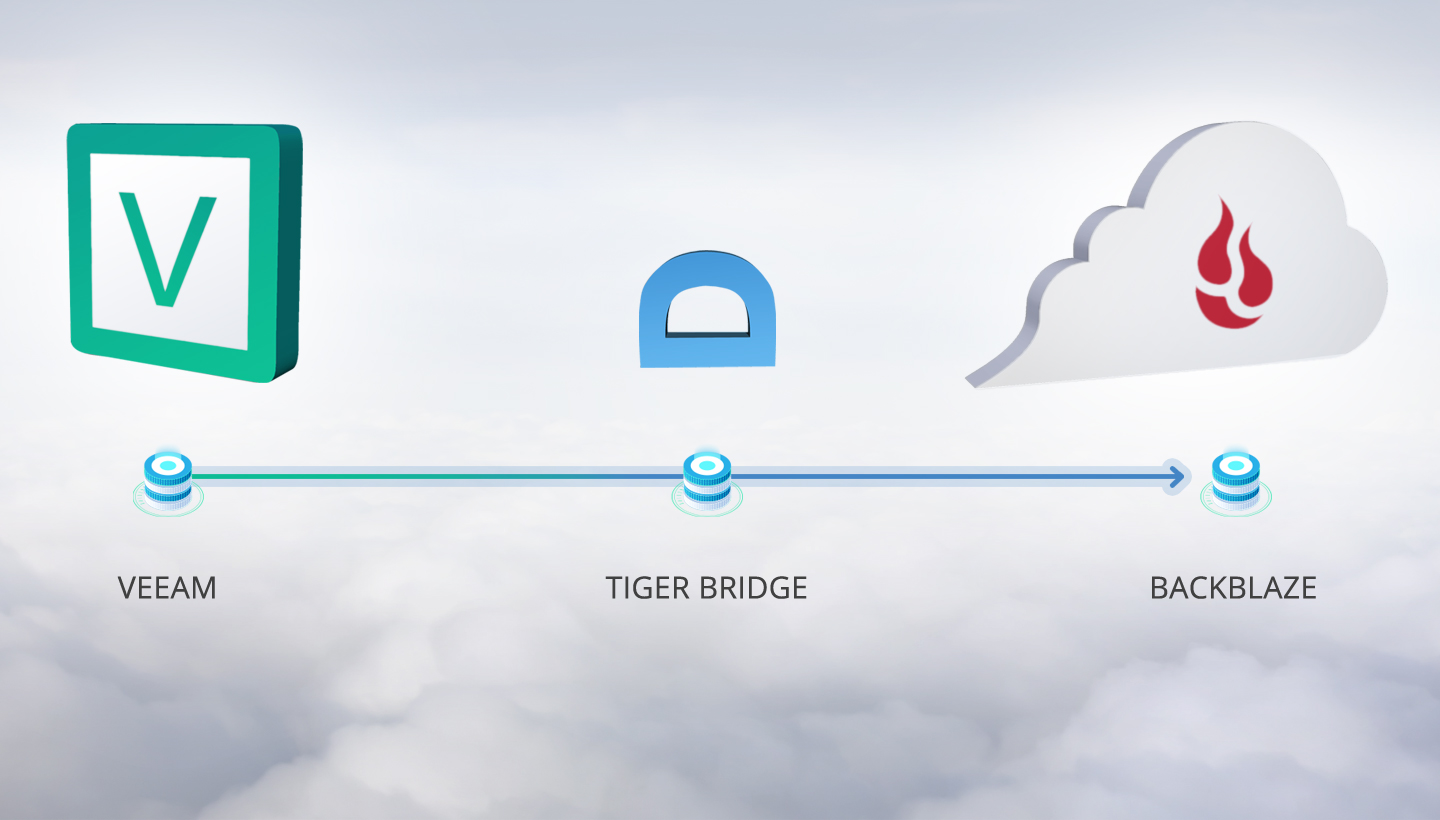 Over the past 11 years, Veeam has become a wildly popular solution for companies that need to back up their VMs, servers, Office 365, and other hosts. The only problem is, with the great amounts of data involved in VM computing comes great responsibility. Achieving a 3-2-1 backup strategy can be a daunting task for even the most talented IT professional, and dealing with VM backups doesn't make it any more economic or attainable. But now we're offering a solution to make a 3-2-1-compliant backup strategy accessible and affordable for any organization.
"Many of our customers use Veeam and want a way for their backups to be 3-2-1 backup compliant, but don't have the budget to keep a second copy of their on-premise data in a different location."
—Nilay Patel, VP Product, Backblaze
Before today, your options for complying with 3-2-1 weren't all that attractive. You could pay the expensive storage costs of Amazon S3, or you could purchase and configure more hardware in a secondary location. But now you have an affordable, seamless option: the B2 Cloud Storage partnership with Tiger Bridge!
This new solution allows you to put a copy of your backed up VMs in the cloud for ⅓ of the price of using S3. This all occurs through a single pane of glass with no interruptions to your workflow—all backup jobs and restores are controlled directly from your Veeam Backup & Replication Console.
Here's how it works.
Tiger Bridge is a software-only solution that expands Windows NTFS capabilities to include uploading to the cloud, other storage, or tape. Additionally, their unique implementation provides the option of only uploading incremental changes to the cloud, thus reducing network load. As the most affordable and scalable public cloud storage platform available—with a robust REST API that is being consumed by 100s of integrations—Backblaze B2 is the perfect upload solution for Tiger Bridge customers, allowing for as many copies of their backups in the cloud as they need.
"Anyone looking to leverage the cloud for their second data copy will love the integration between Backblaze and Tiger Bridge. Intelligent and automatic data uploads to Backblaze B2 helps meet
3-
2-1 backup
compliance, reduces costs, and increases storage flexibility and agility, without additional, expensive backup infrastructure."
—Lance Kelson, Executive Vice President, Tiger Technology
The key benefit with this solution is that you will now be able to recover your VM if your infrastructure falls short. If your hard drive fails or natural disaster strikes, you have a second copy of your VBK in the cloud. You can download your VMs or have a pre-loaded USB drive shipped directly to you. Getting started with this solution is simple and takes about 30 minutes:
Install Tiger Bridge on your repo, then configure it to use your B2 bucket.
Point your backup job to your Tiger Bridge repo.
Run your backup job.
After each backup job is completed, Tiger Bridge copies the backup to Backblaze B2 Cloud storage. All your data is readily available in B2, and backed by SLA. This is excellent news for anyone who needs their backup process to be 3-2-1 compliant and have a second copy in the cloud.
Here is a price comparison:

| Solution | $/TB/Month | Download Price per GB |
| --- | --- | --- |
| B2 + Tiger Bridge* | $7 | $0.01 |
| Amazon S3** | $21 | $0.09 |
| | | |
* B2 Cloud Storage is $5/TB/month & Tiger Bridge is $2/TB/month. Tiger Bridge is free for the first 5 TB in any given month.
** Amazon's S3 has tiered pricing. This comparison uses Amazon's lowest published price. To create a more detailed pricing comparison, please use our price comparison calculator.
Interested in Learning More?
Visit our Knowledge Base article on how to get started with this deployment or contact our sales team.