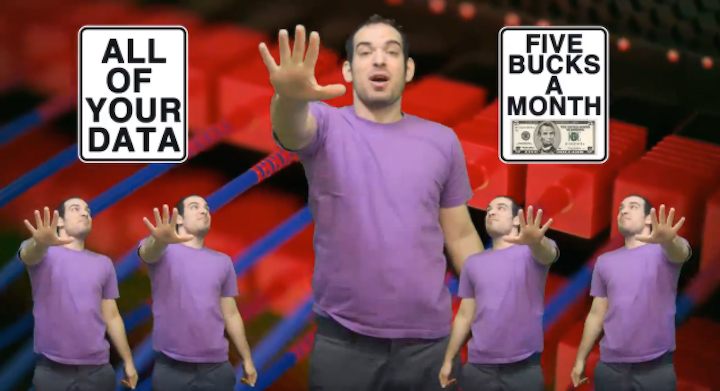 Backblaze has a new jingle, courtesy of Jonathan Mann.
Here's the crazy story of how this came to pass. A few years ago, Jonathan set on the seemingly impossible path of creating a song a day and posting those songs to his YouTube channel. Some of those songs he's written each day have turned in to jingles for companies that he's admired and luckily for us, Backblaze was on that list. A few months ago, Jonathan reached out to us through our mutual friend Marco and asked if Backblaze was interested in a jingle. He is a Backblaze customer and has been working for the last few months to "bring jingles back." We're honored to be part of that pursuit.
When we first started out, being scrappy was our best chance of taking on the task of getting everyone backed up. Jonathan has scrappiness in droves and his story is pretty darn interesting. Jonathan's a musician who has been active on YouTube since 2006, but his largest undertaking—creating a song a day—started in January of 2009. He passed the 2000 song mark in June 2014, but is still going strong, uploading videos daily.
There are many parallels between Jonathan and Backblaze that make us appreciate his work. Much like Backblaze revealing our Storage Pod design and releasing our hard drive failure rates, Jonathan has been remarkably open about his personal life in these videos. We once wrote about a failed acquisition, and Jonathan once wrote about breaking up with his girlfriend after five years of being together. This type of openness and accessibility have made his songs some of the more entertaining on YouTube, even if they're about your everyday life.
Being open and honest is a wonderful trait, both in people and in companies, but unfortunately it's one that we don't see very often. Jonathan is doing great things with his "Song a Day" campaign (one of his biggest hits from the campaign was his "iPhone Antenna Song," which Steve Jobs even used on stage to open his "antennagate" keynote) and in addition to our thanks for the cool video, we wish him nothing but the best. We love this kind of work ethic and creativity and it just goes to prove that when you pour your heart and soul into a project, impossibilities tend to fade away.