Tomorrow (7/22/2014) from 7-5PM California Time, Backblaze will be undergoing scheduled maintenance. During this time, we will be updating a cluster, resulting in more stability and speed for some of our earliest customers.
During this maintenance, the following parts of our service will be affected for some of our users:
Access to the My Account section of the website will be unavailable, this includes access to restores and the ability to purchase additional licenses for your existing account
Backups will not be running, and you will see the following offline message in the Backblaze control panel: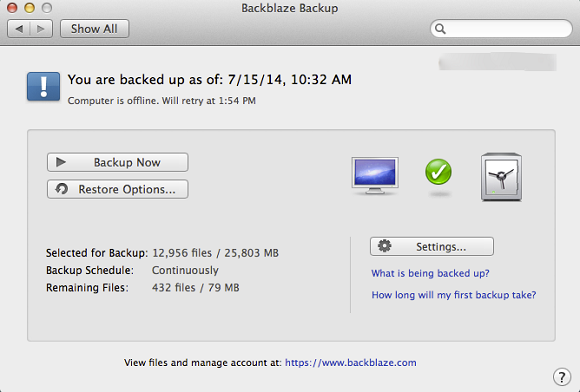 After the maintenance completes, those users will immediately be able to access their account, download restores, and add licenses. All backups will restart from where they left off, however, there may be some ramp-up time before clients start uploading backup data. Not all users will be affected.
We will be updating this page throughout the day, and when the system is fully back online.
Update 7:20AM -> Maintenance has started and should last until 3PM.
Update 9:22AM -> As a result of maintenance, some users will be unable to log in to our help system. If you need to open a new support ticket, please write an email to helpme@backblaze.com and our support team will be able to respond to you, or go to https://www.backblaze.com/help.html and you'll be able to chat with our support team.
Update 3:32PM -> The majority of work has been completed and the final maintenance stages have begun. We estimate another hour or so of downtime.
Update 5:17PM -> Systems are now coming back online and users should start being able to fully use the site soon. We'll update once we're fully back online.
Update 9:26PM -> As of a few hours ago, all systems are back online, and backups are resuming. Maintenance is complete.