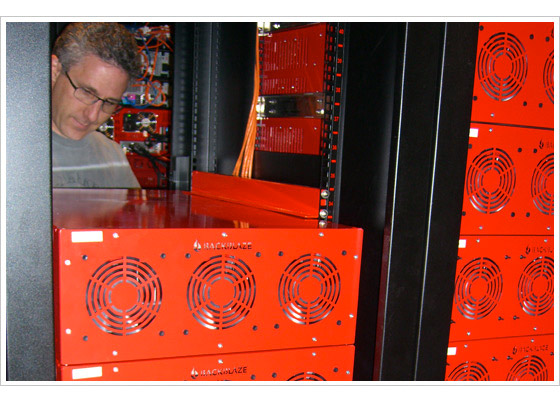 UPDATE: this position has been filled by Kirk!
Do you like big data? Big red boxes?
The Backblaze online backup service has nearly 20 petabytes of customer data stored and adds about a petabyte every month. We like people who have the creativity to come up with new ways of building bigger and cheaper cloud storage—yet are meticulous about the data center operations. Sound like you?
Title: Sr. Systems Administrator
As the Sr. Systems Administrator, your role will be to:
Help plan, organize, and manage all activities of the Backblaze data centers.
Scale operations including deploying & configuring new systems & networks.
Troubleshoot and resolves operational problems.
Implement security measures required by corporate security policies.
Help create, maintain, and improve operational shell scripts and manual procedures.
Install new software patches, releases and system upgrades.
Perform system backups and recovery as needed.
Maintain monitoring system to measure system availability and detect issues.
Help hire and train IT staff as needed, including those in remote locations.
Continuously increase operational efficiency.
Continuously improve Backblaze Storage Pods.
Participate in the pager rotation and respond to alerts as needed.
Handle daily operational tasks including reading logs and replacing drives.
Want to join our team?
Email jobscontact@backblaze.com with the subject "Sr. Systems Administrator," include your resume, and include an answer to the question: "How would you manage boot image and system configurations on 1,000+ storage servers (i.e. Backblaze Storage Pods)?"
Note: Position is in the San Francisco Bay Area.