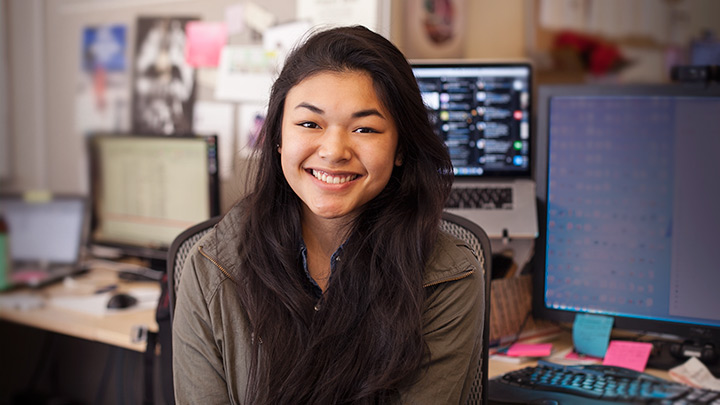 Our Engineering Intern Katherine's reign of "newest intern" is over! Our newest newest intern, Caitlin, has recently joined the Marketing department to help us with some fun tasks! Caitlin is a student at the University of San Francisco and is studying psych and graphics design, so maybe we'll have her come up with some cool images! Let's get to know her a bit better, shall we?
What is your Backblaze title?
Marketing Intern.
Where are you originally from?
I'm originally from Milpitas but moved to San Jose when I was in third grade.
What do you expect to learn while being at Backblaze?
A little of everything!
Where else have you worked?
I've worked at Uniqlo about a year ago and now I just hit my one year working at Century Theaters in Milpitas.
Where did you go to school?
I graduated high school from Notre Dame in downtown San Jose and I'm currently a student at University of San Francisco with a psychology major and graphic design minor.
Favorite place you've traveled?
Thailand and El Salvador: both for the food, culture, and people. (-:
Favorite hobby?
Traveling is definitely one of my favorite hobbies, although expensive, it is worth every penny. Dancing is also another favorite of mine whether it be jazz, contemporary, or hip hop (but I prefer hip hop).
Of what achievement are you most proud?
Winning first place in a dance competition two years in a row during my high school's spirit week! Our dance team made history at our high school for winning both junior and senior year.
"Star Trek" or "Star Wars"?
"Star Wars!" Even though I haven't watched any.
Coke or Pepsi?
Coke.
Favorite food?
I can eat sushi and pizza literally every day and not get tired of either. Soft serve ice cream and churros are also up there in the must haves.
Anything else you'd like you'd like to tell us?
I love drinking coffee and milk tea and I'm more than glad that downtown San Mateo has a plethora of coffee and tea places.
Welcome to the team, Caitlin! Or as you prefer to be called, KT. Though, where did the "K" come from? That's just silly! Anyway, we'll try to have an office dance-party in your honor before you leave us for the school year!