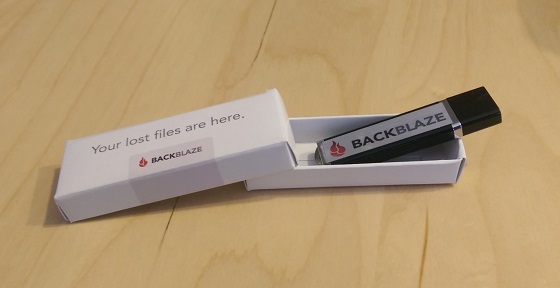 Editor's note:
On March 3, 2022, Backblaze ended the USB flash drive restore option. While we parted ways with USB flash drives, we continue to offer many options for restoring your files—explore ways to recover your data
here
.
We're excited to announce that our 128GB USB flash drives will now be shipped in tiny little restore boxes that will come to your door with all your lost data eagerly awaiting to return home. To some of us in the office, these little restore boxes look like tiny flash drive coffins, with the USB drive resting peacefully inside them, just waiting to be plugged in so your data can come back to life. Coffins or boxes? Who cares, you're getting your data back! Yay!
Even cooler, we've updated the USB flash drives to USB 3.0. Now you'll be able to restore up to 110GB of your data, and get it back on to your computer almost 10 times faster than with USB 2.0, and it's still $99—next day shipping included. Restoring to a flash drive is quick and painless, just log in to www.backblaze.com, select the files/folders you wish to restore, and we'll express ship the drive to you. As always, you get to keep the drive.
Some key improvements that come with our upgrade to USB 3.0:
Faster transfer speeds (Approximately 4Gbs)
More power availability and power conservation when idle
USB 3.0 is backwards compatible with USB 2.0 ports
Of course, restoring data to a USB flash drive is not the only way to get your data back. You can still download files for free using a web browser and the Backblaze downloader. You select which files/folders you'd like to restore and download the .zipped files. We also have our USB external hard drives, with up to 3TB, for $189, shipping included.
Please enjoy this .gif of a flash drive rising from its little box; spooky…