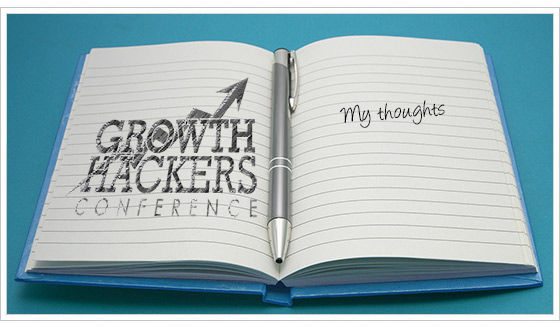 Yesterday, I attended the third Growth Hackers Conference put on by Gagan Biyani and Erin Turner. I attended the previous one, loved it, and signed up to attend this one as soon as tickets went on sale.
My one regret? That I didn't bring my whole team.
Growth is a mindset (a "philosophy," James Currier said) and one that is fueled both by listening to the processes and approaches outlined, and by talking with the folks who attended.
Perhaps for the next conference I'll steal more of my team from their daily work.
Three concrete takeaways I plan on doing at Backblaze as a result of this conference:
1. Ask our customers "How upset would you be if Backblaze went away?" (Per Sean Ellis.)

2. Give our best partners some physical items to start a conversation in the physical world about Backblaze. (Per Jared Fliesler's Square example.)

3. Explore leverage to find additional partners. (Per Gagan's Lyft & Udemy examples.)
Here is my full bullet-point summary:
(Remember, this is no replacement for attending the actual event.)
James Currier, (OogaLabs) "Find Your Growth Fingerprint"
Your Fingerprint:
# of Users Today
Language-Market Fit (What IS your product to the user? Language/psychology)
Growth Type
Then you can talk about Channel/Tactical experiments.
# of Users Today:
What stage? 0-500, 500-10k, 10k-1M, 1M+
Language Examples:
"Store your Photos" to "Share your Photos"
"Find a Date" to "Help People Find a Date"
Behind every great consumer internet company is a powerful insight about human psychology.
Language changes YOUR thinking, not just how you communicate.
Type of Growth You Need Today:
New Users vs. Activated vs. Retained vs. Monetized
Activation Growth: One third of time on product, one third on metric instrumentation, one third on "FUE" (first user experience)
New Users

WOM: Word of Mouth (UrbanDaddy shake, Shazam hold up; resurgent since mobile is face to face)
Viral: instrumented growth
Paid

Numerous different channels for each of these
Hard to do more than one, operationally. (Focus, but also product pages, etc.)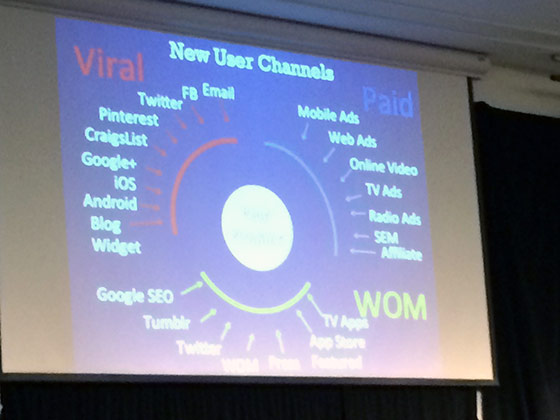 Increase All Growth Approaches & Types

Reduce page load times
Reduce cycle times between steps & uses (Evite was classic cycle-time issue with six months between uses)
Add more paths/rewards/motivations
Build a culture of growth

Simplicity (remove unused features, even if spent months building)
Sustain pain of failure & iterate relentlessly (most experiments will fail)
Be patient (sometimes growth channels open, like Facebook mobile ads or Facebook platform hacks)
Not a one-time gimmick; it's an approach/philosophy
Building a growth team: Need people who are curios & more aggressive than the CEO.
Jared Fliesler, "Insights from Growing Square"
At Slide it was the wild wild west; could get millions of people with one hack.
Had a person just scanning what hacks other developers were doing.
Square Growth Team: Product, Marketing, Partnerships.
Solve a BIG problem.
Craft the experience: "surprise & delight", will this "wow" customers?
Build community: often undervalued.
Solve a big problem:
 Small businesses have an average of one salesperson coming to pitch them every day.
 Average small business makes 4-10% margin & charged 3.5% for credit card fees.
Craft the experience:
Hardware is a mixed bag, but Square Reader was a huge benefit.
</ br>
Easy to explain, can pull out of pocket and show someone.
It was "beautiful."
Customers perceived that it has value.
It looks out of place, which starts a conversation.
Square figured out how to be visible in an invisible world of payments.
Intentionally put friction in front of customers to make sure they were the right ones.
Build community:
A lot of the growth was via community events.
Gave Square-in-a-Box to best businesses to hand out to other businesses.
Scale Growth:
How to compete with other companies that made more per sale?

Standard model LTV: Conversion Rate, Customers Acquired, Retention, Engagement, Revenue.
Square model was LTV x Virality.

Big Channels & Programs.

Retail: price point high enough for people to use, pay retailers, but don't disadvantage users ($10 money back).
TV: Very expensive. No ads for payment processors since people don't care. So recorded merchants for hours.
Then build programs around that. (Business-in-a-Box, Salvation Army, Obama donations).
What didn't work?
In-store giveaways & collateral.
Referral program felt too forced.
On-campus programs.
Elliott Shmukler, "The Three Steps to User Engagement (Lessons from LinkedIn)"
Find your "Aha!" moment = when your user truly experiences and "gets" the value of your product.

Experiencing the Facebook newsfeed.
Facebook "10 friends in seven days."
Viewing someone's profile on LinkedIn.
Getting an email from a recruiter via LinkedIn.
Uber: first time you press the button to request a car and it actually comes.
Figure out how to make more of them happen for users.

Use Email: Send more emails, but make them highly relevant.

From or about someone I care about. ("Who's Viewed Your Profile" emails very successful.)
Sent at the right time & frequency. ("Who's started something new?" emails sent twice a year.)
Filled with interesting content.

Engage the already engaged, more.

Easier to build on strengths than fix weaknesses.
Easier to get a user that's active to do more than get inactive user to do anything.

E.g. Have to be active user to get the "Who's viewed your profile?" email; gets you more active.
E.g. "What courses have you taken?" gets you to fill out more of your already active profile

A/B Tests on Emails That Worked:

Shorter is almost always better.
Landing experience also matters.

LinkedIn built own mail tools, but Wealthfront using MailChimp & Marketo.

Dan Martell, "Retention to Test Product/Market Fit"

Questions for customers:

How would your users feel if they couldn't use your app? (40% need to say the app is critical.)
How would you define our product to a colleague or a friend?

Hybrid content marketing:

Hacked podcasts.

Who are the speakers that are talking about this space?
Scripted iTunes to be notified when they're being interviewed & would pitch them.

Press: if you're nobody but have a cool product, get four or five founders in the same vein & pitch that story.

Notifications:

Remind your users that you exist.

Email, Push, SMS, and phone calls.

Add a check box with "Click here for free phone support."

Clicking that means people are saying "I want to buy."
Would call them to just say "Hi, saw you signed up. Any questions?"

Teaching sells.

Show them how other customers had success.
Tell their stories.

Smile and dial.

Happens every Thursday @ Clarity. Pull list of customers by time zone.
Ask them "How can we make the product better suit your needs?" Don't sell.
Don't tell them you're the CEO.

Run user tests on competitor sites.
Used oDesk to sign up for all competitors to see all their notifications.
Have Evernote document of growth tips that can send.
Use UrbanAirship for notifications.
Each time find self teaching, write it down and get someone to create the teaching doc.
App called Intercom sends automated emails to request content from users for blog, but only if influential.
Only hire people after working with them for a bit. "Can't work with you until I work with you."—Seth Godin

Mike Greenfield, "Big Data Scientist Meets the Growth Hacker"

Growth Skills:

Product Design: design a clearer UX.
Copy Writing.
Product Marketing.
Coding: quickly build/try experiments.

Circle of Friends has millions of users that created circles of about 10 friends.

But mostly low usage, except moms which had 50% longer posts & two to three times more friends.
Changed to be Circle of Moms.

Gustaf Alstromer, "User Acquisitions on Mobile: Insights from Voxer"

Problem on mobile that all traffic channels go to Google Play & Apple App store, then source is lost.
Marketing and PR didn't work initially.
"Find 100 users who love you"—Paul Bucheit
Invite friends message: short, personal, simple.
Tools: Yozio, LookBack, MixPanel, Optimizely, Google Analytics.

Sean Ellis, "Conversion Rate Optimization"

GrowthHackers.com analyzed Evernote, SnapChat, BellyCard, Uber, Square. Word of mouth was the fastest growth engine for all.
Conversion rate optimization process for creating a more effective website:

For Business: to increase customers.
For Customers: to increase satisfaction.

Measure your Product/Marketing fit free at Survey.io.
What do you need to understand?

Must have experience.

How would you feel without X? (Very disappointed.)
What is the primary benefit you receive?
Why is that benefit important for you?

Uncover points of friction.

User teasing (live or online).
Survey to uncover conversion issues.

"What's the one thing that nearly stopped you from purchasing?"

Feedback sample size?

Size doesn't matter.
Goal is inspiration for breakthrough tests.

Tools:
Funnel: KissMetrics, Mixpanel (better than Google Analytics for cohort testing).
A/B Testing: Optimizely, Unbounce.
User Feedback: Qualaroo, SurveyMonkey, Survey.io.
Other: Crazyegg, UserTesting.

Prioritize Plan:

List key customer intent (from research).
List friction to solve (from research).
Determine baseline conversions.
Consider potential lift from tests.
Script your first 10 tests.

"Hook Promise" needs to lead to "Must Have Experience"

Conversion rate experts recommend big, bold, targeted changes (not "meek tweaking").

Meek: no wins, disheartening, lose commitment.
Big: more chances for big profit.

Apply to every onramp (e.g. Dropbox).

Word of mouth (sync).
File share (send).
Folder share (collaborate).

12-chapter guide to CRO: www.Qualaroo.com/beginners-guide-to-cro.

Q&A:
How do you understand visitors who leave without doing anything?
Could use "exit survey" products, but people who just bounce don't tend to respond.

Laura Klein, "The Three Reasons They're Not Converting"

They don't understand what you're offering (they don't get it).
They don't have the problem you're solving  (they don't need it).
The product isn't worth what you're asking (they don't want it enough).

"Just Do It" works for Nike because they have millions to explain it. Startups need to be explicit.

Test if they don't understand:

Five Second Tests
Guerrilla Usability
Site Intercept

Find a person that doesn't know your product. Show them the page for five seconds. Ask what it does.

Site needs to explain "What does the product do for the user," not "What does the product do"

Test if they don't need it:
(e.g. Jobs4Pets: like Monster, but for pets. Like TaskRabbit, but for actual rabbits. Messaging is clear. But no one needs this product.)

Contextual Inquiry
Observational Testing
Customer Development

Test don't want it enough:
Cost = Money, Time, Effort, Pain.

Pre-Build Commitments
Usability Tests
Price Optimization

Can't optimize conversion if you don't know which of these three things you're trying to fix.

Ivan Kirgin, "Growing Your Monetized User Base"

Dropbox grew through referrals, but this just greased the skids for referring a good product.

Referrals:

Norms (people start thinking about market norms if done as money; but did space as a virtual currency).
Symmetry (marginally beneficial, but lowers barrier to sending since doesn't feel spammy).
2 / 0.25 / 50 (big difference between 2GB free/50GB pro; if pro storage is too low, referrals cannibalize pro).
Lifecycle (cycle time over time is important—run out of space, socialize, run out space, socialize).

Messaging:

Very minimal on messaging. No newsletter. Don't think it would be quality enough.

/gs (Tour for new users. Get bonus to complete. Expose to referral program.)
P.S. (Single most effective add for referral program, added "P.S. Get space free." to transactional emails.)
/edu (Students get two times the space via referral program.)
/spacerace

Enterprise:

Dropbox.com less popular than desktop client.
Freemium was really important for enterprise sales.

If you want something to happen, ask.
If you want it to happen often, automate.

/photos (Growth hack: enabled upload of photos automatically.)
Samsung & /gs (Out of box experience was great; users got space only after going through tour.)

Q&A:
Did anything not work for the referral program?
Had all ways to share on one page. Tried changing to one most important, then next buttons. That seemed to work worse.

Stan Chudovsky, "Finding Paid Channels That Work"

LTV $1 – CAC $1.01 = death
LTV $1 – CAC $0.99 = might be awesome
$0.02 is the difference between "sucks" and "great."
If have organic viral factor, your LTV for acquired customers effectively higher.

LTV:

Do you know it? Can you measure it by channel? By campaign?
Is viral factor from these users built-in to the LTV calculation? Per channel/campaign?
Doe your FUE change based on channel/campaign?

Discover the Phrase:

Free IQ Test (2002)
Find Old Friends (2003)
Free iPod (2004)
Unlimited DVD Rentals (Netflix 2006)
Lose 20 pounds in 20 days (2008)
Rescue the Maiden (2009)
Play Dragons of Atlantis (2010)

Paid Channels Come & Go:

AOL, Yahoo, MSN
Pop-ups, Pop-unders (people hated, but clicked five times more)
Remnant web banner networks
Google SEM
Mobile Remnant Ad Networks
Facebook Web
MySpace
Facebook Mobile

Facebook Mobile ads went four times more expensive in six months.

Instrument Three Buckets:

Short term ROI (3-6 mo)
Longer term ROI (6-12 mo)
Longest term ROI (12+ mo)

Have levers to move between the buckets.

Q&A:
How to decide between using an agency & doing it yourself?
Haven't found an agency that works. They just figure out how to spend your budget.

What new channels?
Twitter has started to work for some people.
Google+ identity with Android has some potential.

Simon Tisminezky, "How to Drive Viral User Acquisition from Zero to One Million"

SpeedDate has 20 million users and 100,000 subscribers.
Started SpeedDate since used JDate, but had two pain points:

Women didn't respond to emails.
Women weren't like their profiles.

Create an awesome product first.
Match.com and most were hard. eHarmony was harder. SpeedDate wasn't instant.
Used the following five items to come up with features:

Wow/trigger point and other metrics (e.g. 50% of people get a response)
User needs (Meet Expectations > Desires > Unmet Need; Unmet Need was real-time chat)
Channel profitability (LTV, Cost/sub, Payback)
User feedback (Uservoice, Foresee, Customer Loyalty Feedback, Usability Testing)
Competitive research (How can we do something a lot better?)

Metrics for awesome products

Addicted customers

High % users return daily/weekly
30%+ DAU/MAU

Customer satisfaction

4+ star rating
40%+ very disappointed if product discontinues (asked 1% of customers every day)

Significant word of mouth
Breakout economics

Achieving > one viral factor = 20% invite x 200 invites per inviter x 2.5% signup from invites = one

Invite via Facebook connect, Gmail importer, etc.
Invites per inviter: CandyCrush allows 50 invites/person
Signups: need to be seamless to close the loop

Viral user acquisition analytics: A/B testing by channel.

Were doing 10 A/B tests per day; eight would do nothing, one would go down, one would go up.

Summary to drive viral growth:

Select platforms that work best
Measure key metrics
Process for rapid optimization & iteration

Q&A:
What are upcoming platforms?
Pinterest, Twitter, Tumblr have potential, especially as APIs open up.
How to keep track of all tests?
All features had to be launched through an A/B test. Even back-end features. (e.g. page load times)

Gagan Biyani, "Supply Hacking: Lessons from Building Udemy and Lyft"

Fake the chicken: Udemy presenters initially were free content from YouTube.
Make the chicken: Hired drivers to sit and be idle for Lyft in LA.
Early success stories: All company was just trying to make two or three courses successful.
Promote success stories:

Figured out what drivers at Lyft/instructors at Udemy loved.
Then wrote blog posts and took out ads promoting that exact thing.
Figured out that "Make $10,000 by doing a Udemy course." It resonated.

Scale is all about leverage:

Used people in the Philippines for a few $/hr to massively email people who might be good hosts for AirBnB, presenters for Udemy, etc.
Had them compile a massive list of potential people to email.
Used Pipedrive to track and used Toutapp to send a personal email to sac.
Thumbtack has done a good job with this, have 100 people doing this.

Andy Johns, "A Personal Finance Approach to Growth"

Core Finance Principals:

Increase your income, decrease your debt.
Start investing early.
Diversification is mandatory.
Invest in cost efficient assets.
Compound interest is your best friend.

Core Growth Principles:

Increase growth, reduce product/tech debt.
Start growth projects early.
Diversify your growth channels.
Invest in cost efficient growth channels.
Focus on rate of growth, not absolute growth.

Build a Growth Table.

Q&A:
Facebook figured out the "aha" moment: 10 friends in seven days. MySpace made customizable profile pages that added complexity and load time and delayed adding new friends and getting the "aha" moment.

Uber spent two years to manually get saturation in San Francisco.

Grow by 1% per week, will grow 1.7x annually. 3% will mean 5x annual. Facebook had a 45 person growth team when it hit 100 million users with one aim: 2% per week growth. Doing this required being relentlessly focused on this for years.

Product first. Bad: Color, CUIL, Viddy, Myspace.
Must have multiple growth channels you directly control.
Build a growth table.

Have opinions about attribution by channel, but generally didn't worry about since CAC for Facebook had to be sub-$1. Found channel once but it was shutdown within six months.

At Quora, ran 70 experiments in 60 days with about 20% succeeding, resulted in a three times growth rate. Then got better at recognizing successful paths.