Home and business computer users who want best-of-class backup of their Windows and Mac computers have Backblaze Cloud Backup for easy, automatic, and unlimited backup of their desktops and laptops. Those who need to back up and archive servers, NAS, and Linux systems, or require capabilities not available in Backblaze Backup, often are looking for a straightforward and reliable client with a strong set of features to manage their backups to Backblaze B2 Cloud Storage. A candidate worth considering is Duplicati, which not only has a good feature set with an easy-to-use interface, but runs on Windows, macOS, and Linux. On top of that, it is free.
Duplicati Highlights
Interface
Duplicati is available through a consistent, wizard-style web interface or as a command line tool.
Web interface can be used on mobile devices as well as on headless systems such as servers or a NAS.
File Handling
Duplicati allows backups of folders, file types (e.g. documents, images), and supports a number of custom filter rules.
Duplicati uploads a full backup initially and stores smaller, incremental updates afterwards to save bandwidth and storage space.
Duplicatil finds duplicate files and similar content and will store this data only once in the backup. This is true even if files and folders are moved or renamed.
All backup data is compressed before it is encrypted and uploaded. Duplicati supports Zip/Deflate or 7z/LZMA2 compression.
Duplicati can make proper backups of opened or locked files using the Volume Snapshot Service (VSS) under Windows or the Logical Volume Manager (LVM) under Linux. This allows Duplicati to back up open files such as the Microsoft Outlook PST file while Outlook is running.
Duplicati stores the metadata of files in the backup. When backup files are restored, the timestamps (last modified, created) will also be restored, as well as (optionally) the system's access permissions.
Security
Duplicati uses AES-256 encryption (or GNU Privacy Guard) to secure all data before it is uploaded.
Backends
Encrypted backup files are transferred to backends such as FTP, WebDAV, SSH (SFTP), and cloud storage destinations including Backblaze B2, and others.
Automation
A scheduler keeps backups up-to-date automatically.
An integrated updater notifies you when a new release is available.
There are many options and filters, including deletion rules, transfer and bandwidth options.
Data Intergrity
To avoid bit rot and corrupted data that might occur in substandard storage systems, Duplicati regularly downloads a random set of backup files, restores their content, and checks their integrity.
Duplicati can handle network hiccups, interrupted backups, and unavailable or corrupt storage systems. Interrupted backups can be continued at a later time. Duplicati will then back up everything that was missed in the last backup.
Duplicati will try to repair corrupted files.
History of Duplicati
The Duplicati project was started in June 2008 and originally intended to produce a graphical user interface for the Duplicity program. This included a port of the Duplicity code for use on Windows. A decision was made to work on a clean re-implementation with a new name, which was released in June of 2009.
In 2012, work on Duplicati 2 started, which was a complete rewrite of the original release. It included a new block-based storage engine that allowed efficient, incremental, continuous backups. (Note: we previously wrote about old-school vs. new-school backup approaches in Backing Up Linux to Backblaze B2 with Duplicity and Restic.) The first beta of Duplicati 2 was released in September of 2017.
A second beta version of Duplicati 2.0 was recently released. This update includes a smart backup retention policy, new backup backends, performance enhancements, and many other fixes and improvements. It's a product that has years of investment — and the efforts show in its functionality and relative polish. The Duplicati project can be found on Github at https://github.com/duplicati.
Using Duplicati with B2
Duplicati has a good Getting Started Guide on its website on how to set up the source and destinations for backups and configure application options. A complete manual also is available on their website. Its wizard interface is so easy, though, that you can probably get started without reading any documentation. There are many optional filters and configurations, though, so it's good to check out all the options.
To use Duplicati with B2, you just need a unique bucket name for the backup destination and your B2 Account ID and B2 Application Key, which can be obtained from your Backblaze account dashboard.
To get started creating a new backup, select Add backup from the home page.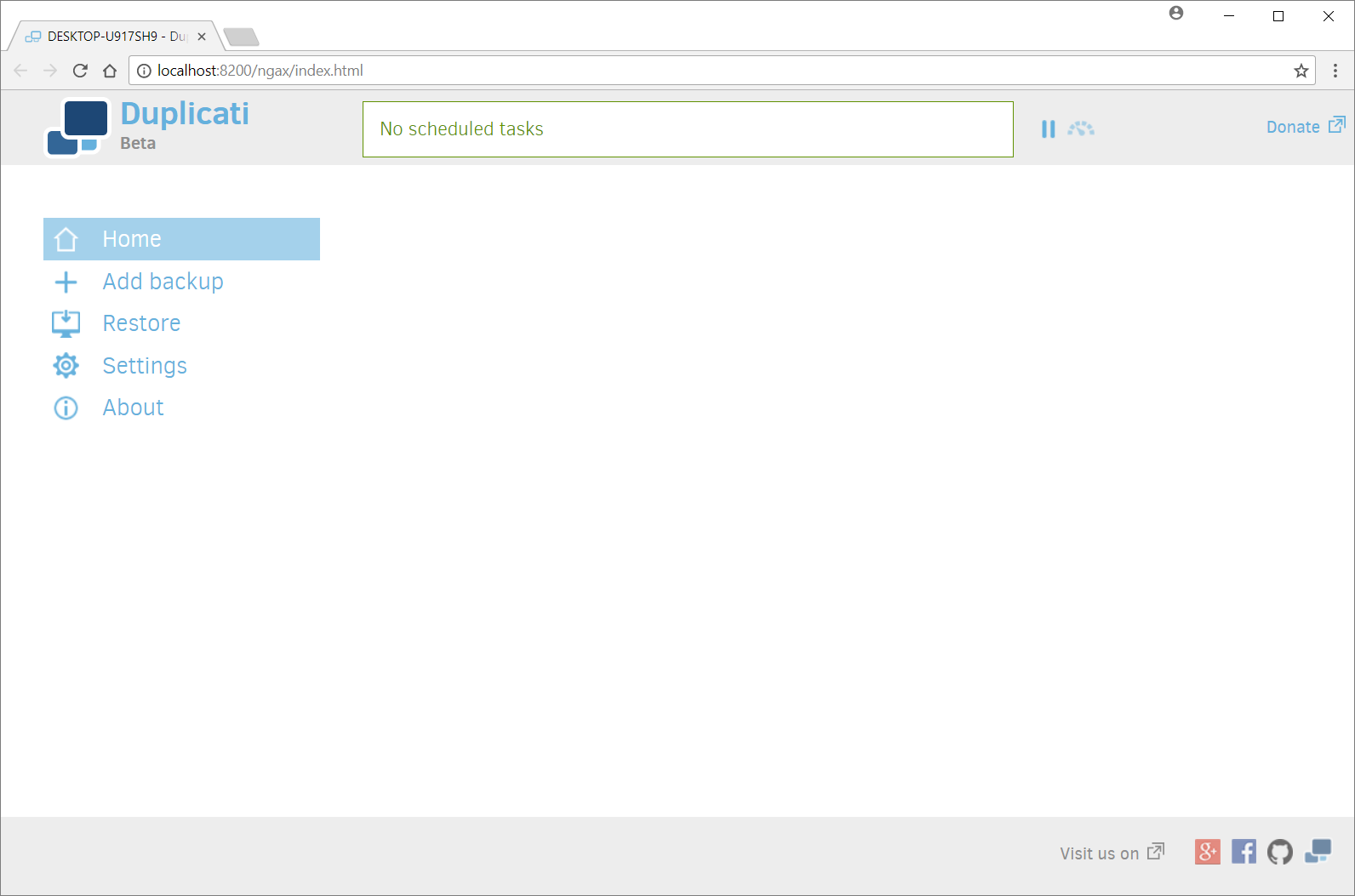 That brings you to the Add a new backup page.
For backup destination, select B2 Cloud Storage.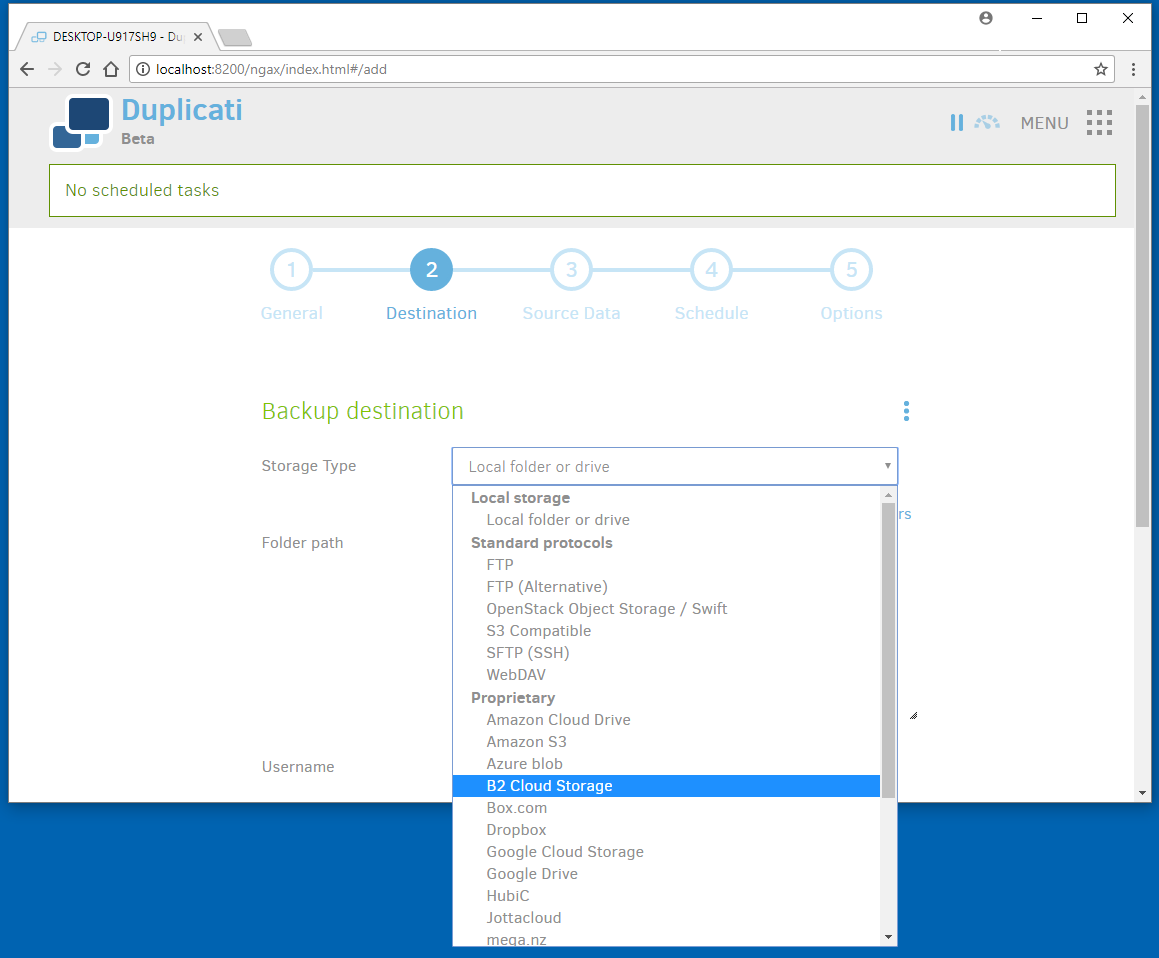 On the Backup destination page, enter your B2 details. After you've filled them in, you can test your connection to B2.
From there, you use the wizard to complete the configuration with the source data, schedule, and options.
A Couple of Options to Note
Backup Test Samples   Duplicati by default will perform verification of your backups by randomly downloading a file and comparing a stored checksum against the file to ensure it hasn't changed. If you wish to avoid the bandwidth from this option, you can disable it in Settings: Default options, or by using –backup-test-samples=0 from the command line.
Thread Priority   This option in Settings: Default options sets the CPU priority for Duplicati, which can determine how fast your backups and restores complete. Command Line Usage: –thread-priority=[idle to highest]
Congratulations! You've configured your first Duplicati backup task.
Once the backup configuration is completed and saved, you can monitor the status of your backups on the Duplicati homepage.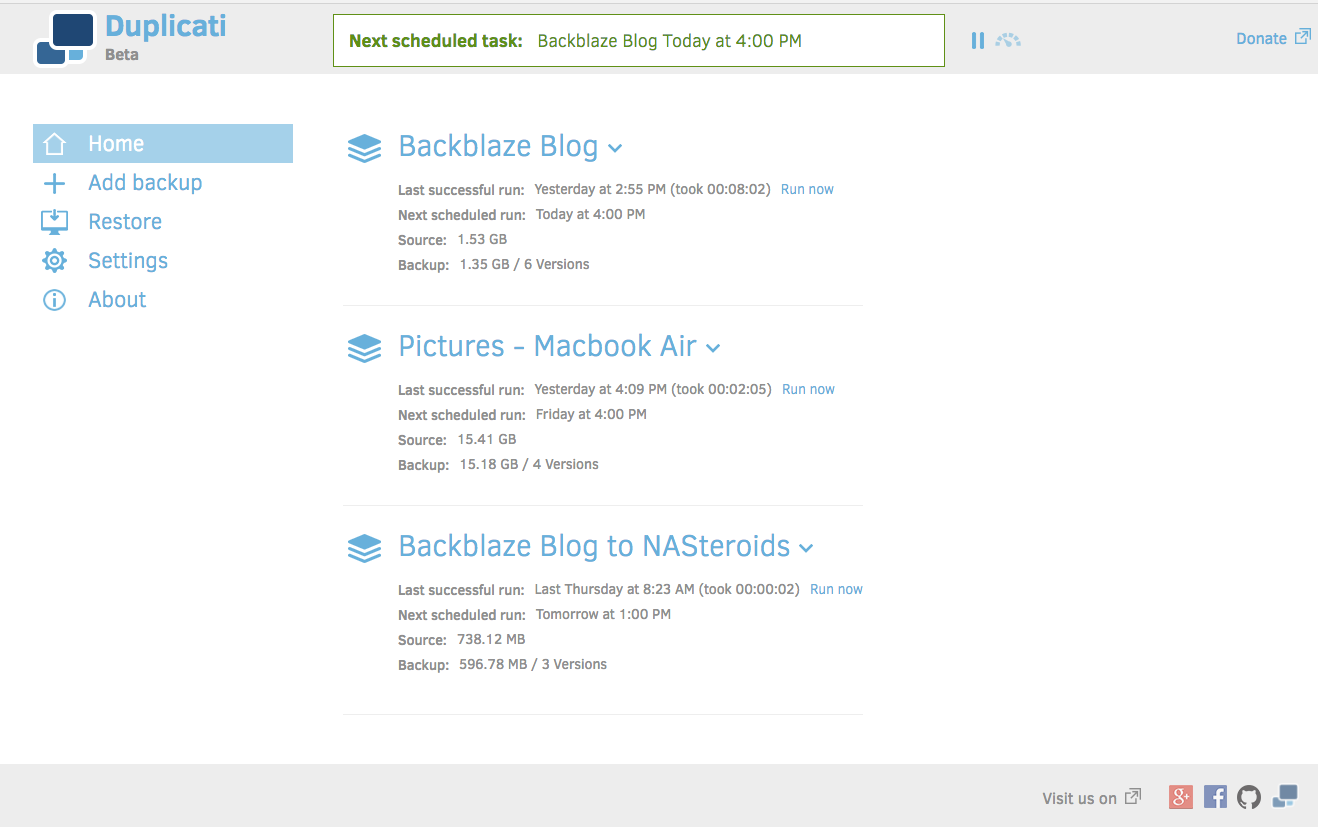 Duplicati is One of Many Integrations with B2
In addition to Duplicati, B2 users have a wide variety of ways to get data into and out of B2 Cloud Storage. The choices range from Backblaze's own command-line tool and SDK (software development kit), to commercial and freeware applications that run on Windows, macOS, and Linux. For the latest on what tools are integrated with B2, check out our integrations page.
Let Us Know How You're Using Duplicati and B2
If you're using Duplicati or another integration tool with B2, please let us know in the comments how it's working for you.