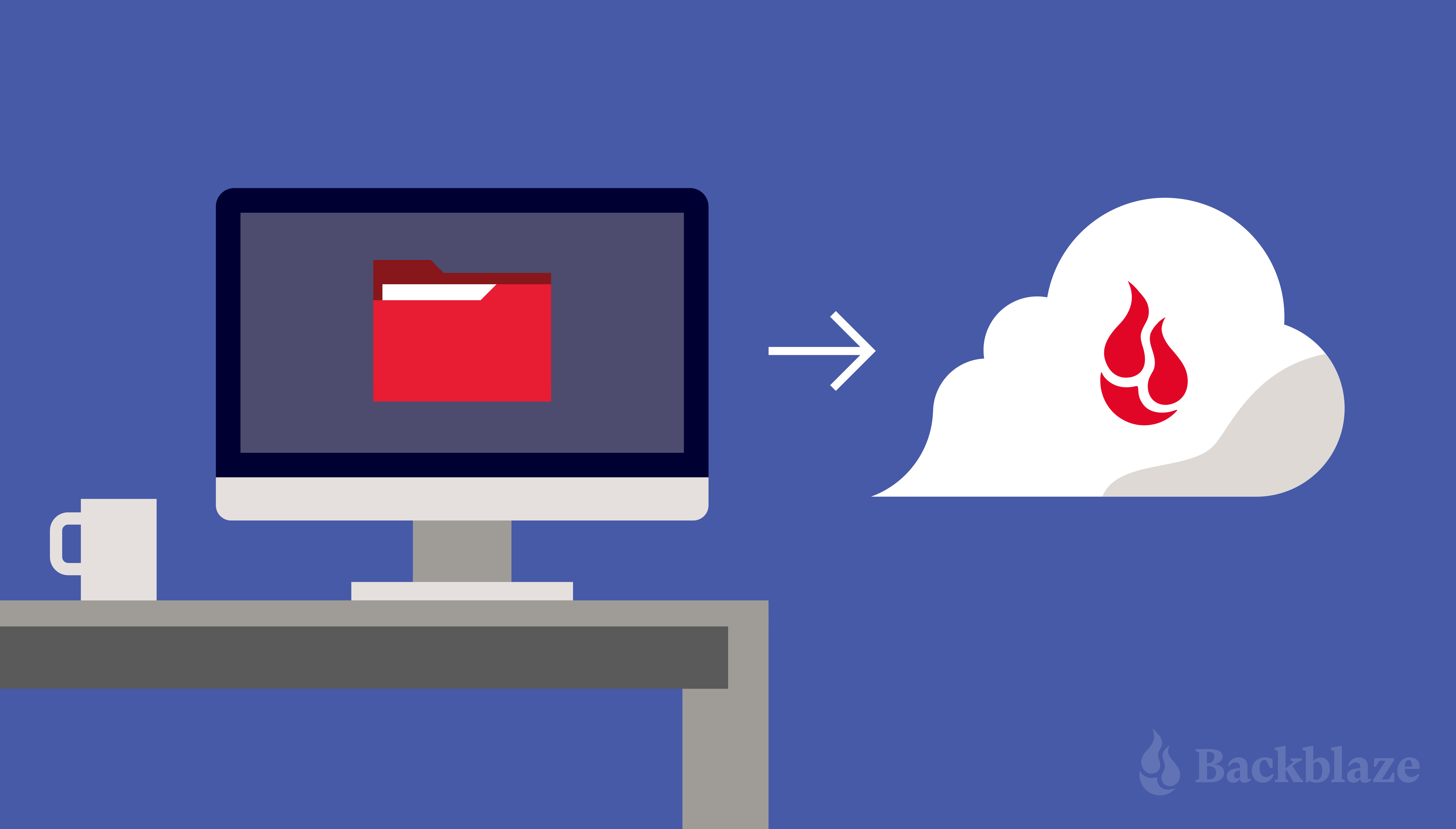 With CrashPlan sunsetting its On-Premises backup service as of February 28, 2022, customers have some choices to make about how to handle their backups moving forward. As you think about the options—all of which require IT managers to embrace a change—we'd be remiss if we didn't say Backblaze is ready to help with our Business Backup service for workstations. It's quick and easy to switch over to, easy to run automatically ongoing, and cost effective.
If you're a CrashPlan customer but you need a new backup solution, read on to understand your options. If you're interested in working with us, you can transition from CrashPlan to Backblaze in six simple steps outlined below to protect all employee workstations from accidental data loss or ransomware, automatically and affordably.
What Options Do CrashPlan Customers Have?
CrashPlan customers have two options: transfer to CrashPlan's Cloud Backup Service or transfer to another vendor. CrashPlan customers have until March 1, 2022 to make the decision and get started. After March 1, CrashPlan customers will lose support for their backup software. If any issues arise with backing up or restoring data, you won't receive support to help fix the situation from CrashPlan.
CrashPlan's Cloud Backup Service starts at $10 per endpoint per month for 0-100 endpoints, and is tiered after that. For customers looking for different pricing options or features, some CrashPlan alternatives include Carbonite and iDrive, both of which are offering promotions to attract CrashPlan customers. Keep in mind that once these promotions expire, you're stuck paying the full price which may be higher than others. And, of course, Backblaze is an option as well.
Transferring From CrashPlan to Backblaze
So, what makes Backblaze a great fit for CrashPlan customers? We'll share a few reasons. If you are already convinced, you can get started now by following the getting started guide in the next section of this post. If not, here are some of the benefits you'll get with Backblaze:
Unlimited and Automatic: Lightweight Mac and PC clients back up all user data by default and are Java-free for stability—no system slow-downs or crashes.
Easy Admin and Restores: Transition in a few simple steps, then easily manage and deploy at scale via a centralized admin console by choosing from a number of mass deployment tools with multiple restore options.
Affordable and Predictable: Protect all employee workstations for just $70/computer/year, with no surprise charges; plus monthly, yearly, or two-year billing flexibility to suit your needs.
Safe and Secure: Defend your business data from ransomware and other threats with single sign-on, two-factor authentication, encryption at rest, encryption in transit, and ransomware protection.
Live Support: Make your transition easy with support during your transition and deployment via our Customer Service team and solution engineers.
Backblaze has been in the backup business for 15 years, and businesses ranging from PagerDuty to Charity: Water to Roush Auto Group rely on us for their data protection. Former CrashPlan customers who recently transitioned to Backblaze are getting the value they expected. Recently, Richard Charbonneau of Clicpomme spoke of the ease and simplicity he gained from switching:
"All our clients are managed by MDM or Munki, so it was really easy for us just to push the uninstaller for CrashPlan and package the new installer for Backblaze for every client."
—Richard Charbonneau, Founder, Clicpomme
We invite you to join them.
Ready to get started?
How to Transition to Backblaze: Getting Started
You can "version off" of CrashPlan and "version on" to Backblaze Business Backup, making for a seamless transition. Simply create and configure an account with Backblaze to start backing up all employee workstations, and let CrashPlan lapse when they sunset On-Premises support on February 28.
You can retain your CrashPlan backups on-premises for however long your retention policies stipulate in case you need to restore. (Or just deprecate those altogether if you'd rather use your on-premises storage servers for something else—it's up to you!) Then, with Backblaze set up in parallel, you can start relying on Backblaze moving forward.
Here's how to get started with Backblaze Business Backup:
Click here to get started.
Enter an email address and password. Then click Create Account With Groups Enabled.

You will receive a verification email. When you do, enter the code provided.

Now, create a Group for your users. There are a few reason to create a Group or Groups for your users, including:

To establish separate retention periods.
To use different billing methods for different groups.
To give different kinds of users customized access.
To keep your users organized according to your needs.

Choose how many licenses you would like to purchase in the Computers to Back Up field, select your retention plan under Version History, then click Add a Billing Method and enter your information. When you are done, click Buy and Next. (If you are not ready to proceed with adding a payment method, feel free to click "Skip Payment & Try for Free," this will allow you to try out the product for 15 days with full functionality.)

Now that your Group is created, you have some options on how to invite users into the Group. You can:
Deployment Considerations
Backblaze offers a number of different deployment options to give you the most flexibility when deciding how to deploy the Backblaze client to your machines. It can be as simple as sending the invite link via Slack or in a personally crafted email to a handful of users. You can use our Invite Email option to just add email addresses to a canned invite. Or you can deploy via a silent install using RMM tools such as JAMF, SCCM, Munki and others to deploy the software to your end users. Assistance is always available from our solution engineers to help guide you through the deployment process.
Additional Configuration Considerations
With Backblaze Business Backup, you can customize your Groups' administrative access. Specify who has administrator privileges to a Group simply by adding an email address to the Group settings. As a Group administrator, you have the ability to assist your users with restores and be aware of issues when they arise.
You can also integrate with your single sign-on provider—either Google or Microsoft—in the settings to improve security, reduce support calls, and free users from having to remember yet another password.
An Invitation to Try Backblaze
If you are a CrashPlan user looking to transition to a new cloud backup service for your workstations, Backblaze makes moving to the cloud easy. Reach out to us at any time for help transitioning and getting started.