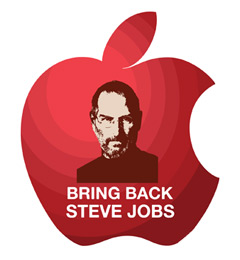 Steve Jobs was sorely missed yesterday at Macworld. Loved for his hyperbole, showmanship, and black turtleneck, Jobs bowed out of Apple's last Macworld. Rumors circled that he was ill, Apple had nothing to announce, he was stepping down, etc. In the end, Jobs issued a statement. Macworld would not be the same without Jobs' keynote.
Yesterday, after camping out all night to get in, thousands showed up to see Phil Schiller, Apple's Senior Vice President of Worldwide Product Marketing, present Apple's final keynote. Apple fans waited for the rumored iPhone Nano, a revamped Mac Mini, a netbook, or even just a bump up to 32GB for the iPhone. Alas, it was not to be. Schiller did a good job with the announcements he had, but Jobs' flair was missed.
As the person who is synonymous with Apple, it must have been hard for Jobs to not give the last Apple Macworld keynote. So, Backblaze made some flyers to let him know how we all feel in just four words: Bring Back Steve Jobs.
We attempted to hand them out to the people in the keynote line, but Macworld security said we were not permitted on the sidewalk, and had to stand on the corners. We handed the flyers out there, only to be shut down by Apple's marketing group soon thereafter, with the rest of the flyers confiscated.
People loved the flyers. Some jumped out of line to come grab one from us. Others hung them off their badges. A few told us they would pin them in their offices.
To bring Steve Jobs back seemed to hit a nerve. SFGate, CRN, and NBC News had photos of people holding them up; The Guardian UK, ABC 7 News, and Channel 4 TV included it in their video coverage; and Content Now and TheAppleBlog mentioned it.
If you got one while we could hand them out, you're one of the few. Keep it as a memento; a reminder of the legacy of Steve Jobs' "one more thing."