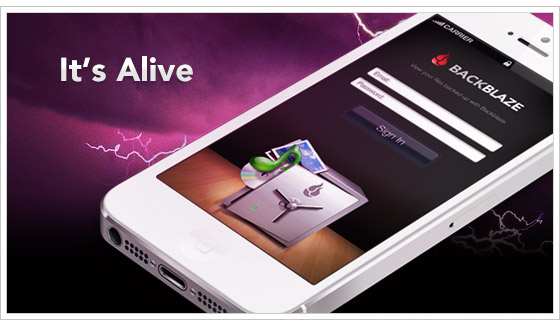 We announced Backblaze Mobile a few months ago, and while it took a little longer than expected (we couldn't help but add in features) Backblaze Mobile for iPhone is now ready for you! That's right! If you have a Backblaze account, you'll now be able to access your online backup on the go from your iOS device! What about Android? That's coming up next, stay tuned!
What does Backblaze Mobile do?
Backblaze Mobile is a free app available in the App Store that allows you to access, download, experience, and share all of the data that's been uploaded from your desktop or laptop and to your active Backblaze account.
Access
Download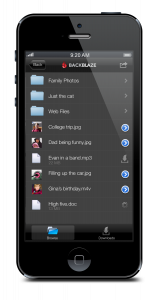 Experience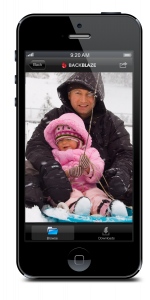 Share
How It Works:
Access: After signing in to your Backblaze account, you'll see a list of all the computers (Windows/Macs) you are backing up with Backblaze online backup. Select one of these computers. Next you'll see all the drives for that system that Backblaze currently has backed up. This can include multiple internal as well as connected external USB, Firewire, and Thunderbolt drives.
Download: The folders and files are organized just like those on your computer, so the files you want are easy to find. Once you've located your file it can be downloaded to the iPhone. Remember, the current file size limit for a single file is 30MB. You can download as many files as you want and you can see a list of your recently downloaded files by selecting the "downloads" button.
Experience: Once the file is downloaded you can see/hear the file. Viewing a PDF, listening to a MP3, or previewing a Microsoft Word doc are all possible. You'll be able to see/hear all the file types your iPhone knows how to present.
Share: Once you're sure you have the right file, you can share it. The options you get depend on the type of file, for example: if the file is an MP3, you may not see the "print" option, but it will be present for a JPG or GIF file.
Take Control!
The Backblaze Mobile app will give you greater access to all the data you've backed up with Backblaze throughout the years. Forgot a presentation? No problem, just download it to your phone. Have a picture on your computer that you want to show to a friend? No problem, just download it to your phone. Hanging out with friends and remember a fun picture you took, and then have an urge to post it to Facebook and tag them in it? No problem, just download it to your phone and share it! With Backblaze Mobile you can finally take control of your data.