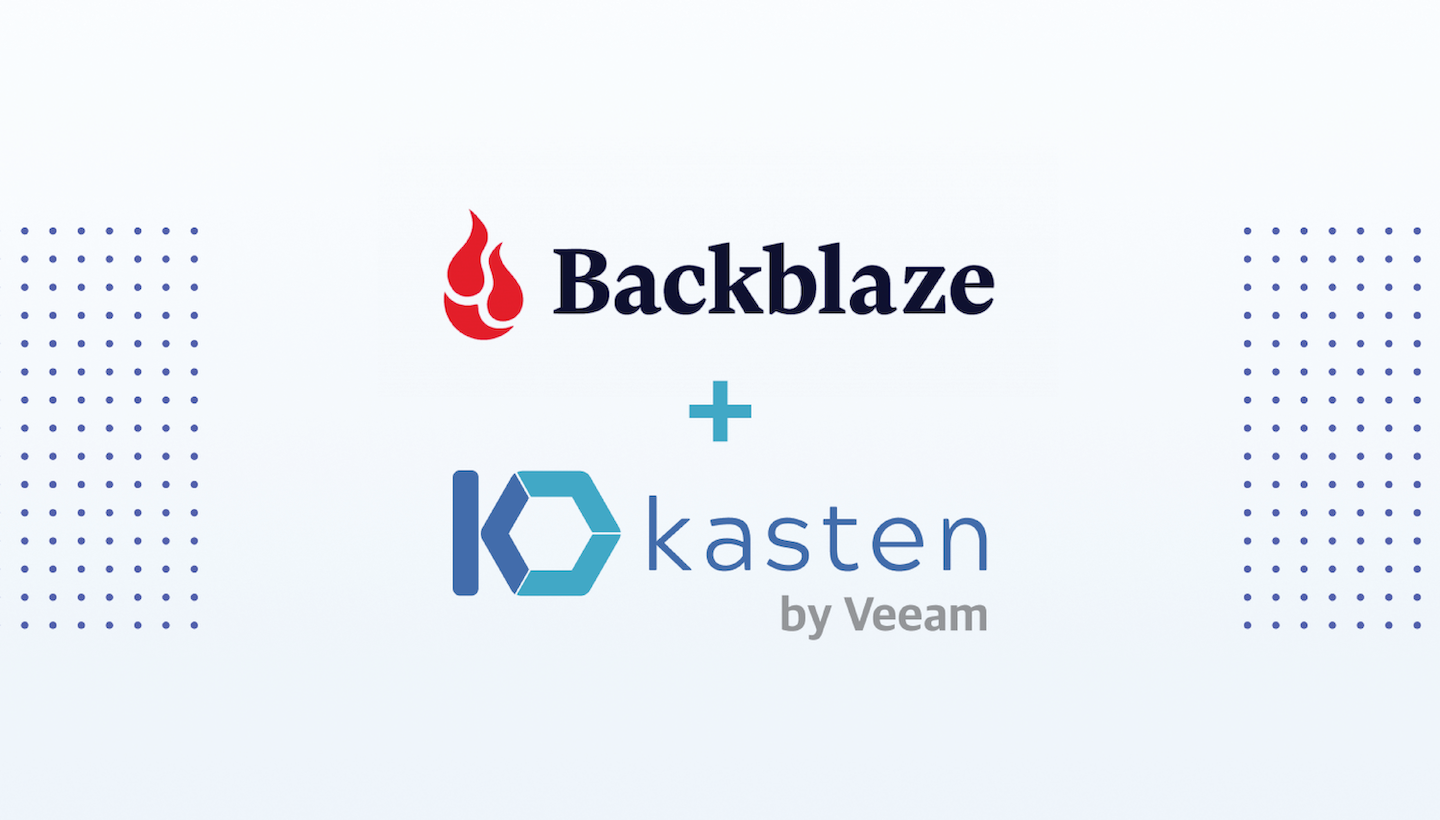 According to the Cloud Native Computing Foundation's annual survey, Kubernetes use in production has increased 300% since 2016 to 83% of respondents. There's no doubt that a fundamental shift has taken place over the past few years—applications are being deployed in container environments and those deployments are being managed by Kubernetes.
But customers that are deploying Kubernetes environments need a new tool to protect all of that data. Purpose-built for Kubernetes, Kasten by Veeam is that tool.
Now, through a new partnership, joint Kasten and Backblaze customers will be able to name Backblaze B2 Cloud Storage as a storage destination where they can store and protect copies of their applications affordably.
This partnership enables developers to:
Back up and restore production stateful Kubernetes applications.
Safeguard application data from ransomware encryption with Object Lock for immutability.
Support regulatory compliance and corporate disaster recovery mandates.
"Kubernetes containers are the standard for many organizations building, deploying, and scaling applications with portability and efficiency. Backblaze and Kasten together offer a compelling solution to support these organizations' business continuity needs with set-and-forget-it ease and cost effectiveness."
—Nilay Patel, VP of Sales and Partnerships, Backblaze
The joint solution is fully scalable at enterprise grade. What's more, organizations only pay for storage used, with no data retention penalties for deleting past backups.
About Kasten
Owned by Veeam, Kasten is an award-winning market leader in Kubernetes backup. Their product was built natively for containers, and the software-only solution runs directly on your cluster within its own namespace.
Together, Kasten and Backblaze provide a simple, seamless integration for shared customers, focusing on ease of use.
"Backup and protection are paramount in a world in which data is everything and cyberattacks continue to rise. The Backblaze-Kasten partnership offers the application protection and disaster recovery support companies seek, with flexibility and freedom to choose their preferred storage partner."
—Gaurav Rishi, VP of Product, Kasten by Veeam
How to Get Started With Backblaze B2 + Kasten
After creating your Backblaze B2 account, check out our Quickstart Guide for Kasten K10 and Backblaze B2 to create a Kasten namespace in your cluster and configure Backblaze B2 as a storage destination.
Customers can test the Kasten solution for free with clusters made up of 10 nodes or less. And Backblaze covers the first 10GB stored.
Data Protection That Scales With You
Kubernetes was built to provide scalability, giving businesses the flexibility to manage and optimize resources. Through this partnership, customers now have storage that matches that flexibility in Backblaze B2. With Backblaze, customers are able to scale their application backups as their applications scale.
Interested in learning more? Join us for a webinar on February 2, 2022 at 10 a.m. PST to discover how to add seamless ransomware protection to your Kubernetes environments—register here. Or, if you are ready to future-proof your application, click here to get started today.