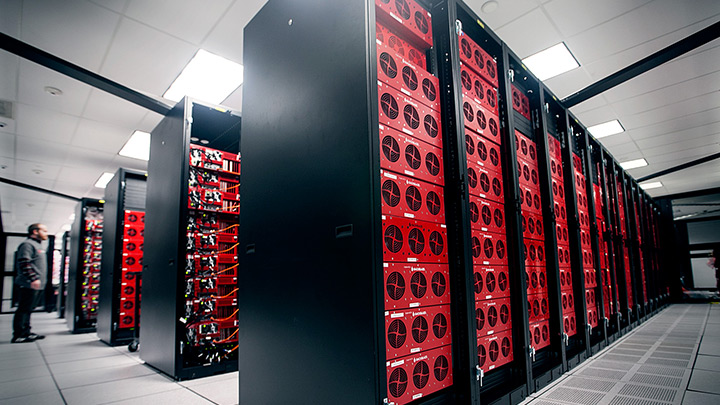 Thank you for your interest, but this position has been filled.
Please check out our
jobs page
for additional great opportunities at Backblaze.
The Backblaze Datacenter Team is responsible for Backblaze's cloud infrastructure. This is the team that defines our datacenter requirements and finds and/or builds facilities that meet our needs. This team is also responsible for daily operations and capacity planning including managing vendors, equipment, power and security. We focus on smart growth with an emphasis on automation, data driven decision making, cost-effective design and environmental sustainability.
Backblaze is growing quickly and looking to expand its Datacenter Team with the addition of 2 superstars.
Datacenter Facilities Manager
The Datacenter Facilities Manager will lead the effort to expand our physical infrastructure and help maintain existing facilities.
Responsibilities:
Lead global search for the next Backblaze datacenter, considering options from colo to build our own
Negotiate and manage Backblaze's datacenter contracts and ramp schedules
Manage buildout of new datacenter floorspace, including the installation of racks, cabling and power infrastructure
Ensure monitoring coverage of power and environmental metrics (temperature, humidity, etc)
Help select & qualify new hardware (power infrastructure, cabling solutions, racks, HVAC, etc)
Receive deliveries & maintain accurate inventory counts/records for datacenter assets
Repair and troubleshoot defective equipment
Follow and improve datacenter best practices and documentation
Maintain strong physical security (including PCI compliance, access controls, etc)
On-call responsibilities include 24×7 trips to datacenter to resolve issues that can't be handled remotely
Help train new Datacenter Technicians
Requirements:
7+ years managing mission-critical 24x7x365 datacenter environments
Expert knowledge of power & mechanical infrastructures (e.g. UPS, PDU, ATS, Generator, AHU, chillers, pumps, CRAC, etc.)
Working knowledge of physical IT infrastructures (e.g. Servers, SANs, Networking, etc.)
Excellent business acumen and financial management experience
Willingness to travel as needed during datacenter search
Ability to spending a year in the location selected for our new datacenter to facilitate buildout
BS/BA in Electrical/Mechanical Engineering, Computer Science, Math, Telecommunications, or equivalent experience preferred
Ability to lift/move 50-75 lbs and work down near the floor as needed
Position based near Sacramento, California and may require periodic visits to the Corporate office in San Mateo
Senior Automation Engineer
The Senior Automation Engineer will lead our effort to streamline provisioning and reconfiguration of systems in the environment.
Responsibilities:
Lead effort to automate provisioning & updating of systems with Ansible, custom script and other tools
Maintain and expand utility script library
Understand environment thoroughly enough to administer/debug any system in datacenter
Collaborate on capacity planning (manage storage buffers, forecast pod needs per month, ensure adequate colo space, etc)
Collaborate on strategic planning (optimize performance, reduce cost, increase efficiency, mitigate risk)
Collaborate on network security (including PCI compliance, firewalls, ACLs, HackerOne, Log Analysis, etc)
Collaborate on design/deploy/administer network infrastructure (switches, VPNs, routers, etc)
Help manage projects and work with teams to ensure routine tasks are covered
Help manage infrastructure services installation/configuration (DNS, DHCP, NTP, Certificate Authority, Clonezilla, PXE, etc)
Help manage web services installation/configuration (Tomcat, Apache, Ngnix, WordPress, Java, etc)
Help administer database servers (MySQL)
Help debug/repair software problems (File system, RAID & boot drive repairs)
Participate in the 24×7 on-call pager rotation and respond to alerts as needed
Requirements:
Expert knowledge of Linux system administration, Debian experience preferred
Experience running Apache, Tomcat, WordPress and Java services
8+ years of experience or equivalent
Bash scripting skills
Position based in the San Francisco Bay Area, California requiring 3+ days/week in San Mateo, CA
All positions require:
Good attitude and willingness to do whatever it takes to get the job done
Strong desire to work for a small fast paced company
Desire to learn and adapt to rapidly changing technologies and work environment
Rigorous adherence to best practices
Relentless attention to detail
Excellent troubleshooting and problem solving skills
Excellent communication, time management, problem solving and organizational skills
Interested?
Check out these videos on our Datacenter Operations team:
Want to join our team? Follow these three steps:
Send an Email to jobscontact@backblaze.com with one of the positions listed above in the subject line
Include your resume
Include your answers to 2 of the following 3 questions
a. What about working at Backblaze excites you the most?
b. Provide 3 adjectives that best describe your personal workspace.
c. How would you manage multiple facilities to 1,000+ servers each?