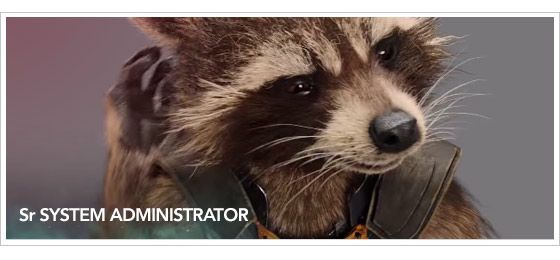 Thank you for your interest, but this position has been filled.
Please check out our
jobs page
for additional great opportunities at Backblaze.
Responsibilities:
Own Apache, Tomcat, WordPress and Java services used to host static and dynamic web sites.
Maintain and expand platforms used to host web services including Dell, Apple, and Supermicro servers plus Dell & EMC storage hardware.
Oversee daily and weekly backups of critical metadata.
Research new applications as needed and recommend specific packages and configurations (DNS, NTP, DHCP, etc.).
Help maintain multi-petabyte storage farm including low level RAID rebuilds, file system recovery, and hardware repairs.
Help deploy, configure, and maintain hundreds of Linux systems and services using Ansible.
Perform routine drive replacements as needed.
Help create, maintain and improve operational bash shell scripts and manual procedures.
Help hire and train IT staff as needed, including those in remote (global) locations.
Participate in the pager rotation, respond to alerts as needed, review system logs, and monitor security forums.
Requirements:
Expert knowledge of Linux system administration, Debian experience preferred.
Experience running Apache, Tomcat, WordPress, and Java services.
8+ years of experience.
Bash scripting skills desired.
Ability to lift/move 50-75 lbs and work down near the floor as needed.
Position based in the San Francisco Bay Area, California requiring three or more days a week in San Mateo.
All Backblaze Positions Require:
Good attitude and willingness to do whatever it takes to get the job done.
Strong desire to work for a small fast paced company.
Desire to learn and adapt to rapidly changing technologies and work environment.
Rigorous adherence to best practices.
Relentless attention to detail.
Excellent interpersonal skills and good oral/written communication.
Excellent troubleshooting and problem solving skills.
Want to join our team? Follow these three steps:
Send an email to jobscontact@backblaze.com with the position title listed above in the subject line.
Include your resume.
Include your answers to two of the following three questions:

What about working at Backblaze excites you the most?
Provide three adjectives that best describe your personal workspace.
How would you manage boot images and system configurations on 1,000+ servers (i.e. Backblaze Storage Pods)?
We'll be interviewing candidates over the next couple of weeks. Join us and help us continue to build a great online backup company.
Backblaze is an Equal Opportunity Employer.