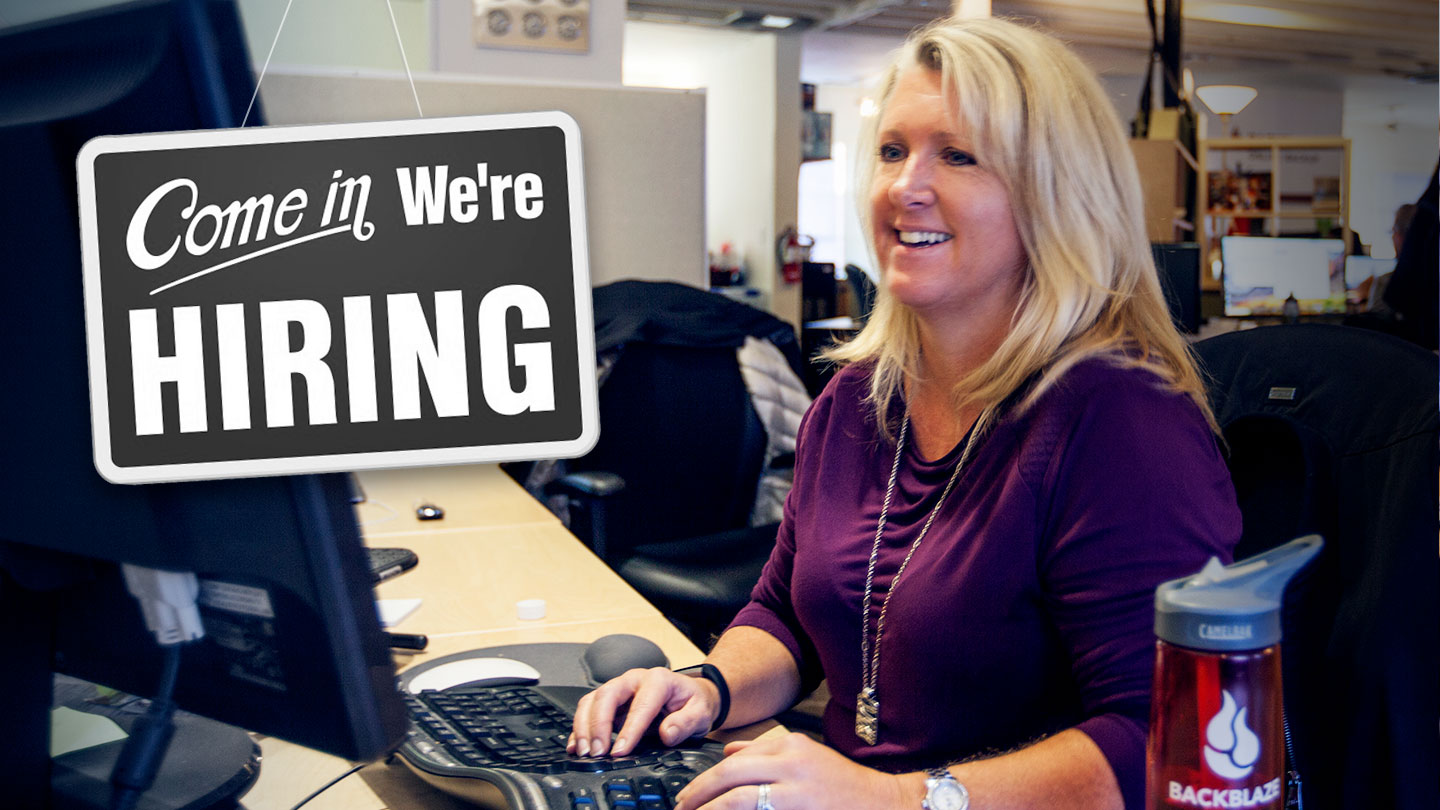 Job Description
Backblaze is looking for an Inside Sales Account Executive to join our Backblaze for Business sales team. This is an important role that will help determine the growth path of the company. Finding exceptional individuals who love working in a dynamic and challenging environment is our highest priority. We are searching for people who have successfully met and exceeded sales goals and would prefer to hire someone who has worked at a B2B software as a service or data protection company.
The History of Backblaze from our CEO
In 2007, after a friend's computer crash caused her some suffering, we realized that with every photo, video, song, and document going digital, everyone would eventually lose all of their information. Five of us quit our jobs to start a company with the goal of making it easy for people to back up their data.
Like many startups, for a while we worked out of a co-founder's one-bedroom apartment. Unlike most startups, we made an explicit agreement not to raise funding during the first year. We would then touch base every six months and decide whether to raise or not. We wanted to focus on building the company and the product, not on pitching and slide decks. And critically, we wanted to build a culture that understood money comes from customers, not the magical VC giving tree. Over the course of 5 years we built a profitable, multi-million dollar revenue business — and only then did we raise a VC round.
10 Years Later We Are a Growing & Thriving Company with
A brand millions recognize for openness, ease-of-use, and affordability.
A computer backup service that stores over 700 petabytes of data, has recovered over 35 billion files for hundreds of thousands of paying customers — most of whom self-identify as being the people that find and recommend technology products to their friends.
A growing, profitable and cash-flow positive company.
And last, but most definitely not least: a great sales team.
The Ideal Account Executive Candidate will
Have extensive B2B sales experience with a primary focus on companies <500 employees with strong brand recognition and demand generation activities.
Give excellent product demonstrations that use the customer's pain points and needs to create a uniquely customized value proposition.
Have a track record of managing inbound interest while generating new pipeline through prospecting and referrals.
Know how to sell on value instead of relying on discounting.
Responsibilities
Manage the entire SaaS sales cycle from qualification to successful trial completion.
Focus primarily on qualifying and closing inbound leads while also self-generating sales pipeline with accounts that match our ideal customer profile.
Deliver a compelling and customer-centric product demonstration.
Keep opportunities updated with accurate next steps to improve monthly forecast accuracy.
Provide input to product and marketing teams from conversations with customers and prospects.
Manage contract T's & C's negotiations during the sales process.
Regularly meet and exceed monthly quota targets after onboarding and ramp period.
Approach all deals with a customer-first "ready to help" mentality.
Work cross-functionally with different organizations such as Sales, Marketing, Customer Success, Support, Product Development, and Engineering.
Requirements
Articulate and execute a detailed plan for exceeding monthly sales targets.
1-3 years of sales experience (in a closing role), preferably in SaaS platform software.
Ability to speak to executive-level decision-makers and ask intelligent questions about their business challenges and professional goals.
Track record of success by exceeding quota on a regular basis.
History of building new net business through prospecting and referrals.
Great communicator with the ability to convey authenticity through active listening.
Give persuasive and engaging product demonstrations.
Highly organized and able to balance dozens of accounts.
Adaptability to thrive in times of ambiguity but willing to raise your hand and ask for help when necessary.
Strong personal ethics with a competitive mindset. You want to earn a spot at the top of the leaderboard through hard work and continuous effort.
You have the desire and willingness to learn new job skills through independent study.
Knowledge of modern sales software including (but not limited to) Salesforce, Outreach, DiscoverOrg, Cirrus Insights, and UberConference.
This position is an experienced sales role with little to no travel requirements. Must be able to report into our San Mateo office daily.
Desirables
Understanding of modern sales process for SaaS.
Cloud backup solution landscape familiarity.
File backup terminology, use cases, and common pain points.
Creative and/or highly interpersonal background.
Achieving 90% of sales targets within 90 days of hire.
Benefits
Competitive healthcare plans
Competitive compensation and 401k
All employees receive option grants
Unlimited vacation days
Strong coffee
Fully stocked micro kitchen
Catered breakfast and lunches
Awesome people who work on awesome projects
New parent childcare bonus
Normal work hours
Get to bring your pets into the office
San Mateo Office — located near Caltrain and Highways 101 & 280
If this all sounds like you:
Send an email to jobscontact@backblaze.com with the position in the subject line.
Tell us a bit about your work history.
Include your resume.