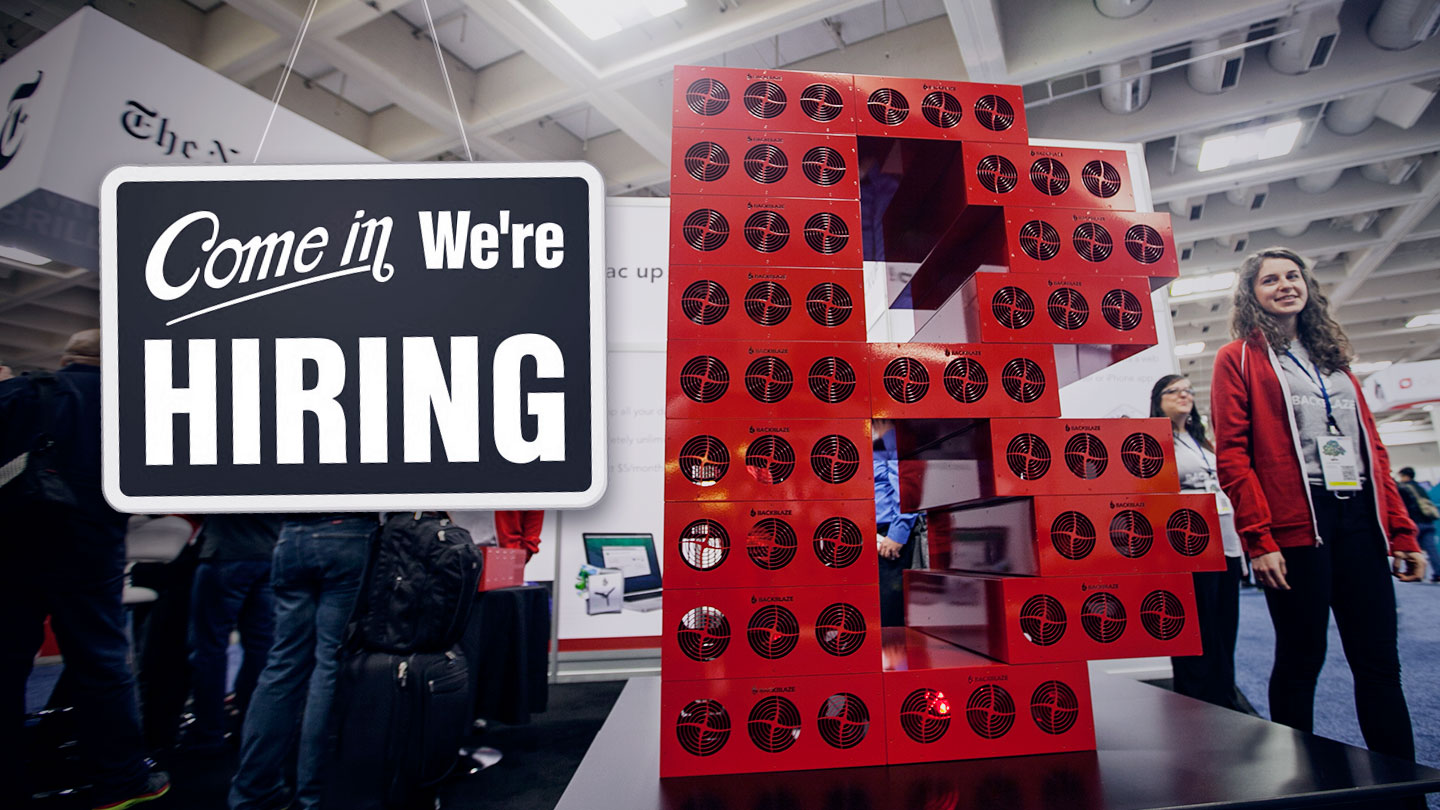 Since 2007, Backblaze has earned our reputation as a leader in data storage. Our products are astonishingly easy to use and affordable. In a market that includes some of the biggest corporations of our time, we have differentiated ourselves by being cleverly unconventional in how we do things.
Our success is tied to the principles of being open and fair. This approach extends to our marketing and, by extension, content efforts. We like to share the stories (and facts) behind what we're doing. As an example, we open sourced (and promoted) our storage platform that provides the lowest cost of cloud storage on the planet. It explains how we can offer cloud storage at ¼ of the price of Amazon. This storytelling is the fuel of a content marketing machine that drives our top of funnel growth.
We have created a new role, our head of publishing, because as our team has grown, the opportunity to share stories about how people solve problems is getting bigger. Beyond our team of outstanding marketers, we have an organization (from Ops/Engineering/Support etc.) that believes in the spirit of storytelling. Our new head of publishing role has the mandate to act as the chief storytelling coach for all of our writers (substantive editing) as well as ensuring ruthless precision in our execution. In empowering this role, we hope to continually invest in Backblaze's storytelling strength as fuel for our content marketing efforts.
The head of publishing reports to the VP of marketing and has one direct report, the content director.
The Primary Responsibilities for the Head of Publishing:
Editing: Nurture our tradition of creating widely loved and consumed content, with a primary focus on our blog.

Every piece of content that ships should be reviewed by the head of publishing. A representative monthly cadence involves the editing of eight blog posts, one case study, one to two webinar presentations and various web pages/knowledge base articles.
Drive the effort to create new content franchises — a topic area that can be revisited on a regular cadence (anywhere between quarterly and annual) told as a story that appeals to an audience that will then share it on Reddit, HackerNews, or similar social network. A franchise is unlikely to make a directly commercial pitch. Rather, its goal is brand awareness for Backblaze — create engagement amongst an audience that would plausibly use our products. We measure success through blog comments and social sharing.

Our product marketers are tasked with attempting to create one franchise effort each per quarter, our content director should be creating two per quarter. Given these resources, your job is to be a partner and editor for these efforts. We can't control things that do and do not go viral, we do control our resource allocation and effort.
Empower our content director: Create clear processes and standards to enable our content director to do his best work as a writer and copy editor.

Our content director is responsible for our blog operations, writing four to six posts per month, and copy editing. You help make the content director successful through coaching, partnership, and creating clarity on standards.
Define & execute Corporate Communications: Given customer segments and key messaging from Product Marketing, the head of publishing is responsible for ensuring a compelling corporate communications cadence that meets our strategic requirements.

Maintenance of our 90 day content calendar.
Running our weekly content meeting so as to ensure that our storytelling is excellent, the content calendar meets the needs of our business lines, and that deliverables are being met.
Promote the blog content: Through a combination of your own efforts, and coordinating with the efforts of our social media team, SEO Team, and PR firm.

Be the day to day contact with our PR firm — make sure they are aware of our calendar and progress against agreed upon deliverables.
Where our PR firm's mandate does not include blog content that is otherwise pitchable, directly reach out to journalists for coverage.
Partner with our social lead to make sure content is promoted.
Partner with our SEO lead to make sure content is optimized.
Be the storytelling coach for our company: Be a company-wide editorial resource for making our internal and external communications compelling.

The first priority of this role is enabling Marketing efforts. In the long run, we want to create a center of excellence inside of Marketing that the entire company can turn to for better storytelling.
Key Measurements of Success
Our activities, ultimately, should contribute to profitable revenue growth for Backblaze. The leading indicators of success, owned by our head of publishing, include:
Growth in our blog audience:

Increase in email subscribers → Measures the long term engagement with our stories (love of the content). Achieved through a balance of low unsubscribes and new emails collected from blogs and webinars.
Increase in blog pageviews → A reflection of the transactional consumption of our content.
Organic engagement/syndication of blog posts:

Blog post comments → Shows a readership engaged in the conversation.
Reddit/HackerNews shares → Measurement of the community finding our content noteworthy. This is the metric to measure the success of our attempts to create franchises.
Sales team utilization of content:

Qualitative → Does the team feel they have what is needed to succeed?
Quantitative → Do they utilize new content in their efforts?
The Traits of Our Perfect Head of Publishing:
Excels in digital publishing for both literary and commercial contexts.
Comfortable driving and delivering to deadlines.
Demonstrates a honed approach to the craft of storytelling.
Embraces the interpersonal dynamics of being an editor (coach, cajoler, armchair psychologist, etc.).
Held roles that included the dual responsibilities of substantive editing and copy editing.
Has innate intellectual curiosity with technical matters. Experience with storage is not a requirement, but we need to have a mutual belief that the subject matter will be interesting for you.
A Little Bit More About Backblaze
In over a decade of operations, we have taken in a total of $3m in invested capital. This bootstrapped approach has helped to create a culture where we're able to focus on our team. We're proud to have created a place where people actually like to come to work. Please check out our Careers page to learn a little more and for a quick video of our team talking about our culture.
Sound Interesting?
In fewer than 500 words, describe an interaction you had with an author to help bring out the author's best work. Our internal screening scorecard is the bullet points articulated under our traits section. We think someone with that kind of background will be successful in the role and a happy member of our team (read: cultural fit).
Our process is to look at the combination homework and your resume to try and understand how many of the traits you possess and, of the ones that you may not obviously possess, try to determine if there's a plausible translation of your background to what we're looking for.
If you're interested, please send your resume and the 500 words to jobscontact@backblaze.com.