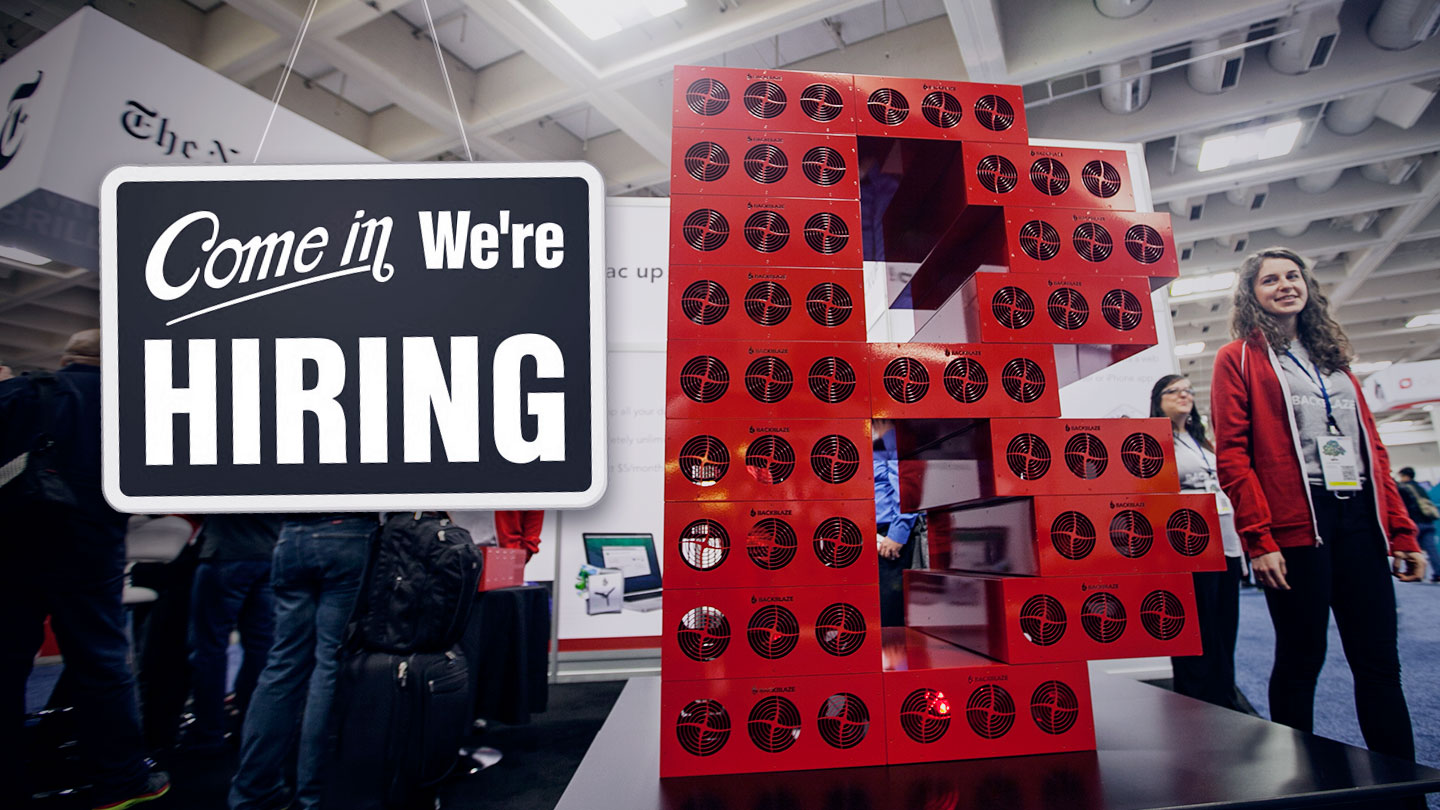 As we shoot way past 400 petabytes of data under management we need some help scaling up our datacenters. We're on the lookout for some datacenter technicians that can help us. This role is located near the Sacramento, California area. If you want to join a dynamic team that helps keep our almost 90,000+ hard drives spinning, this might be the job for you!
Responsibilities
Work as Backblaze's physical presence in Sacramento area datacenter(s).
Help maintain physical infrastructure including racking equipment, replacing hard drives and other system components.
Repair and troubleshoot defective equipment with minimal supervision.
Support datacenter's 24×7 staff to install new equipment, handle after hours emergencies and other tasks.
Help manage onsite inventory of hard drives, cables, rails, and other spare parts.
RMA defective components.
Setup, test, and activate new equipment via the Linux command line.
Help train new Datacenter Technicians as needed.
Help with projects to install new systems and services as time allows.
Follow and improve datacenter best practices and documentation.
Maintain a clean and well organized work environment.
On-call responsibilities require being within an hour of the SunGard's Rancho Cordova/Roseville facility and occasional trips onsite 24×7 to resolve issues that can't be handled remotely.
Work days may include Saturday and/or Sunday (e.g. working Tuesday – Saturday).
Requirements
Excellent communication, time management, problem solving, and organizational skills.
Ability to learn quickly.
Ability to lift/move 50-75 lbs and work down near the floor on a daily basis.
Position based near Sacramento, California and may require periodic visits to the corporate office in San Mateo.
May require travel to other datacenters to provide coverage and/or to assist
with new site set-up.
Backblaze Employees Have:
Good attitude and willingness to do whatever it takes to get the job done.
Strong desire to work for a small, fast-paced company.
Desire to learn and adapt to rapidly changing technologies and work environment.
Comfortable with well-behaved pets in the office.
This position is located near Sacramento, California.
Backblaze is an Equal Opportunity Employer and we offer competitive salary and benefits, including our no policy vacation policy.
If This Sounds Like You:
Send an email to jobscontact@backblaze.com with:
Datacenter Tech in the subject line
Your resume attached
An overview of your relevant experience