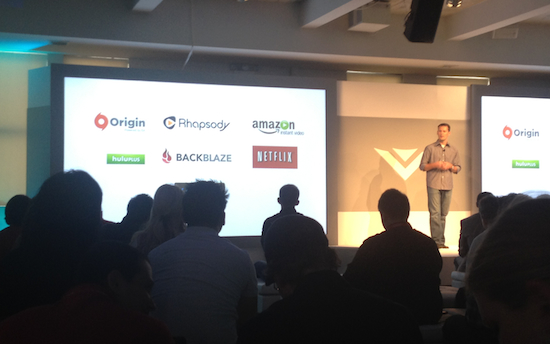 It's nice to have friends. You've probably heard of VIZIO and maybe some of those other companies in the picture above: Hulu, Netflix, Amazon, and the rest. And there's Backblaze right in the middle—cool huh? That's Matt McRae, the CTO of VIZIO, introducing their new PC lineup: All-in-Ones, Notebooks, and Thin + Lights. Matt gave us a nice shout out to everyone there, thanks Matt! Yup, really cool.
What all this means is that online backup has taken the first step in becoming an integral part of the PC experience. You get a new computer and one of the things it should do is protect the stuff you put on it, automatically and continuously. VIZIO understands this and reached out to Backblaze, and there we are, with all our new found friends. As part of Backup Awareness Month, Backblaze recently announced survey results showing that 10% of computer users backup their computer daily or more often. Having online backup be an integrated part of the PC experience can only help to reduce the senseless loss of data that occurs when a person does not backup their system. VIZIO believes that data backup should be part of the PC experience and we agree.
To be clear we are not built in, we are an add-on service that must be installed. But VIZIO has made it pretty simple. They have a "V" button that brings up a list of services. You can download and install the Backblaze service onto the VIZIO PC, pay for it, and you are backing up your photos, videos, spreadsheets, and more. Check out the press release for more details.