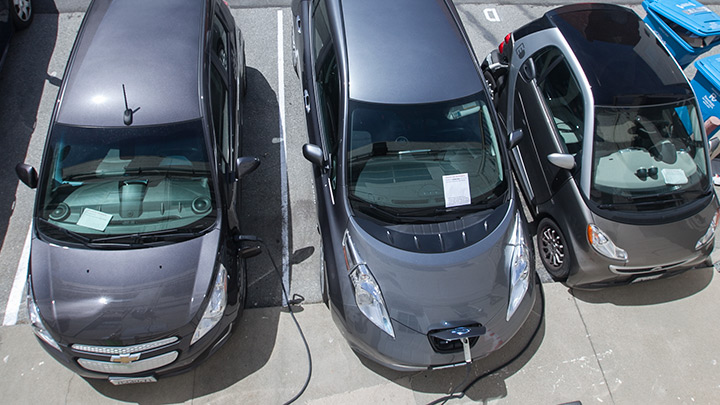 It's Earth Day! While Backblaze tends to make everything red (like our Storage Pods), we do have a bit of a green streak in us as well. Over the last few years, Backblaze employees have amassed quite an assortment of electric and plug-in hybrid vehicles. All told, 25% of the employees in our San Mateo headquarters drive a pure electric or electric plug-in vehicle. Here's the list of what they're driving:
Nissan Leaf
EV Smart
Chevy Spark EV
Fiat Electric
Chevy Volt
Toyota Prius plug-in
To accommodate our growing fleet of electric vehicles, we decided to provide charging ports for them, so that employees could charge up their cars while they are at the office. Unfortunately, the Backblaze office is located in an area with minimal parking, and we only had one spot assigned to us. Nearly everyone else parks in paid city parking garages near the office and none of these city garages have an electric charging station—shame on you San Mateo.
Over the last two years, we negotiated with our neighbors and started renting out two additional parking spots near our office, but they weren't side by side. It took some finagling, but we were able to play musical chairs and secure three spots together all next to our office.
Once we were able to get those few parking spots together, we started on another project, putting in charging stations for the three spots that we had accumulated.
We experimented with a few different ones, but decided on the Bosch Power Max system, though we also kept a slightly smaller Leviton charger. These work like champions and are usually quick enough to charge most of our pure EV cars within four hours. Sometimes we swap cars in the middle of the day to let everyone get a sip of electricity for the commute home.
Helping Out
Given the lack of local electric charging stations, we decided to let other electric car enthusiasts use our stations during off hours (nights and weekends). We do ask that anyone who uses one of the charging stations (including us) to fill out one of the forms below. That way, if someone wanted to use the charger, and someone came back and needed the spot, they would be able to contact them quickly. This works great on the weekends when some of our employees tend to come in for some quiet work time. There are usually one or two cars charging at all times.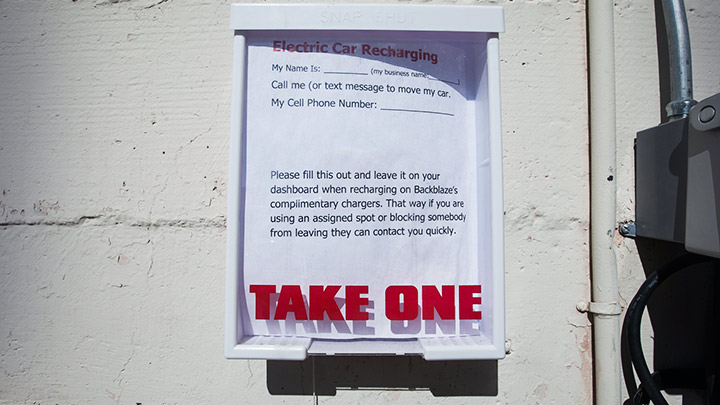 Planning for Growth
As Backblaze keeps growing, we know we'll continue to have parking woes for those folks who drive to the office. We do have a number of employees who carpool or take public transportation to the office, but in our little section of California, the car is still king, so we were thinking of getting some hydraulic lifts like the ones below to increase our "parkability." We're sure the neighbors won't mind at all.