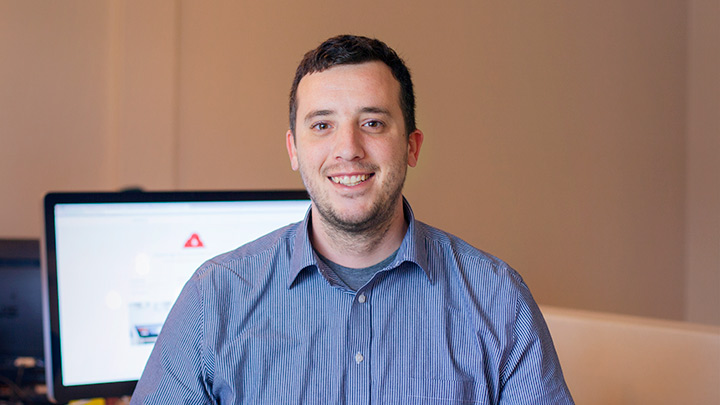 As Backblaze continues growing we need seasoned support veterans to help our customers in times of need. That's why we hired Troy! He's been around the block in a few support and tech consulting gigs and is going to be a great addition to the Backblaze team! He's also musically inclined, which is pretty awesome. Let's learn a bit more about Troy, shall we?
What is your Backblaze title?
Technical Support Technician.
Where are you originally from?
Castro Valley, CA.
What attracted you to Backblaze?
Backblaze is a company I've been familiar with for a long time. In a previous life, I worked as an IT consultant and whenever I was asked for a backup solution, I always recommended Backblaze. They always had a reputation for being honest, affordable, and reliable. I'm excited to be joining such an incredible team.
What do you expect to learn while being at Backblaze?
I expect to learn how to work as part of a closely-knit team. I've mostly worked for larger companies so the change of pace will be refreshing.
Where else have you worked?
I worked at Apple as a Lead Genius, Elgato in Technical Support, Sweet Memory as an IT Consultant, I opened up a cafe in Berkeley, CA with my uncle that I managed for two years, and most recently I was a Content Specialist at Lyft.
Where did you go to school?
I'm actually still in school! I originally attended Chico State University out of high school. I'm currently attending Chabot College in Hayward, CA and will be transferring to San Francisco State University to complete my bachelor's in business administration.
What's your dream job?
My dream job is not so much a specific title, but I'd like to have a leadership position at a company with a great culture that cares about both its customers and employees.
Favorite place you've traveled?
Vienna—there's so much culture and amazing architecture. Also, there are street vendors all over the place that sell these amazing cheese-filled sausages.
Favorite hobby?
I love craft beer and have been homebrewing for several years.
Of what achievement are you most proud?
When I was 20, I dropped out of college to pursue my dream of being a professional musician. I was the lead singer in a band that toured around the country for several years and even got a record deal. I'm incredibly proud that I was able to follow my dream at the time and make it happen.
"Star Trek" or "Star Wars"?
Well, my last name looks like "Little Jedi" and I once spent a month choreographing a lightsaber duel with a friend, so…
Coke or Pepsi?
Coca-Cola.
Favorite food?
Burritos. All day, every day, burritos.
Why do you like certain things?
I like things that challenge me. I also like things that are musical.
Anything else you'd like you'd like to tell us?
I'm a big sports fan (A's, Raiders, Warriors, Sharks) and a huge Disney nerd.
We keep on hiring Disney fans. Who knew there were so many of them out there? Welcome aboard Troy, we'll try not to force you to sing Disney jingles too much!