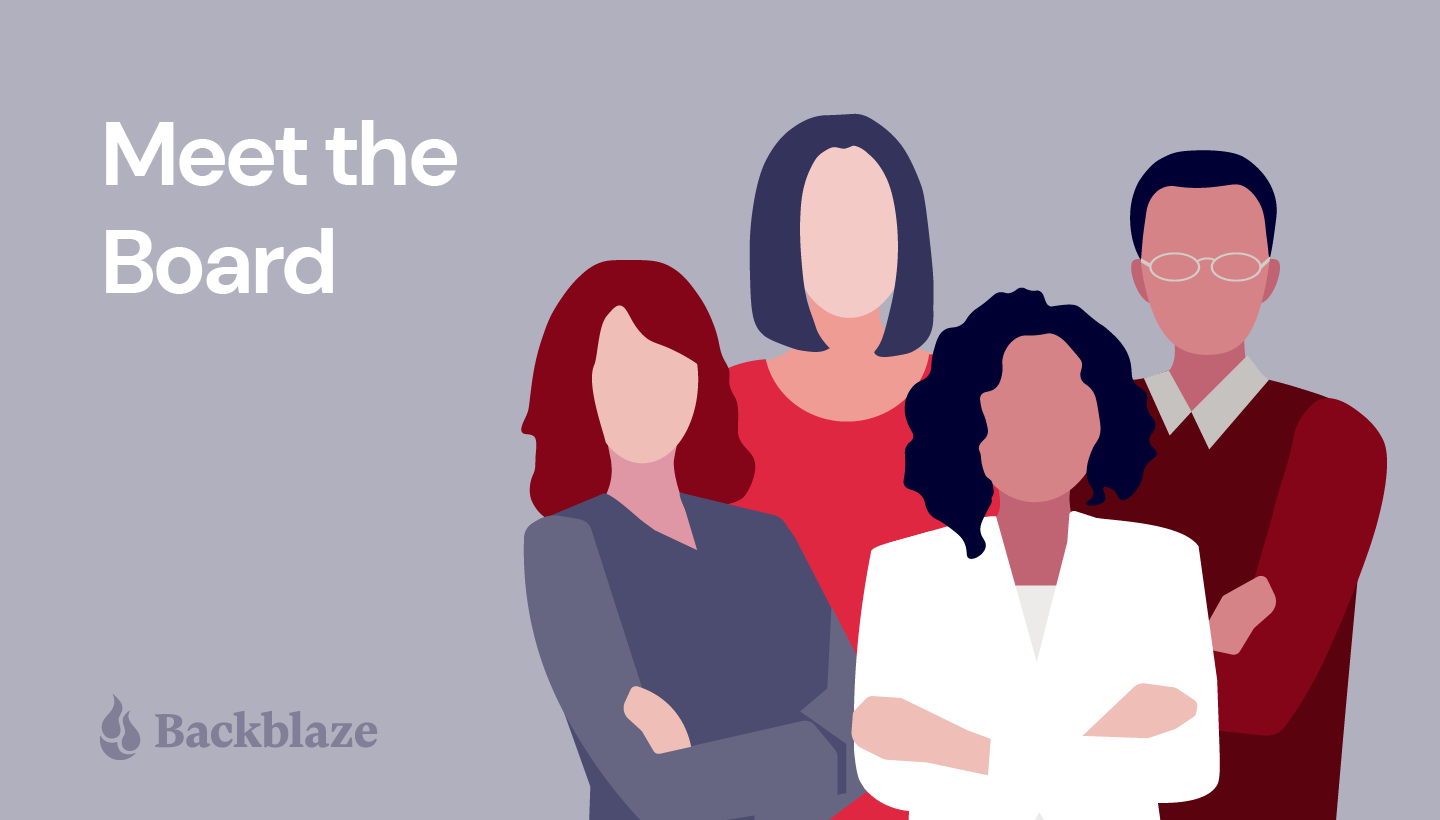 As a Backblaze reader, you may be familiar with our executive team—many of them were in the news, especially when we went public back in November 2021. You may have also come across some of our employees on our LinkedIn page (we're hiring, by the way!).
But you may not be familiar with our independent board members. These experienced executive leaders play a key role in the success of Backblaze. Today, we're excited to introduce our board members so you can learn more about them and how they've helped make Backblaze the company it is today.
Who Are Our Independent Board Members?
At Backblaze, we have four independent board members who work closely with the executive leadership team. As board members, they occupy a role that's intentionally separate from our employees and founders. They provide an independent viewpoint and advise the executive team on topics such as strategy, operations, and governance. Two of our executive team members are also on the board, but what makes the independent board members different is that they don't work for the company as employees.
Jocelyn Carter-Miller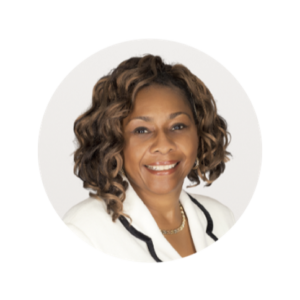 Jocelyn grew up on the South Side of Chicago. During her childhood, she was surrounded by many successful role models. She grew up in a segregated Black community called Chatham Avalon. It's the same community where Muhammad Ali, the Johnsons from Johnsons Publishing Company, Mahalia Jackson, and Jesse Jackson also lived and worked. The first black MBA graduate from the University of Chicago (the same university that Jocelyn attended for her MBA) lived on the same block as Jocelyn. Being a part of a Black community where everyone was accepted, supported, and loved gave her a strong sense of self-confidence and self-worth.
She also attended racially and economically diverse elementary and high schools in the Hyde Park community. This exposure to White, Latino, Black, and internationally diverse students gave her perspectives into the value of different cultures—and showed her that success had many different faces.
Today, Jocelyn serves on the Backblaze board as the Lead Independent Director. She also serves as the Chair of the Compensation Committee and as a member of the Audit Committee and Nominating and Corporate Governance Committee.
Jocelyn began her career as a Board Member when an organization called Catalyst reached out to her. Catalyst is a nonprofit that supports diverse candidates in ascending to senior corporate leadership. They contacted her about joining a financial services board. At that point, Jocelyn had a lot on her plate—she was the Chief Marketing Officer at a Fortune 500 company as well as a wife and mother of two young daughters. Although she was not interested in pursuing this opportunity due to her demanding schedule, Catalyst still convinced her to at least do an interview. A couple of months after her interview, Catalyst let her know that she got the role. Though taking on the role was going to be a stretch, she knew it was about more than simply serving on a board—it was about setting an example for representation at the very top. She decided to join the board, and since then, she has served on five corporate boards including various Fortune 500 boards.
While Jocelyn was a Board Member at Arlo Technologies, the CEO Matthew McRae told her about the opportunity to join the Backblaze board. Jocelyn decided to meet with Gleb and the rest of the leadership team. She says of that initial meeting: "They were all so enthusiastic and they seemed to have such high integrity about what they were doing, their vision, the culture, and the way they treated their employees." Of her time on the board so far, Jocelyn continues, "I'm glad that I did. It has been fun."
Jocelyn explains that what makes her unique is that she brings a distinctive perspective to the boardroom as a Black woman who grew up on the South Side of Chicago. She understands what it's like being a person of color in an environment that may not welcome or accept all of who she is. "I try to use my cultural experience as well as my gender experience to drive for an environment that allows equity for everyone, one that feels inclusive, accepting, and offers you both the opportunity to demonstrate your abilities to perform at high levels and rewards and promotes you for that," she said. She always tries to drive and push an inclusive, equitable, and fair culture for everyone.
Jocelyn is a creative individual. She loves art and has a strong passion for interior design. Most recently, she worked with one of her friends and former colleagues on an app called Seek and Find Design that helps customers save time and money locating beautiful and inexpensive decor, while also allowing them to enhance their design sense with a community of like-minded people.
Earl Fry

Earl grew up in Honolulu, Hawaii and earned his undergraduate degree from the University of Hawaii. He worked for a couple of years in public accounting as a CPA, after which he moved to the Bay Area to earn his MBA at Stanford University. Once he graduated, he became intrigued by the tech industry and has been a part of it ever since.
At Backblaze, he serves as an independent board member. He sits on all of the Company's committees—the Nominating and Corporate Governance Committee, Compensation Committee, and Audit Committee.
He started his career as a board member back in 2005. At the time, he was the CFO and Head of Operations at Informatica. One of the board members at Informatica founded his own SaaS company and thought Earl would be a great candidate to join the board. A few years later, he was asked to join the board of a regional bank based in Honolulu, Hawaii. The company was looking for someone who had financial experience for a public company as well as ties to Hawaii. Since Earl grew up in Hawaii and most of his family still lived there, he wanted to take this opportunity as a way to help the local business community.
Thirty years prior to joining the Backblaze board, Earl worked with Barbara Nelson, one of our other board members. Fast forward to when Backblaze was looking for another board member, and Barbara recommended Earl. After Earl spoke with Gleb, he was struck by how different and special Backblaze was: "Having been in Silicon Valley for so long, you get a little jaded sometimes in terms of how companies are founded and how things are put together. What struck me about Backblaze is that the team is so real and genuine. I just have a ton of respect for how the Founders pulled it all together."
Growing up in Hawaii and attending public school there, Earl met people from all different backgrounds in terms of race, gender, or socioeconomic status. This made him aware of diversity as well as the biases that people may have toward certain groups. He brings this awareness into his work as a board member where he is well-positioned to be able to identify biases and work within the system to constructively foster change.
In his spare time, Earl likes to go fishing, practice rockhounding, and go fossil hunting. He picked up these hobbies as stress relievers. He calls himself a "closet paleontologist." When he needs a break, he loves going out to the desert to disconnect from life's demands and connect to nature and himself. He also enjoys gardening, drinking and collecting wine, and spending time with his family.
Evelyn D'An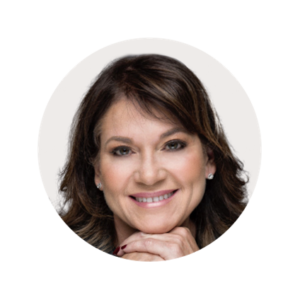 Evelyn is the Chair of the Audit Committee at Backblaze. She also serves as a member on the Company's Compensation Committee. She was raised in the Bronx and both of her parents are from the beautiful island of Puerto Rico. As a kid, she enjoyed math and was fortunate to attend The Bronx High School of Science, a magnet high school specializing in math and science. She attended SUNY – Albany, where she gained exposure to the business side of math and decided to focus her career on accounting. She joined Ernst & Young, one of the largest public accounting firms, and worked there for 18 and a half years. During her tenure, she became the first Hispanic female audit partner in the U.S. Southeast region.
Evelyn had already left Ernst & Young to start her own consulting business when the Sarbanes-Oxley Act was enacted in 2002, which aimed to prevent fraudulent financial reporting from businesses. At the time, there were a number of highly public misstatements of financial reports. The world of public accounting was turned upside down, and this also led to a strong need for financial expertise in the boardroom. Evelyn had the skills, experience, and credentials that companies were looking for on their boards. She got her first board position through her network in 2006, and has served on many boards over the past 16 years.
Over the years, she has seen an increase in the number of women in the boardroom. However, she believes that there needs to be more work done in getting underrepresented groups into the boardroom. Still, she believes there is hope: "One of the biggest supporters to encouraging diversity in the boardroom are the large investment banks of the world who are calling out their own portfolio companies and saying that if they don't have diverse candidates on their board, then they will no longer invest in those companies," she said. The pressure also comes from employees and candidates, which has made employers initiate or rethink their diversity and inclusion efforts.
Evelyn served as a Co-Chair for BoardNext, an organization that works with aspiring female directors to earn their first board seat. She loves helping her network find various board opportunities. She believes that diversity is so important in the boardroom because it allows everyone to bring in a different perspective. For example, if a company serves international customers, then having people from different cultures helps bring discussions to the boardroom about how they can serve customers in those cultures, what their needs are, and how they can share our value proposition with them.
Evelyn loves to travel, exercise (she's almost at her 200th SoulCycle ride!), and spend time with her family and six-year-old grandson. Video chatting with him always makes her day better. She is also fortunate enough to still have her mom with her—who lives in the building next door—and they talk daily. Evelyn also enjoys cooking with friends and is working towards expanding her cooking skills beyond the basics. She'd love to learn to make Mediterranean food and sushi!
Barbara Nelson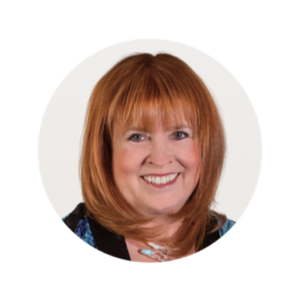 Barbara grew up all around the world as her father was in the military. She was born in Japan and after that, she lived in many different places within the U.S. and Canada. She went to eight different schools before attending college.
Like Evelyn, Barbara always loved math, and she got her degree in Electrical Engineering from Stanford. As one of the only few women in engineering, she saw early on the diverse voice that a woman brings and the challenges in having that voice be heard.
Barbara started her journey as a board member at ACE Technologies. She happened to know one of the venture capitalists who invested in the company and he encouraged her to join the board. Since then, she has served on a total of five corporate boards, and held the title of CEO on two of them.
Barbara came across the opportunity to join Backblaze through a connection she's had for 30 years. Gleb had reached out to a trusted colleague looking for a board member and explained the background he was looking for in his ideal candidate. Barbara came recommended, and she and Gleb started a conversation about joining the Backblaze board. "I was extremely impressed by how Gleb and the founders had built such a great culture, while delivering impressive and consistent growth with only $3M of outside funding," said Barbara. Today, Barbara is the Chair of the Nominating and Governance Committee. In addition, she is a member of the Audit Committee.
Barbara explained that as a woman, she strives to look out and advocate for other underrepresented groups and points of view. She believes that having diverse people in the boardroom helps bring a lens that looks out for inclusion.
Barbara has a passion for traveling, and she's been to over 90 countries. She just got back from Brazil where she was tracking jaguars and tropical birds. In the future, she wants to go back and visit some of the countries that she's been to and explore other parts of those places. In particular, she's interested in going back to Australia to explore the Kimberley region and Western Australia. She also plays keyboard and sings for two bands—one is a classic rock band and the other is a church band. She said that if she could switch places with someone for their talent, it would be Yuja Wang, a classical pianist, or Rihanna during one of her performances. "What fun to be a REAL rock star for a day!"
So You Want to Become a Board Member at a Company? Here's How.
All of the independent board members have had different experiences and journeys, but the one thing they all had in common was that they earned their opportunities through their networks. Here's some of their advice on how to become a board member, if you're interested.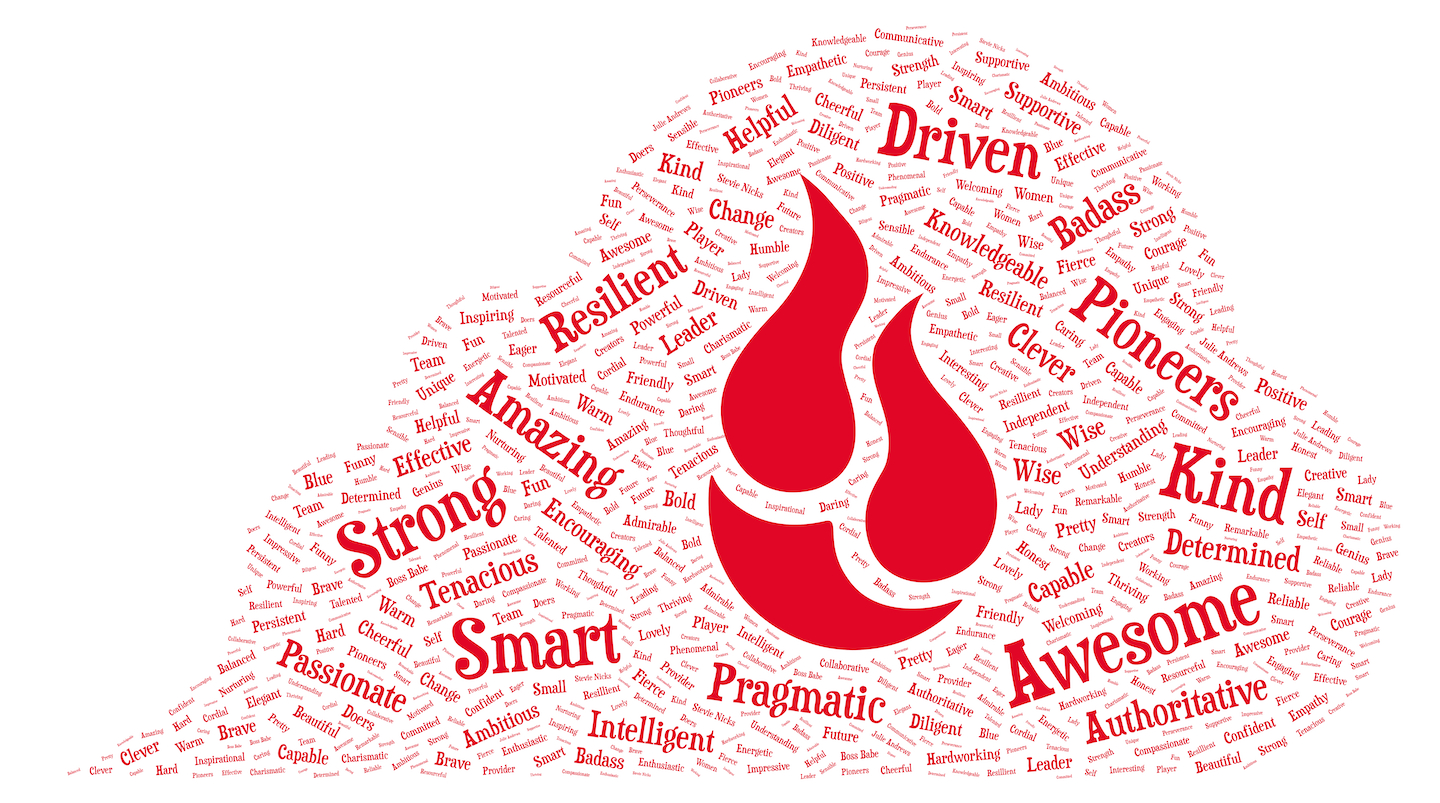 Before becoming a part of a board, Evelyn recommends thinking through your "why." Being a board member is a lot of work, so it's important to think about your reason behind starting this journey. The second step that Evelyn suggests is thinking about what companies you'd like to work with. Consider companies and industries that align with your values, what's important to you, and how you could potentially bring the most value to that particular organization. Lastly, she recommends going deep into corporate governance. A potential board member would need to have all their education, their network with various organizations, and knowledge about hot topics in the industry.
Earl's advice is simple: do a really good job at work. "You never know who's watching or where your connections will come into play," he said. "It helps to become an expert in a couple of areas and to have very deep skills. It's just as important to be seen as it is to get a broad understanding of how different parts of the business work together and how they are interrelated and impact each other." He also emphasized the importance of being a good communicator and team member because what makes a board member valuable is their ability to communicate and listen well. He further explained, "Remember that the fundamental job of a board member is to be a fiduciary. The best ways that you can do that are to listen, advise, and influence."
So how does one build their network? Evelyn suggests building your network both inside and outside of work. Internally, it's great to connect with peers and form a network that way. Outside of work, Evelyn recommends joining organizations that are focused on corporate governance and attending events that are related to that subject. For example, you could become a member of the National Association of Corporate Directors or the Women Corporate Directors, both of which are organizations that Jocelyn and Evelyn are active members of. She also encourages people to have different types of networks because you never know where your next opportunity is going to come from. She said, "If you want something, you must say it, you must speak it, and you must share it with all of your networks."
Being a board member is a challenging yet rewarding position. It allows one to have influence on not only a company, but also others like the shareholders, employees, customers, and the world at large.
Thank You to Our Board
We appreciate all that our board members do—Backblaze wouldn't be where it is today without them! Thank you to our board members for helping our readers get to know them better and for bringing their diverse perspectives and knowledge to help make Backblaze a more successful company.