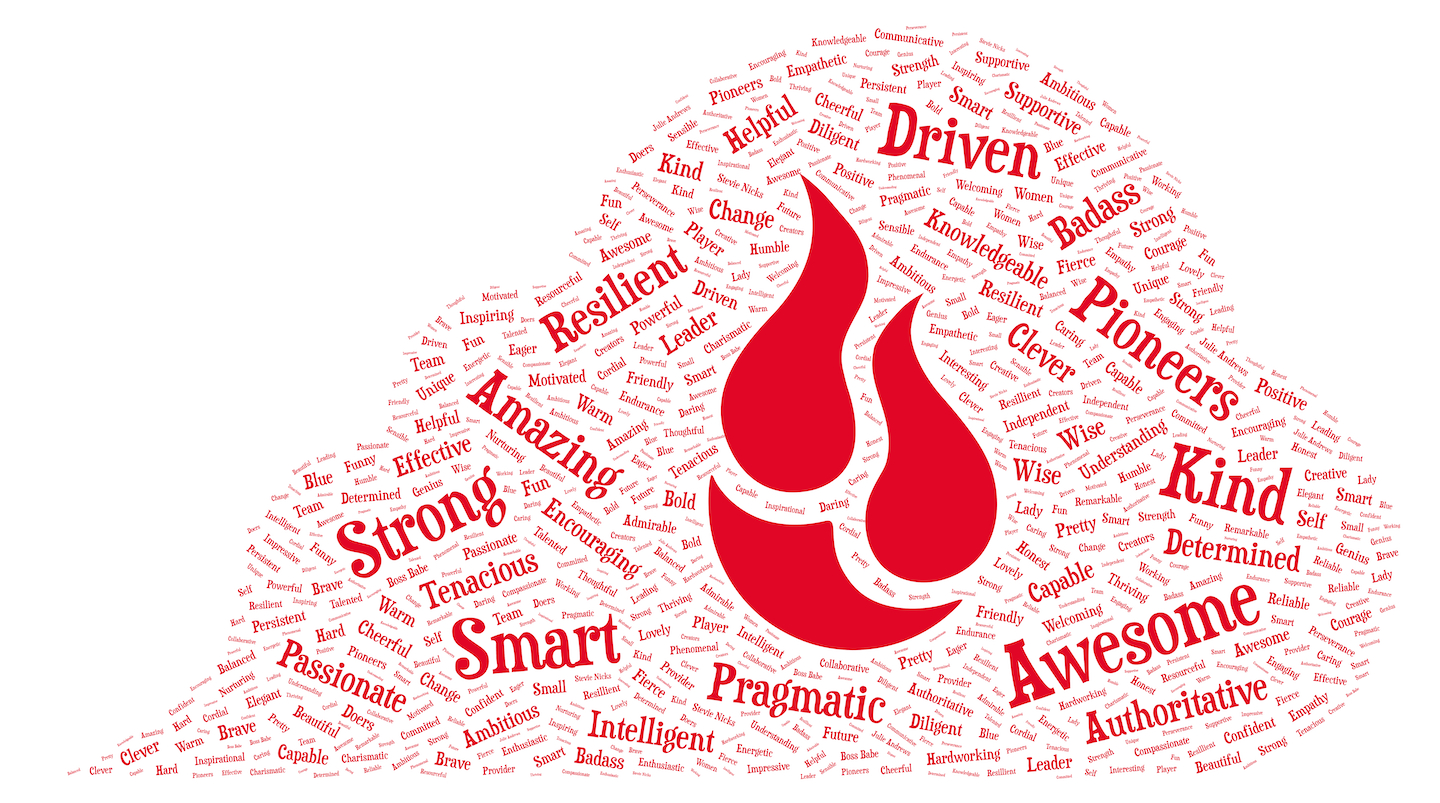 March was Women's History Month, and throughout the month, Backblaze's employee-led, internal Diversity, Equity, and Inclusion (DEI) committee educated our team on the contributions of women throughout history. In a company-wide Slack channel, DEI committee leaders shared facts and resources about women who were pioneers in a range of fields.
Many of our team members found these facts useful to inform and expand their own worldviews. Team members shared articles they found themselves, and some even used the content as part of their homeschooling curriculum. (As a bonus, the DEI Committee also surveyed employees to generate a word cloud that describes the women of Backblaze, which you can see in the image above.)
The initiative was so popular with our team, we thought we would share some of the content with you even though we are well on our way into April, because any day is a good day to recognize the diverse range of women who have made contributions to our everyday lives, whether it's still Women's History Month or not.
Keep reading to learn about important figures and events in the history of technology, Hollywood, politics, and more!
Women in History
In 1756, long before the women's suffrage movement gained any traction, Lydia Chapin Taft was legally allowed to vote.
Lydia Chapin Taft's husband, Josiah Taft, was a prominent member of their community in Uxbridge, Massachusetts; he served several terms as a legislator and presided over town hall meetings. When he died, the townspeople agreed to permit Lydia Chapin Taft to vote in her husband's place. The decision was made in keeping with the slogan of "no taxation without representation," since Josiah Taft was the town's largest taxpayer. Lydia Chapin Taft went on to cast several more votes, contributing to the town's stance on important matters like financial contribution to the French and Indian War.
Read more about Lydia Chapin Taft here.
The 1900s brought significant milestones for women and money in the United States.
In 1938, the federal minimum wage was established as a result of the passage of the Fair Labor Standards Act, eliminating many pay differences between men and women for hourly jobs. In the 1960s, women gained the right to open a bank account. Shortly after, in 1974, the Equal Credit Opportunity Act passed, which aimed to prohibit credit discrimination on the basis of gender. Before it passed, many banks granted credit cards to women only with their husbands' signatures and outright refused to issue them to unmarried women.
Read more about economic rights for women in the U.S. here.
Wyoming refused to join the United States without a guarantee that women would be allowed to vote.
In 1869, the territory of Wyoming made history when it passed a law granting women aged 21 and older the right to vote. That law was threatened two decades later when Wyoming applied for statehood. Congress stated that it wouldn't allow the territory to join the Union unless women were disenfranchised. Wyoming called Congress out on its bluff, replying via telegram, "We will remain out of the Union one hundred years rather than come in without the women." Congress relented and Wyoming became a state in 1890, with women's right to vote intact. True to its past, Wyoming's state motto today is simply, "Equal Rights."
Read more about Wyoming and women's right to vote here.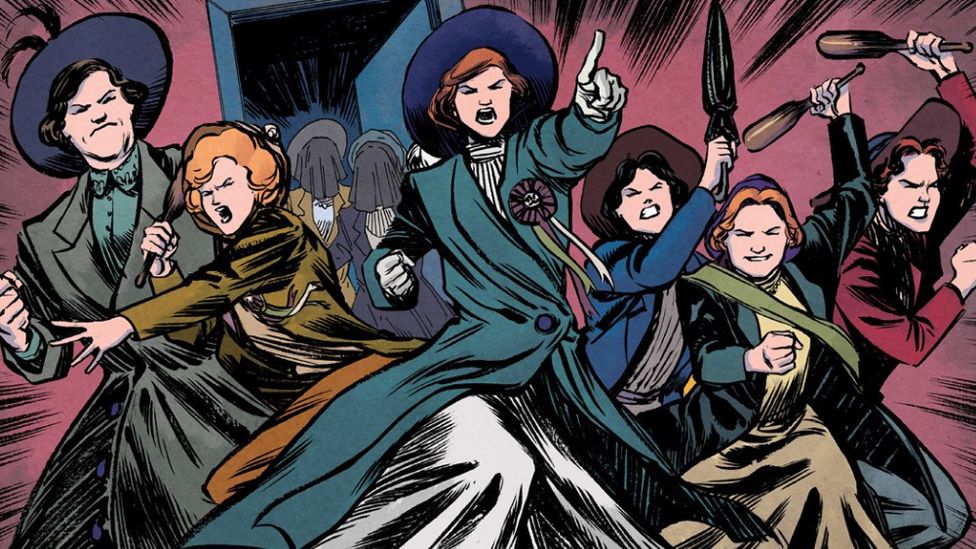 The British suffragettes learned jiujitsu to defend themselves and evade arrest.
Campaigning for women's enfranchisement was a dangerous act back in the early 20th century. Many suffragettes in the UK were incarcerated, and some were even force fed in jail as punishment for their self-imposed hunger strikes. To protect women from going to jail and facing this abuse, which could have disastrous health consequences, one suffragette had the bright idea to teach her fellow protesters jiujitsu. Edith Margaret Garrud used her martial arts background to secretly train a unit of 30 members of the Women's Social and Political Union in self defense. The group was alternately known as "The Bodyguard" and "The Amazons," and was highly effective at resisting arrest.
Read more about how suffragettes in the UK used martial arts to defend themselves here.
Arabella Mansfield became the first female lawyer in the United States in 1869.
Admitted to the Iowa bar, Mansfield made her career as a college educator and administrator. Despite an Iowa state law restricting the bar exam to males, Mansfield had taken it and earned high scores. Shortly after her court challenge, Iowa amended its licensing statute and became the first state to accept women and minorities into its bar.
Read more about Arabella Mansfield here.
In 1964, Patsy Mink became the first woman of color elected to the U.S. House of Representatives.
Mink's Congressional career spanned decades (1964–1977; 1990–2002). She was a key author for Title IX, a law that advanced gender equity within federal funding policies for education. This law was later renamed the Patsy T. Mink Equal Opportunity in Education Act in her honor.
Read more about Patsy Mink here.
No list of formidable Irish women would be complete without tomboy icon Gráinne Ní Mháille, aka Grace O'Malley, the notorious "Pirate Queen" of western Ireland.
Born on Clare Island in 1530, O'Malley famously cut off her hair after her father refused to take her on a voyage in case her locks got caught in the ropes. In her prime, O'Malley commanded three galleys, 20 ships, and over 200 men against her perpetual nemesis—the English—and even met with Elizabeth I before living to the ripe old age of 73.
Find out more about Grace O'Malley here.
Cork, Ireland native Annie Moore became the first immigrant to be processed through the newly-opened Ellis Island in New York on January 1, 1892.
Just 17 years old at the time, Moore looked after her two brothers on the ship voyage from Ireland to America, before going on to have 11 children of her own with German Catholic salesman Joseph Augustus Schayer. Moore died in 1924. Her previously unmarked grave was identified over eight decades later in 2006, and a Celtic Cross made from Irish Blue Limestone was later unveiled at her final resting place.
You can read more about Annie Moore here.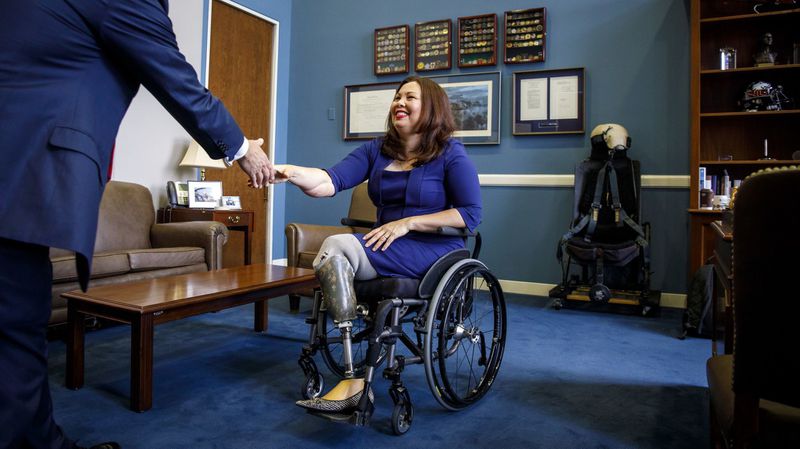 Tammy Duckworth, the Illinois senator and retired National Guard lieutenant colonel, is responsible for an impressive list of firsts.
Duckworth is the first Congress member to be born in Thailand, the first to give birth while in office, the first Asian-American woman to represent Illinois in Congress, and the first woman with a disability to be elected to Congress. She lost both of her legs following a helicopter attack in the Iraq War. "People always want me to hide it in pictures," she told Vogue in 2018. "I say no! I earned this wheelchair. It's no different from a medal I wear on my chest. Why would I hide it?"
Find out more about her here.
In 1985, Wilma Mankiller became the first woman to be Principal Chief of the Cherokee Nation, leading the largest tribe in the United States.
During Mankiller's decade-long chiefdom from 1985 to 1995, "tribal enrollment grew, infant mortality dropped, and employment rates doubled," according to Time. In 1998, she was awarded the Presidential Medal of Freedom by Bill Clinton.
Learn more about Wilma Mankiller here.
Women in Art
Toshiko Takaezu was a trailblazer in ceramic art making during the 1970s.
Takaezu is best known for creating large, closed-vessel sculptures. At the time, fellow artists expressed shock that a woman could make such large pieces, some taller than the artist herself. Takaezu merged aspects of Japanese tea ceremony, calligraphy, and American Abstract Expressionism to create a new style from these diverse art traditions. She had a long career as an artist and teacher at the Cleveland Institute of Art and Princeton University.
Learn more about Toshiko Takaezu here.
Emily Kauʻiomakaweliokauaionalaniokamanookalanipo Kukahiwa Zuttermeister, also known as Aunty Kauʻi, is a revered Kumu Hula (master hula teacher) from Hawaiʻi.
Zuttermeister trained in the hula pahu tradition of Samuel Pua Haʻaheo before becoming a teacher in 1935. Zuttermeister helped revitalize ʻŌlelo Hawaiʻi (the Hawaiian language) and culture by teaching hula. She was part of a community of leaders who raised awareness about hula as a storytelling art form created by the Hawaiian people to recall and share their knowledge.
Learn more about her here.
No one did sultry better than Anna May Wong.
The Los Angeles-born screen siren landed her breakthrough role at age 17 in 1922's "The Toll of the Sea." Wong was also quite the trend setter—in 1934, the Mayfair Mannequin Society of New York voted her the "world's best-dressed woman," a massive fashion world honor at the time. Success in Hollywood came, but certainly not equal to her talent. As her Turner Classic Movie biography sums it up, stateside audiences considered Wong either "too Chinese" or "too American." In Europe, the actress received a wider range of roles and due critical acclaim.
Learn more about Anna May Wong here.
Best known as the frontwoman of 4 Non Blondes, Linda Perry's prolific behind-the-scenes work—as both a songwriter and producer—helped define modern pop music.
Perry worked on hit songs with P!nk, Christina Aguilera, and Alicia Keys. While a woman has never won a Grammy for Producer of the Year (Non-classical), in 2019, Perry received a nomination for the award from the Recording Academy. The singer-songwriter is one of a handful of women to achieve success in production and with her own music.
Learn more about Linda Perry here.
Delia Derbyshire was an innovator in electronic music who pushed the boundaries of technology and composition.
Derbyshire is most well-known for her electronic arrangement of the theme for "Doctor Who," an important example of Musique Concrète. Each note was individually crafted by cutting, splicing, and stretching, or compressing, segments of analogue tape which contained recordings of a plucked string, oscillators, and white noise.
Learn more about Delia Derbyshire here.
During a two-decade career that began in the mid-1960s, Sonia Pottinger held the distinction of being Jamaica's first female record producer.
Cutting tracks with the likes of Joe White & Chuck and Culture, her production spanned a variety of Jamaican genres, from rock-steady to ska to reggae.
Read more about Sonia Pottinger here.
Geena Davis starred in two movies about female empowerment: "Thelma & Louise" and "A League of Their Own."
As Davis got older, she realized how unempowered women were in Hollywood. In 2004, she founded the Geena Davis Institute on Gender in Media to collect data comparing the number and types of male and female roles and to use that data to convince the industry of the need for change.
Listen to her speak about her career here.
Rita Moreno has influenced the entertainment industry for over 70 years as an actress, singer, and dancer.
Moreno became the first Latine woman to earn the vaunted EGOT: an Emmy, Grammy, Oscar, and Tony. In 2004, she was honored with the Presidential Medal of Freedom for her many contributions to the arts.
Learn more about Rita Moreno here.
Women in Technology
Hedy Lamarr was much more than "the most beautiful woman in the world" during Hollywood's Golden Age.
The Austrian-American actress was also a mathematically-minded inventor who learned about military technology from dinner party conversations between her arms-manufacturer husband and Nazi German generals, before escaping to America where she eventually invented a new torpedo guidance system for the U.S. Navy.
Read more about Hedy Lamarr's inventions here.
Rear Admiral Grace Brewster Murray Hopper was a STEM pioneer.
Grace Brewster Murray Hopper brought the research and career interests of women in computing to the forefront. The history of computer hardware invention is mostly a male-oriented affair. This isn't unexpected given that early computers had more to do with heavy engineering than logic. However, when it comes to software, the picture is a little different. Hopper was responsible not only for the development of the Cobol language, but also for continuous advocacy within the industry to make computers and computing more accessible.
Find out more about Grace Hopper here.
Ada, Countess of Lovelace was born 200 years ago, but her name lives on.
There is often an unfairness in the reporting of the history of computing. The software people are nearly always passed over in preference for the hardware people. Ada, Countess of Lovelace worked with Charles Babbage on his Analytical Engine and is generally accepted as the first programmer. Later, in the 1970s, the Ada language was named in recognition of her status as the first computer programmer. In 2009, Ada Lovelace Day was inaugurated to celebrate the achievements of women in science, technology, engineering, and math.
Read more about her here.
In 1996, after being named a mission specialist on the Space Shuttle Columbia by NASA, Kalpana Chawla became the first woman of Indian descent to fly in space.
The shuttle orbited around earth 252 times in a little over two weeks. Chawla's second—and last—trip to space came in 2003 when she and six other astronauts completed more than 80 experiments over the course of 16 days. She and the entire crew died when the ship disintegrated upon reentering the Earth's atmosphere. In 2020, Northrop Grumman named a spacecraft after Chawla in her memory.
Read more about her here.
Share More Information on Women in History
Did you learn something new that you didn't know before? Or, do you have a fact to share about a woman in history? Comment below and help us expand this list!