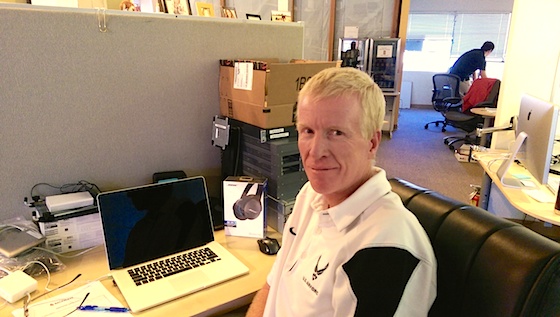 From driving trucks to trucking drives, Larry is our latest addition to the proud line of data center technicians we have at Backblaze! Larry joins us after driving trucks for a living and will be using his quick reflexes and keen eyesight to help swap hard drives and keep the data center smoothly running. Let's learn a bit more about Larry.
Where are you originally from?
I hail from Morgan Hill, California!
What attracted you to Backblaze?
The people I had an opportunity to meet during a "data center day" while I was helping them move some equipment.
Where else have you worked?
For the last 16 years, I was a truck driver for Sysco Food service.
What was your favorite part of your previous job?
Strangely, I liked the driving and most of the customers I delivered to were pretty neat.
What are you most looking forward to in your new position at Backblaze?
I've always been attracted to technology and getting the opportunity to learn more about it is the most exciting aspect of joining the team.
Tell us how you currently backup your photos, music, data, etc. on your home computer?
External hard drive, but I have my first Backblaze backup finishing up now!
Favorite place you've traveled?
I love Disneyland!
If you won the lottery tomorrow, what would you do?
Take a cruise and go to Disney World.
Of what achievement are you most proud?
My two boys, Lane and Steve. Lane is in the Air Force and Steve is a senior in high school.
Anything else you'd like you'd like to tell us?
I've been married to Jeni for 20 years and she hasn't killed me yet.
We're excited to have Larry on board and we welcome him to the growing ranks of data center folks who have an affinity for Disney! Hmm, I wonder where the next Ops off-site meeting will be?