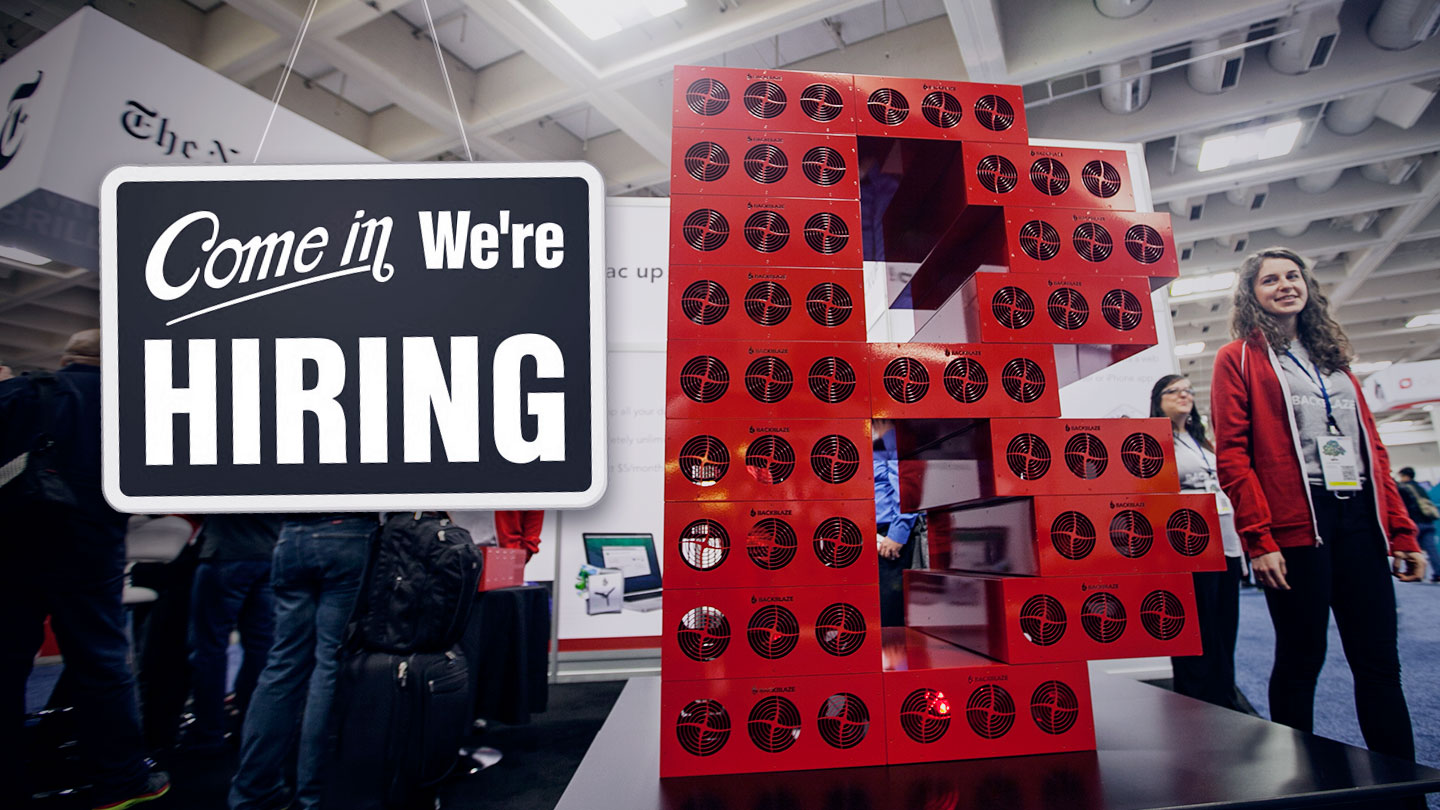 Thank you for your interest, but this position has been filled.
Please check out our
jobs page
for additional great opportunities at Backblaze.
Backblaze is looking to hire a full time content director. This role is an essential piece of our team, reporting directly to our VP of marketing. As the hiring manager, I'd like to tell you a little bit more about the role, how I'm thinking about the collaboration, and why I believe this to be a great opportunity.
A Little About Backblaze and the Role
Since 2007, Backblaze has earned a strong reputation as a leader in data storage. Our products are astonishingly easy to use and affordable to purchase. We have engaged customers and an involved community that helps drive our brand. Our audience numbers in the millions and our primary interaction point is the Backblaze blog. We publish content for engineers (data infrastructure, topics in the data storage world), consumers (how to's, merits of backing up), and entrepreneurs (business insights). In all categories, our content director drives our earned positioned as leaders.
Backblaze has a culture focused on being fair and good (to each other and our customers). We have created a sustainable business that is profitable and growing. Our team places a premium on open communication, being cleverly unconventional, and helping each other out. The content director, specifically, balances our needs as a commercial enterprise (at the end of the day, we want to sell our products) with the custodianship of our blog (and the trust of our audience).
There's a lot of ground to be covered at Backblaze. We have three discrete business lines:
Backblaze Computer Backup: A 10 year old business focusing on backing up consumer computers.
Backblaze B2 Cloud Storage: Competing with Amazon, Google, and Microsoft… just at a quarter of the price (but with the same performance characteristics).
Backblaze Business Backup: Both Computer Backup and B2 Cloud Storage, but focused on SMBs and enterprise.
The Best Candidate Is…
An excellent writer possessing a solid academic understanding of writing, the creative process, and delivering against deadlines. You know how to write with multiple voices for multiple audiences. We do not expect our content director to be a storage infrastructure expert; we do expect a facility with researching topics, accessing our engineering and infrastructure team for guidance, and generally translating the technical into something easy to understand. The best content director must be an active participant in the business, strategy, and editorial debates and then must execute with ruthless precision.
Our content director's "day job" is making sure the blog is running smoothly and the Sales team has compelling collateral (emails, case studies, white papers).
Specifically, the perfect content director excels at:
Creating well researched, elegantly constructed content on deadline. For example, each week, two articles should be published on our blog. Blog posts should rotate to address the constituencies for our three business lines—not all blog posts will appeal to everyone, but over the course of a month, we want multiple compelling pieces for each segment of our audience. Similarly, case studies (and outbound emails) should be tailored to our Sales team's proposed campaigns/audiences. The content director creates around 75% of all content but is responsible for editing 100%.
Understanding organic methods for weaving business needs into compelling content. The majority of our content (but not EVERY piece) must tie to some business strategy. We hate fluff and hold our promotional content to a standard of being worth someone's time to read. To be effective, the content director must understand the target customer segments and use cases for our products.
Straddling both consumer & SaaS mechanics. A key part of the job will be working to augment the collateral used by our Sales team for both B2 Cloud Storage and Business Backup. This content should be compelling and optimized for converting leads. And our foundational business line, Computer Backup, deserves to be nurtured and grown.
Product marketing. The content director "owns" the blog. But they also assist in writing cases studies/white papers and creating collateral (emails, trade shows, etc.). Each of these things has a variety of call to action(s) and audiences. Direct experience is a plus, experience that will plausibly translate to these areas is a requirement.
Articulating views on storage, backup, and cloud infrastructure. Not everyone has experience with this. That's fine, but if you do, it's strongly beneficial.
A Thursday in the life:
Coordinate Collaborators: We are a deliverables-driven culture, not a meeting-driven one. We expect you to collaborate with internal blog authors and the occasional guest poster.
Collaborate With Design: Ensure imagery for upcoming posts/collateral are on track.
Augment Sales Team: Lock content for next week's outbound campaign.
Self-directed Blog Agenda: Feedback for next Tuesday's post is addressed, next Thursday's post is circulated to Marketing team for feedback & SEO polish.
Review editorial calendar, make any changes.
Oh! And we have great perks:
Competitive healthcare plans.
Competitive compensation and 401K.
All employees receive option grants.
Strong coffee & fully stocked micro-kitchen.
Catered breakfast and lunches.
Awesome people who work on awesome projects.
Childcare bonus.
Normal work hours.
Get to bring your pets into the office.
San Mateo office located near Caltrain and Highways 101 & 280.
Interested in Joining our Team?
Send us an email to jobscontact@backblaze.com with the subject "Content Director." Please include your resume and three brief abstracts for content pieces.
Some hints for each of your three abstracts:
Create a compelling headline.
Write clearly and concisely.
Be brief; each abstract should be 100 words or less—no longer.
Target each abstract to a different specific audience that is relevant to our business lines.
Thank you for taking the time to read and consider all this. I hope it sounds like a great opportunity for you or someone you know. Principals only need apply.