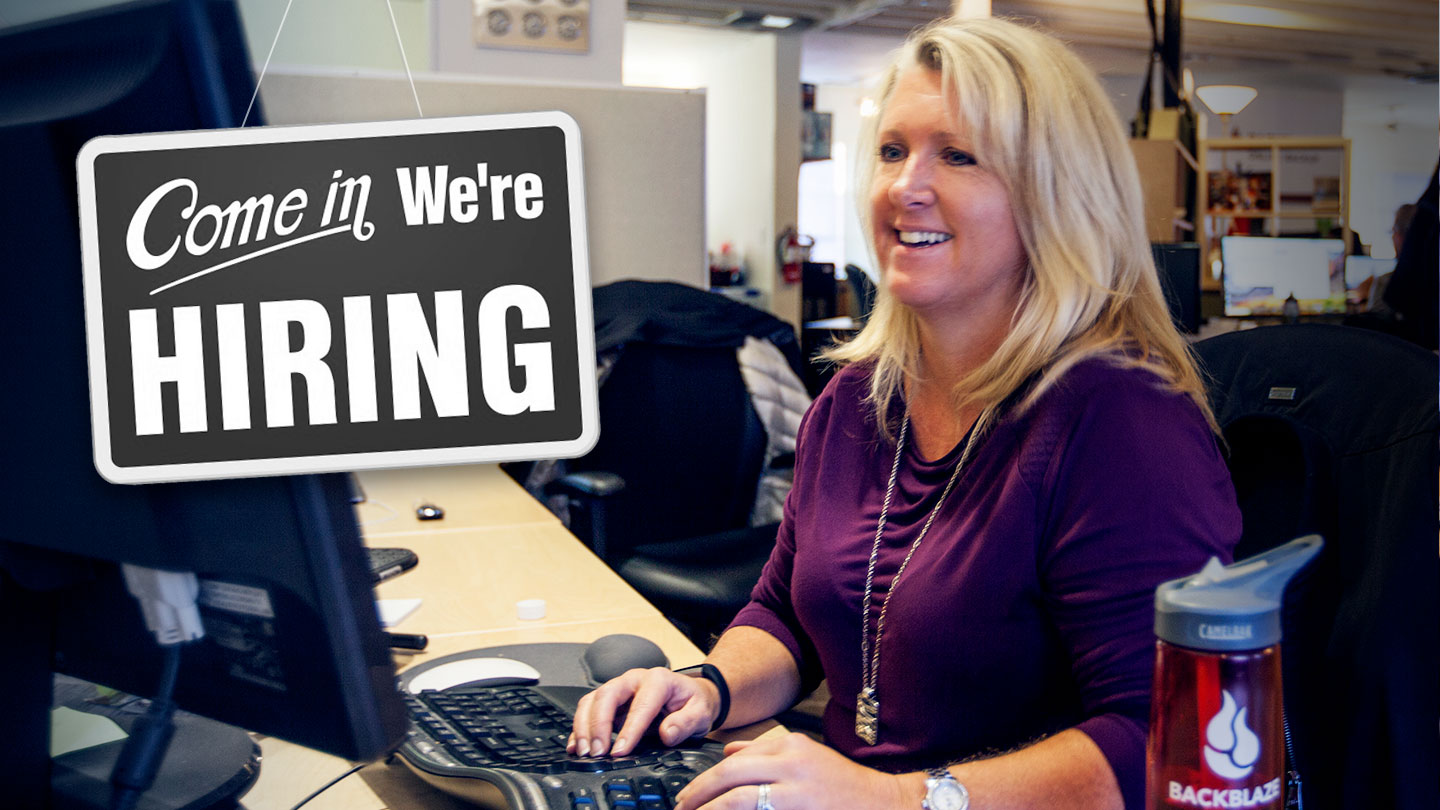 Backblaze is hiring a Director of Sales. This is a critical role for Backblaze as we continue to grow the team. We need a strong leader who has experience in scaling a sales team and who has an excellent track record for exceeding goals by selling Software as a Service (SaaS) solutions. In addition, this leader will need to be highly motivated, as well as able to create and develop a highly-motivated, success oriented sales team that has fun and enjoys what they do.
The History of Backblaze from our CEO
In 2007, after a friend's computer crash caused her some suffering, we realized that with every photo, video, song, and document going digital, everyone would eventually lose all of their information. Five of us quit our jobs to start a company with the goal of making it easy for people to back up their data.
Like many startups, for a while we worked out of a co-founder's one-bedroom apartment. Unlike most startups, we made an explicit agreement not to raise funding during the first year. We would then touch base every six months and decide whether to raise or not. We wanted to focus on building the company and the product, not on pitching and slide decks. And critically, we wanted to build a culture that understood money comes from customers, not the magical VC giving tree. Over the course of 5 years we built a profitable, multi-million dollar revenue business — and only then did we raise a VC round.
Fast forward 10 years later and our world looks quite different. You'll have some fantastic assets to work with:
A brand millions recognize for openness, ease-of-use, and affordability.
A computer backup service that stores over 500 petabytes of data, has recovered over 30 billion files for hundreds of thousands of paying customers — most of whom self-identify as being the people that find and recommend technology products to their friends.
Our B2 service that provides the lowest cost cloud storage on the planet at 1/4th the price Amazon, Google or Microsoft charges. While being a newer product on the market, it already has over 100,000 IT and developers signed up as well as an ecosystem building up around it.
A growing, profitable and cash-flow positive company.
And last, but most definitely not least: a great sales team.
You might be saying, "sounds like you've got this under control — why do you need me?" Don't be misled. We need you. Here's why:
We have a great team, but we are in the process of expanding and we need to develop a structure that will easily scale and provide the most success to drive revenue.
We just launched our outbound sales efforts and we need someone to help develop that into a fully successful program that's building a strong pipeline and closing business.
We need someone to work with the marketing department and figure out how to generate more inbound opportunities that the sales team can follow up on and close.
We need someone who will work closely in developing the skills of our current sales team and build a path for career growth and advancement.
We want someone to manage our Customer Success program.
So that's a bit about us. What are we looking for in you?
Experience: As a sales leader, you will strategically build and drive the territory's sales pipeline by assembling and leading a skilled team of sales professionals. This leader should be familiar with generating, developing and closing software subscription (SaaS) opportunities. We are looking for a self-starter who can manage a team and make an immediate impact of selling our Backup and Cloud Storage solutions. In this role, the sales leader will work closely with the VP of Sales, marketing staff, and service staff to develop and implement specific strategic plans to achieve and exceed revenue targets, including new business acquisition as well as build out our customer success program.
Leadership: We have an experienced team who's brought us to where we are today. You need to have the people and management skills to get them excited about working with you. You need to be a strong leader and compassionate about developing and supporting your team.
Data driven and creative: The data has to show something makes sense before we scale it up. However, without creativity, it's easy to say "the data shows it's impossible" or to find a local maximum. Whether it's deciding how to scale the team, figuring out what our outbound sales efforts should look like or putting a plan in place to develop the team for career growth, we've seen a bit of creativity get us places a few extra dollars couldn't.
Jive with our culture: Strong leaders affect culture and the person we hire for this role may well shape, not only fit into, ours. But to shape the culture you have to be accepted by the organism, which means a certain set of shared values. We default to openness with our team, our customers, and everyone if possible. We love initiative — without arrogance or dictatorship. We work to create a place people enjoy showing up to work. That doesn't mean ping pong tables and foosball (though we do try to have perks & fun), but it means people are friendly, non-political, working to build a good service but also a good place to work.
Do the work: Ideas and strategy are critical, but good execution makes them happen. We're looking for someone who can help the team execute both from the perspective of being capable of guiding and organizing, but also someone who is hands-on themselves.
Additional Responsibilities needed for this role:
Recruit, coach, mentor, manage and lead a team of sales professionals to achieve yearly sales targets. This includes closing new business and expanding upon existing clientele.
Expand the customer success program to provide the best customer experience possible resulting in upsell opportunities and a high retention rate.
Develop effective sales strategies and deliver compelling product demonstrations and sales pitches.
Acquire and develop the appropriate sales tools to make the team efficient in their daily work flow.
Apply a thorough understanding of the marketplace, industry trends, funding developments, and products to all management activities and strategic sales decisions.
Ensure that sales department operations function smoothly, with the goal of facilitating sales and/or closings; operational responsibilities include accurate pipeline reporting and sales forecasts.
This position will report directly to the VP of Sales and will be staffed in our headquarters in San Mateo, CA.
Requirements:
7 – 10+ years of successful sales leadership experience as measured by sales performance against goals.
Experience in developing skill sets and providing career growth and opportunities through advancement of team members.
Background in selling SaaS technologies with a strong track record of success.
Strong presentation and communication skills.
Must be able to travel occasionally nationwide.
BA/BS degree required
Think you want to join us on this adventure?
Send an email to jobscontact@backblaze.com with the subject "Director of Sales." (Recruiters and agencies, please don't email us.) Include a resume and answer these two questions:
How would you approach evaluating the current sales team and what is your process for developing a growth strategy to scale the team?
What are the goals you would set for yourself in the 3 month and 1-year timeframes?
Thank you for taking the time to read this and I hope that this sounds like the opportunity for which you've been waiting.
Backblaze is an Equal Opportunity Employer.