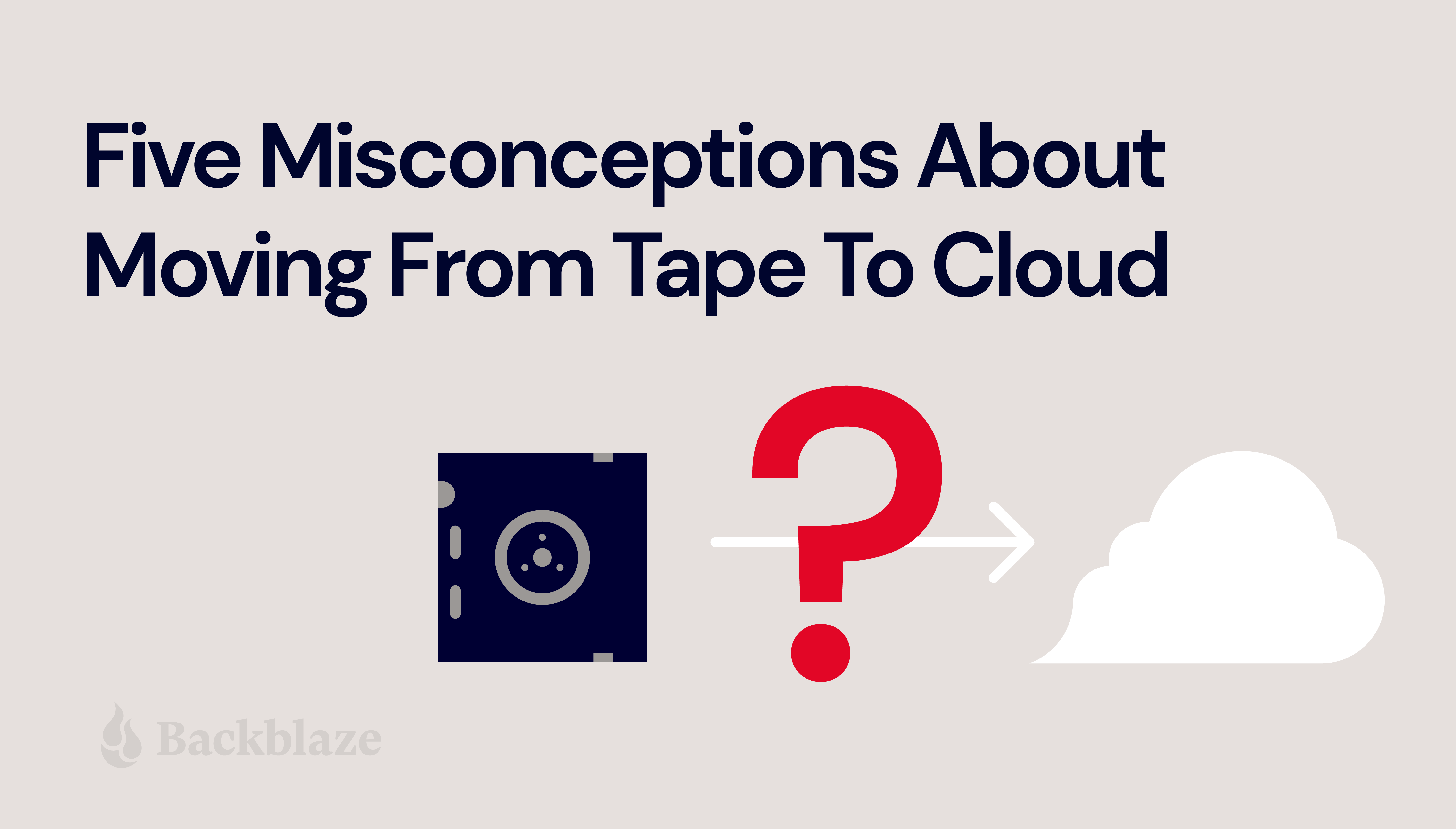 There are a lot of pros and cons that go along with using the old, reliable LTO system for your backups. And while the medium still has many adherents, there is a growing movement of folks looking to move beyond magnetic tape, a form of storage technology that has been around since 1928. Technically, it's the same age as sliced bread.
Those working in IT already know the benefits of migrating from LTO to cloud storage, which include everything from nearly universal ease of access to reduced maintenance, but those who hold the company's pursestrings might still need convincing. Some organizations delay making a move because of misconceptions about the cost, inconvenience, risk, and security, but they may not have all the details. Let's explore five top misconceptions about migrating from tape so you can help your team make an informed decision.
Misconception #1 – Total Cost of Ownership is Higher in the Cloud
The first misconception is that moving from a tape-based backup solution to cloud storage is expensive. Using our LTO vs. B2 Cloud Storage calculator, you can enter the amount of existing data you have, the amount of data you add yearly, and your daily incremental data to determine the actual cost savings.
For example, say you have 50TB of existing data, you add 5TB more every year, and your daily incremental backup data is 500GB. If that were the case, you could expect to pay almost 75% less backing up with cloud storage versus tape. The calculator also includes details about the assumptions we used in the computations so you can adjust accordingly. These assumptions include the LTO Backup Model, Data Compression Ratio and Data Retention Policy, as well as a handful of others you can dig into on your own if you'd like to fine tune the math.
Misconception #2 – Migration Costs are Impossible to Manage
We have shown how much more affordable it is to store on the cloud vs. on tape, but what about the costs of moving all of your data? Everyone with a frequently accessed data archive and especially those serving data to end users live in fear of large egress fees. Understandably the idea of paying egress fees for ALL of their data at once can be paralyzing. There is one service available today that pays for your data migration—egress fees, transfer costs, administration, all of it.
With Backblaze's Universal Data Migration service, moving large data sets from tape into B2 Cloud Storage is almost always fast and free. Yes, that's right—with few exceptions, data transfer fees are on us with >50TB committed contracts and B2 Reserve bundles. The service offers a suite of tools and resources to make moving your data over to cloud storage a breeze, including high speed processes for reading tape media (reel cassettes and cartridges) and transferring directly to Backblaze B2 via a high-speed data connection. This all comes with full solution engineer support throughout the process and beyond. Data is transferred quickly and securely within days, not weeks.
Short story: Even if it might feel like it some days, your data does not have to be held hostage by egress expenses. Migration can be the opposite of a "killer"–it can open your budget for other investments and free your teams to access the data they need whenever they need it.
Misconception #3 – Cloud Storage Is a Security Risk
A topic on everyone's minds these days is security. It's reasonable to worry about risks when transitioning from tapes stored on-premises or off-site to the cloud. You can see the tapes on site; they're disconnected from the internet and locked in a storage space on your property. When it comes to cybercriminals accessing data, you're breathing easy. Statistics on data breaches and ransomware show that businesses of every size are at risk when it comes to cyberattacks, so this is an understandable stance. But when you look at the big picture, the cloud can offer greater peace of mind across a wide range of risks:
Cut Risk by Tiering Data Off Site: Cybercrime is certainly a huge threat, so it's wise to keep it front of mind in your planning. There are a number of other risk factors that deserve equal consideration, however. Whether you live in an area prone to natural disasters, are headquartered in an older building, or just have bad luck, getting a copy of your data offsite is essential to ensuring you can recover from most disasters.
Apply Object Lock for Virtual Air Gapping: Air gaps used to be the big divider between cloud and tape on the security front. But setting immutability through Object Lock means you can set a virtual air gap on all of your cloud data. This functionality is available through Veeam, MSP 360, and a number of other leading backup management software providers. You don't have to rely on tape to attain object lock.
Boost Security without Burdening IT: Cloud storage providers' full time job is maintaining the durability of the data they hold—they focus 24/7 on maintenance and upkeep so you don't have to worry about whether your hardware and software are up to date and properly maintained. No need to sweat security updates, patches, or dealing with alerts. That's your provider's problem.
Misconception #4 – It's All or Nothing with Data Migration
For certain industries, regulations require that certain data sets stay on-site. In the past, managing some data on-site and some in the cloud was just too much of a hassle. But hybrid services have come a long way toward making the process smoother and more efficient.
For all of your data that doesn't have to stay on-site, you could start using cloud storage for daily incremental backups today, while keeping your tape system in place for older archived data. Not only would this save you time not worrying about as many tapes, but you can also restore the cloud-based files instantly if you need to.
Using software from StarWind VTL or Archiware P5, you can start backing up to the cloud instantly and make the job of migrating more manageable.
The Hybrid Approach
If you're not able to go in on the all-in cloud approach right away, you may want to continue to keep some archived data on tape and move over any current data that is more critical. A hybrid system gives you options and allows you to make the transition on your schedule.
Some of the ways companies execute the hybrid model are:
Date Hybrid: Pick a cut-off date; everything after that date is stored in cloud storage and everything before stays on tape.
Classic Hybrid: Full backups remain on tape and incremental data is stored in the cloud.
Type Hybrid: You might store different data types on tape and other types in the cloud. For example, perhaps you store employee files on tape and customer data in cloud storage.
Regardless of how you choose to break it up, the hybrid model makes it faster and easier to migrate.
Misconception #5 – The Costs Outweigh the Benefits
If you're going to go through the process of migrating your data from LTO to the cloud—even though we've shown it to be fairly painless—you want to make sure there's an upside, right?
Let's start with the simple ease of access. With tape storage, the nature of physical media means that access is limited by its nature. You have to be on premises to locate the data you need (no small feat if you have a catalog of tapes to sort through).
By putting all that data in the cloud, you enable instant access to anyone in your organization with the right provisions. This shifts hours of burden from your IT department, helping the organization get more out of the resources and infrastructure they already have.
Bonus Pro-Tip: Use a "Cheat Sheet" or Checklist to Convince Your CFO or COO
When you pitch the idea of migrating from tape to cloud storage to your CFO or COO, you can allay their fears by presenting them with a cheat sheet or checklist that proactively addresses any concerns they might have.
Some things to include in your cheat sheet are basically what we've outlined above: First, that cloud storage is not more expensive than tape; it actually saves you money. Second, using a hybrid model, you can move your data over conveniently on your own time. There is no cost to you to migrate your data using our UDM service, and your data is fully protected against loss and secured by Object Lock to keep it safe and sound in the cloud.
Migration Success Stories
Check out these tape migration success stories to help you decide if this solution is right for you.
Kings County, CA
Kings County, California, experienced a natural disaster destroying their tapes and tape drive, prompting an $80,000 price tag to continue backing up critical county data like HIPAA records and legal information. John Devlin, CIO of Kings County, decided it was time for a change. His plan was to move away from capital expenditures (tapes and tape drives) to operating expenses like cloud storage and backup software. After much debate, Kings County decided on Veeam Software paired with Backblaze B2 Cloud Storage for its backup solution, and it's been smooth sailing ever since!
Austin City Limits
Austin City Limits is a public TV program that has stored more than 4,000 hours of priceless live music performances on tape. As those tapes were rapidly beginning to deteriorate, the company opted to transfer recordings to Backblaze B2 Cloud Storage for immediate and ongoing archiving with real-time, hot access. Utilizing a Backblaze Fireball rapid data ingest tool, they were able to securely back up hours of footage without tying up bandwidth. Thanks to their quick actions, irreplaceable performances from Johnny Cash, Stevie Ray Vaughan and The Foo Fighters are now preserved for posterity.
In Summary
So, we've covered that moving your backups to a storage cloud can save your organization time and money, is a fairly painless process to undertake, doesn't present a higher security risk, and creates important geo-redundancies that represent best practices. Hopefully, we've helped clear up those misconceptions and we've helped you decide whether migrating from tape to cloud storage makes sense for your business.